HTC Sensation 4G now available from T-Mobile stores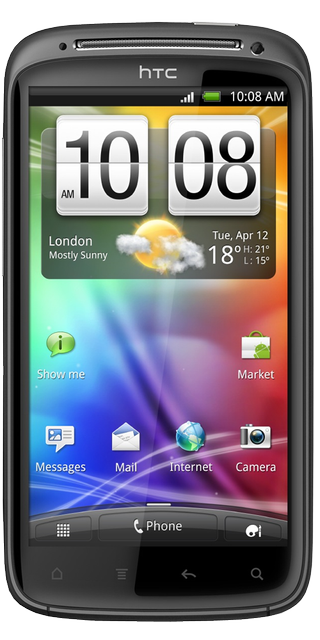 The HTC Sensation 4G (read our review) is available for purchase today from T-Mobile stores. The highly anticipated device could be bought from select Walmart stores a few days ago, but can now be officially purchased from the carrier.
The Sensation 4G is the latest flagship device for T-Mobile and sports:
4.3-inch qHD Super LCD display
1.2GHz Qualcomm Snapdragon processor
Android 2.3 (Gingerbread)
8MP camera
1080p video recording
HTC Sense 3.0
If you've been waiting anxiously for the Sensation to hit shelves, it's widely available now and can be bought for $199 with a 2-year contract and $50 mail-in rebate.
So who's picking one up? And for those who have, what do you think thus far?
More: HTC Sensation 4G Forum
Android Central Newsletter
Get instant access to breaking news, the hottest reviews, great deals and helpful tips
I'm getting it TODAY! Dropping VZW for it.

It's u gonna drop vzw I would wait for evo3d

There is no difference. And maybe he wants tmo

There are SEVERAL differences. Evo 3D has more ram, and oh yeah, 3D (which I don't care for, but its a definite difference). Seriously guys, do you READ?

the 3d doesn't really appeal to me too much.

I wish Sprint had this one...Smokes everything currently on the market. Verizon will get something like it with more RAM...in a year.

They will have pretty much the exact same phone in the Evo 3D. Only difference is the 3D display/camera, and 256MB (or so) of extra RAM.

I have the Nexus S on T-Mo. My friend, who is also on T-Mo picked up this phone on Sunday from Wal-Mart. He got it for $134.88 with a new 2 year contract. I was shaking my head at the price. I thought it was supposed to be $199. Anyway, pretty cool phone. He's a little disappointed at the battery life, but otherwise, very nice. It'll be perfect when it gets 2.3.4.

Most HTC phones have poor battery life.

The difference is sprint has unlimited data & evo3d has dual core.

T-Mobile has unlimited (despite throttling, it's unlimited), and the Sensation is dual core. What's your point, exactly?

I just cannot believe that T-Mobile is getting the Sensation and MyTouch 4G Slide (aka Doubleshot) and Verizon gets jack! This is comparing the smallest nationwide carrier that won't exist next year to the current largest! Come on Verizon, and I work for you guys right now! I'd like to go back to T-Mobile, but not with their pathetic data caps and throttling. I love your LTE VZW, but get better phones stat!

+1 Yet another phone that beats anything currently on VZW! =(

Anyone know if and when the Big Blue Box will be carrying this? I like the sound of their buy back program and interest free financing. I called by local store today and the broad who answered told me they don't have it right now. I wasn't sure if I should trust her, but they don't have it online like other retailers do today.

This phone is unbelievable! So much better than my G2

I just picked up this phone today. Loving it.

Please post any reviews or comments you have in the Sensation forums.. seriously considering this phone.

Is this dual core? Specs up top don't say

Yes, it is a dual core processor clocked at 1.2GHz

Good God yes its dual core. I wish I could get this...but using my G2 at the moment. Does anyone know when its gonna come to best buy? I really want it and I work there and I could get a decent discount off the retail price.

Keep the tmobile version extra 256ram won't outweight the fact that this is still on sprint crap 4g wimax network. At least on tmobile you can browse at 3mbps + . On sprint my 4g is a connect /disconnect fest. Can't wait til samsung gs2 on Verizon or AT&T to leave sprint crappy 4g and I live in San francisco where I'm supposed to be full 4g.

Well I picked this up today. Called T-Mobile, and the lady I spoke to was awesome enough to let me get it for the new contract price, even though I had renewed less than a year ago for the Samsung Vibrant (the Sensation sure is a lot heavier than the Vibrant!). Just messing with it now!
Android Central Newsletter
Get instant access to breaking news, the hottest reviews, great deals and helpful tips
Thank you for signing up to Android Central. You will receive a verification email shortly.
There was a problem. Please refresh the page and try again.