HTC revenue has fallen a staggering 87% since 2017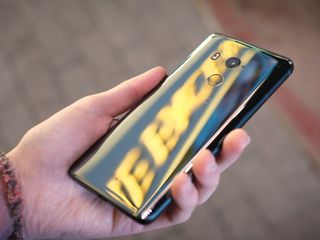 (Image credit: Android Central)
What you need to know
HTC's most recent financial report shows the company made $333 million in 2019.
Compared to 2018, that's over a 50% drop and a massive 87% drop from 2017.
HTC switched tactics last year, focusing on selling mid-range phones to India and pushing its Vive VR headsets.
HTC was once one of the most prominent Android handset makers around. In the past, it pioneered some of the best hardware in the mobile space by innovating — creating phones with stereo front-facing speakers and metal unibodies.
Unfortunately, HTC's revenue has been in a steady decline since 2011, and 2019 isn't looking any better for the company. According to its most recent financial disclosure, HTC earned $333 million in 2019. That's over a 50% drop from 2018 where it posted $789 million in profits, and a massive decline from the $2 billion it earned in 2017, right before Google acquired a massive portion of HTC's mobile hardware division.
To help put that into perspective, Bloomberg columnist Tim Culpan points out that Apple now makes more selling Airpods in two weeks than HTC makes in an entire year. When speaking to TechCrunch last year, HTC CEO Yves Maitre addressed the company's decline in the mobile market, citing that it had stopped innovating with smartphone hardware because it was investing in virtual reality.
Currently, HTC sells a line of VR headsets under the Vive branding but has yet to disclose how many units it has sold. When it comes to the smartphone market, the company has switched tactics and is focusing on selling mid-range phones to India, the second-largest smartphone market in the world.
At this time, HTC still hasn't posted its results for the last quarter in 2019 which just ended in December. However, all signs point to it being another drop in profit for the once-popular and profitable Taiwanese smartphone maker.
One of the greatest OEM'S of our era turned to ashes. This is a crying shame. I still have my HTC10, used it for 3yrs. Great performer in it's day. Just mis-managed over the years. A sad ending to a once great company!

Funny. The website that aggressively told people not to buy HTC products, reporting that they didn't sell many. To be honest, I'm surprised that they are still turning a profit.

Good, they ripped off all Mobile sales reps with their ONE4LIFE promo. They sold us HTC phones for 500+ and promised to upgrade us every year to the newest HTC phone. When they cancelled the promo after 1 year, EVERY rep stopped selling the phone. That move killed HTC and their loyal customers all turned on them.
Android Central Newsletter
Get the best of Android Central in in your inbox, every day!
Thank you for signing up to Android Central. You will receive a verification email shortly.
There was a problem. Please refresh the page and try again.