HTC One X10 is official with 4,000mAh battery and metal body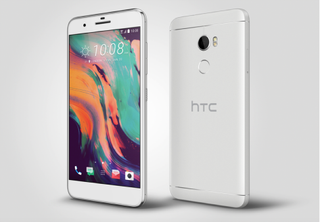 HTC has announced (opens in new tab) the latest in its mid-tier "One X" family, the HTC One X10. Drawing from both old and new HTC design elements, the X10 packs a 5.5-inch 1080p display into a metal body, with an enormous 4,000mAh battery which the company claims can deliver up to two-day longevity.
Style-wise, it's reminiscent of the old "One M" series phones, with the addition of a fingerprint scanner around the back, while the front looks more like an HTC 10 with its fingerprint sensor lopped off.
On the inside, it's powered by a MediaTek Helio P10 processor, with 3GB of RAM and 32GB of storage, plus microSD. There's also dual SIM support, with both slots supporting 4G LTE. You've also got a pretty run-of-the-mill camera setup, with a 16-megapixel sensor on the back, behind an f/2.0 lens, and an 8-megapixel f/2.2 selfie camera.
HTC's Sense software is running the show, along with its Boost+ feature, that's supposed to help speed up performance. HTC neglects to mention which version of Android this is though, which is cause for concern because the company is shipping MediaTek-based phones elsewhere still running the ancient 6.0 Marshmallow. (The HTC U Play, for example.)
The HTC One X10 will go on sale in Russia later this month in black and silver color options, priced at 19,990 rubles ($355).
There's no word on any release outside of Russia just yet, nor is this is the kind of phone that's likely to see a widespread Western launch. In any case, my main takeaway is this: If HTC can cram such a large battery into a phone of this size, what was it thinking when it stuck the larger, flagship-tier U Ultra with a cell 25% smaller?
Android Central Newsletter
Get instant access to breaking news, the hottest reviews, great deals and helpful tips
Alex was with Android Central for over a decade, producing written and video content for the site, and served as global Executive Editor from 2016 to 2022.
Hey Alex. I would love to read your take on the possibility of a smartphone with a good camera and a great battery. Seems like good batteries are coming to the mid-range market (moto Z play, HTC One X10) and it's great. But why is it always associated with a mid-range camera, and (with possible correlations due to processor-specific image processing tricks) mid-range chips? I don't see a really good reason nowadays to buy a top-notch chip, except it always seem to be necessary to get good camera... and it's ever associated with a good battery. Well, you get my point. Would like to get yours :)

why are manufacturers putting the big batteries on mid tiers and small batteries on flagships???

They don't want the cost of using higher capacity batteries and probably want you to buy their quick chargers or battery packs instead to make more money off you, lol

Because a thick phone apparently won't attract customers.. Especially with Apple adamant on creating thin phones.

It's driving me mad too... I have a oneplus 3 and firstly had to put a case on it as it's so damn thin and secondly to flatten the camera bump... Both woulda been solved with a bigger battery...
I'm pretty sure if a poll was done between a) thinner phone and smaller battery or b) a slightly thicker phone with larger battery' then b) would come top. I don't wanna have to charge my phone half way through the day like I do now, and I don't wanna have to put a case on a thin but large phone.

If a 3400 mAh battery doesn't last one day, how is a 4000 mAh battery going to last me two days? I hate that claim so much.

My guess would be because the 4000+ batteries also seem to often be paired with other variables that add longevity....principally a 1080p screen (mate 9, this device, etc). My mate 7 with 4000 mAh could *easily* go two days with moderate use. But my Nexus 6p with 3450 and a QHD screen? Not even close.

Mediatek... nice one, HTC.

Well, it's certainly a good looking phone. I've read htc went for P10 for prolonged battery life, that processor is supposedly known to be easy on battery, but... needed front stereo speakers are not there. I don't know why htc is not putting them back on any phone. It's unexplainable.

If HTCs 2017 flagship looked like this with the 4000 mAh battery and updated internals (835, 4 - 6 GB RAM, 64 GB+ storage) I would buy it for sure.

Why do we have articles with phones that are only available in Russia or China or India?

Because some people are interested?

Interested in what? Reading about phones you can't buy? Is A/C big in Russia?

Who is we here? Android Central is a Global website with Global readership.

Sure, so they should just cover every phone made in China because there might be 3 people over there who read this site.

Why do dullards like you continue to ask that stupid question?

It's not a stupid question, the phone is only available in Russia! Should car magazines cover Russian cars that can only be purchased over there? It doesn't make sense. If a phone is only made for a certain country and I can't buy or use that phone why do I care to know it's specs? Cover phones that people can actually buy, that's all.

What I'd like to see is "Russia exclusive" or similar in the title or at least the first paragraph. Which Alex effectively did for this article, but I don't think I've ever seen Harish do it.

I wonder when HTC will release a phone with smaller top, and bottom bezels. It doesn't have to be a infinity like body, but that's one thing that has always turned me off to them.
Android Central Newsletter
Get instant access to breaking news, the hottest reviews, great deals and helpful tips
Thank you for signing up to Android Central. You will receive a verification email shortly.
There was a problem. Please refresh the page and try again.