HTC One vs. LG Nexus 4 vs. iPhone 5 vs. BlackBerry Z10 vs. Nokia Lumia 920: Spec showdown!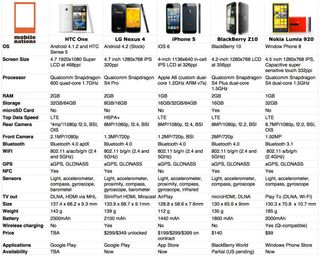 So how does the brand new HTC One stack up against the best and the brightest competing smartphone makers have to offer? To find out, we took the iPhone 5, LG Nexus 4, Nokia Lumia 920, and BlackBerry Z10 and we stacked the side-by-side with the new king of the spec sheet.
First, how awesome is it to live in a time when every platform finally has a pretty terrific hero phone to offer? Second, how beyond awesome is it that we're still getting newer and better? The HTC One has a 1080p at 468ppi and a camera that's getting it's priorities straight, putting pixel size over pixel count, something dedicated camera manufacturers figured out years ago.
And the awesomest thing of all? 2013 is just getting started! We still have the Samsung Galaxy S4, the BlackBerry Q10, whatever else Nokia is cooking up, and the iPhone 5S, or whatever Apple calls their next phone, to look forward to.
Check out the full on HTC One vs. LG Nexus 4 vs. iPhone 5 vs. BlackBerry Z10 vs. Nokia Lumia 920 specs above and tell us how you think the year is shaping up.
Complete HTC One coverage
Get the Android Central Newsletter
Instant access to breaking news, the hottest reviews, great deals and helpful tips.
Rene Ritchie has been covering the personal technology industry for almost a decade. Editorial Director at Mobile Nations, analyst at iMore, video and podcast host, you can follow him @reneritchie on [Snapchat](https://www.snapchat.com/add/reneritchie), [Instagram](https://instagram.com/reneritchie), or [Twitter](https://twitter.com/reneritchie).
the Samsung Galaxy 4S? What? lol

The Nexus 4 has GLONASS. Please correct.

The Nexus 4 has Miracast. Please correct.

The Nexus 4 has a f2.4, BSI rear camera. Please correct.

Nexus is on version 4.2.2 please correct

Why is the iPhone even mentioned???

Cause the writer is the editor of iMore

Because he's trying to compare ALL current mobile operating systems.

Come on, neither of us may like iPhones, but you have to be fair.

Someone wants to be fair on the internet when it comes to phones? I can't believe it. God really does exist.

The New HTC One has an infrared port. That should probably be listed as a sensor... because who doesn't want one of those?

It's outgoing right, not incoming? So it's more a feature than a sensor? The iPhone 5's IR is totally different (read not send). We'll figure out a place for that stuff. Thanks!

Good point! I didn't get think about that.

... I know the Samsung Galaxy S3 is old news (so is the iPhone 5), but as the HTC One is the only phone that clearly beats it (the Nexus 4 sorta ties with the Galaxy S3 in a win-some/loose-some matchup), don't you think it should have been on the chart too?

Why does everyone post the "on contract" price, all of the phones listed should be shown with full "retail" price. I mean it's like comparing a monthly lease payment on a car with the full outright price... I just don't get it.

The width of the HTC One is 68.2 not 67.2

Doesn't the HTC One has a microSD slot??? Why is then listed as NO?

No micro-SD card, at least according to the specs and the folks here at AC.

A few errors in the specs... well at least rmkilc is mentioning some of them. I was going to mention GLONASS is in the Nexus 4 since it has a Qualcomm S4 chip and it comes built in.

You think the writer would've been more careful when writing this article. Too many errors.

"a camera that's getting it's priorities straight, putting pixel size over pixel count, something dedicated camera manufacturers figured out years ago."

The BlackBerry Z10 actually has the Snapdragon S4 Pro, not the Plus. According to some teardowns they report it as the MSM8960 not the MSM8960T (Which would be the S4 Plus) The other error on the Z10 is that it also features WiFi 802.11 a/b/g/n on both 2.4 GHz and 5 GHz

I don't have the Z10 here in front of me but I recall it was expected to have lots of sensors. Are you sure that some of the ones listed here are not missing from your list? http://developer.blackberry.com/cascades/documentation/device_comm/senso... Steve

I would rather have the camera in the HTC One vs. any of the 8Mp cameras that are standard.
More pixels != a better camera. Consumers always fall into the trap of more is better.
If that was the case my old Canon 6Mp APS sensor would take worse pictures than my cell phone.
That is far from reality. All things being equal sensor with larger pixels and fewer of them will have much better low light performance than the small pixel sensor. Give me BIG pixels. Size does matter......

Still no RAZR MAXX HD Love..The screen and battery alone should be worthy of mention. IMHO. It's close in other specs. :)

This phone looks awesome! Can't wait for what they'll have up for grabs in about 14 months!

I really want blackberry to click this time with Z10!! :) Btw guys did u all check this out!! Lifetime subscription for whatsapp... Amazing!! http://www.hackinthus.com/2013/02/how-to-make-whatsapp-free-for-lifetime...

I think the main thing this spreadsheet proves is that broad strokes hardware analysis tell you very little. The most important thing is now the software, the UX. Hardware, though important, is really now a secondary concern as all flagship devices in all mobile OS's are simply all great hardware with arguably minor hardware failings. It's kinda like finding the best flagship car on the basis of top speed figures, Top Gear style! EDIT: If someone makes a phone with a battery that last 3 or more days with current usage, all bets are off!!!

How about a comparison of the various "One" phones (x, x+, s, sv, etc)?

I'm surprised how so many phones lack proximity sensor... How do they detect that your face is on the phone to disable the screen if they don't have it?

HTC is crap. New phone and old specs. Compare with Samsung (the leader in the segment) or don't bother with stupid comparisons. Waste of time.

Best processor, screen, and camera on the list. Seems legit.