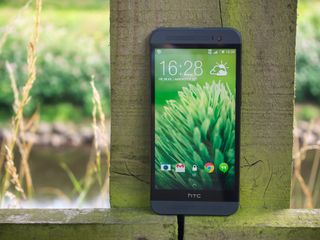 HTC swaps metal for plastic in this re-imagining of its 2014 flagship
Over the past year, HTC has made a name for itself with high-quality metal smartphones in the HTC One series. Flagships like the HTC One M8 and before it the M7 elevated smartphone design and build quality to new heights, even if the impact on HTC's financials haven't been as pronounced as the company might have hoped.
Enter the HTC One E8 — a high-end HTC phone in a polycarbonate shell, designed to hit a lower price point while still delivering many of the benefits of HTC's current flagship. The spec sheet mirrors the M8's almost exactly, while the chassis aims to recreate the striking look of a high-end HTC phone using less exotic materials.
The E8 has only been announced for China, India and Russia at present. Nevertheless, we're going to put this intriguing new device through its paces in a full review. Read on to find out how it shapes up.
About this review
We're publishing this review after a week with an unlocked Asian HTC One E8 (MEC_UL) on the EE network in the UK. This device doesn't support all LTE frequencies used in the UK — or any of the main U.S. LTE bands, in fact — but it does support Band 3, which is the important one for EE 4G coverage.
Our review unit is a matte grey E8 running software version 1.09.707.1; the phone also comes in glossy red and white versions. While a dual-SIM version of the phone is available in some countries, we're reviewing the single-SIM HTC One E8. Asian E8s like ours run a 2.5GHz Snapdragon 801 processor; in other territories a slightly slower 2.3GHz SoC is used.
HTC E8 video walkthrough
More: Our first impressions of the HTC One E8
HTC E8 hardware and build
As a smartphone reviewer, it's tricky not to describe the HTC One E8 in terms of about a half-dozen other HTC designs — that's because it's a sort of mish-mash of every HTC flagship since the original Butterfly. That's not a bad thing, though, as the E8 incorporates many of the best design features of the past two years of HTC smartphones.
Perhaps the most noteworthy thing about the E8 is what it's missing — it's the first HTC One phone for a couple of generations to eschew a metal-backed chassis in favor of good old-fashioned polycarbonate. As such, it's priced a tier or so below HTC's premium aluminum offerings. But this isn't cheap-feeling plastic by any means — as HTC showed us with devices like the Droid DNA and 8X, it can craft premium hardware out of plastic as well as metal.
We've been using the matte grey HTC One E8; glossy white and red versions are also available, and we'd expect these to look more flashy out of the box, but perhaps to be a little more prone to collecting fingerprints and scratches over time.
On the inside, it's a familiar high-end spec sheet, accounting for most of what you'll find inside the One M8, HTC's mainstream (and more widely available) flagship. There's a Snapdragon 801 processor — 2.3 or 2.5GHz depending on where you buy — backed up by 2GB of RAM, 16GB of storage, a 2,600mAh battery and microSD expandability. Significantly, the M8's Ultrapixel main camera and depth-sensing Duo Camera have been cut, meaning depth-sensitive effects are off limits on this device. Instead there's a single 13-megapixel shooter with single LED flash, the same camera module used in the HTC One Mini 2 and Desire 816.
And selfie enthusiasts will be pleased to see that the E8 is yet another HTC phone with a 5-megapixel front-facing camera, though you'll have to make do without the M8's wide-angle lens.
More: HTC One E8 versus M8: What's the difference?
The E8's plastic chassis is more angular than many of HTC's 2014 products, with boxy, flattened sides not unlike the One M7. Ports and buttons find themselves similarly placed — power up top, though situated centrally, not off to one side. The microUSB and headphone ports live down below, and on the right edge you'll find the volume rocker and microSD slot, opposite which sits the nanoSIM slot.
Despite the various external changes, the E8's design heritage is unmistakable — it displays a familiar HTC profile from the front and rear. And the black bezel around the display tapers gently towards the sides — as if the screen has been poured into the mold. Around the back there's a subtle, hand-friendly curve that'll be familiar to anyone who's used a Droid DNA.
Just as the E8 retains the M8's hardware muscle, the audiovisual experience of HTC's flagship is also intact. The E8 sports a 5-inch 1080p display, and that's flanked by "BoomSound" front-facing speakers, which sound just as boomy as before. HTC hasn't skimped on the display either — the E8's screen looks just as bright and vivid as its big brother's, no small achievement given that the M8 has one of the best displays we've seen on a phone.
The rear of the E8 has been left relatively untouched — aside from an HTC logo, camera and LED flash (accented in gold on our device), there's not much to see around the back. On our grey model it's furnished in very soft soft-touch plastic; as mentioned, you'll get a glossier finish on the red and white versions.
So it's not as outwardly flashy as the M8, but the HTC One E8 is just as capable in most areas, and the use of a grippier plastic shell does make the E8 lighter and considerably easier to one-hand than its aluminum brother.
HTC E8 software and features
If you're familiar with Sense 6 on the HTC One M8, that's 99 percent of the experience you'll find on the E8. HTC's latest UI is built atop Android 4.4.2 KitKat, and it remains one of the smoothest, fastest implementations of Android available on any phone. Unsurprisingly given the almost identical internals, it's just as speedy as Sense 6 running on an M8.
As we've said in previous reviews, Sense 6 maintains a healthy balance between visual flair, simplicity and performance. Flat UI designs are all the rage in 2014, and the latest HTC Sense exudes a clean, modern look with a variety of colored themes to let you put your own spin on the UI.
The vast majority of our favorite software features are alive and well here. There's the BlinkFeed launcher experience, which adds an optional scrolling pane to deliver news updates, app content and social updates directly onto your home screen. And while you do get the full suite of HTC gallery and camera features, including instant video highlight reels, the lack of a second rear-facing camera means you won't be able to apply depth-sensitive effects to your photos.
Besides that, the only major omission is HTC Sense TV, on account of the E8's lack of an IR blaster. That's most likely a cost-cutting measure designed to allow the E8 to hit a lower price point. It's not a change we're losing any sleep over, though — TV controls are a far from an essential feature.
More importantly, HTC's Motion Launch feature is alive and well, giving you an easy alternative to reaching up and pressing the awkwardly-situated power key. Double-tap to wake the phone, or swipe in various directions to launch BlinkFeed, your home screens, the voice dialer or the app you were previously using.
So with the exception of Sense TV and the Duo Camera software, this is essentially a carbon copy of Sense 6 on an HTC One M8, with all the benefits you'd expect from Sense running on high-end hardware. You'll find a full breakdown of HTC's software experience in our HTC One M8 review.
HTC E8 cameras
The HTC One E8's camera setup is where you'll find the biggest internal hardware differences compared to the M8. Instead of a 4-megapixel "Ultrapixel" setup, with a second depth-sensing camera, you'll get a more run-of-the-mill 13-megapixel shooter, the same module HTC uses in the Mini 2 and Desire 816.
Around the front it's the same sensor as the M8 — a 5-megapixel unit — but behind HTC One Mini 2-like optics with a 2.79mm focal length and f/2.8 aperture. As such, image quality in selfies closely matches that of the M8, through you'll struggle to fit quite as many people in the shot due to the lack of a the M8's wide-angle lens.
HTC's Ultrapixel camera is a point of contention among smartphone fans, and even a few of the AC editors. Some of us love its superior low-light performance and fast capture speeds, others bemoan its below-average daylight performance. So with the move to a standard 13-megapixel sensor, there was hope that the HTC camera experience would become better aligned with the competition. Sadly, though, that's not the case.
Like other HTC phones using this 13-megapixel module, the E8 produces images that are decent, but rarely worthy of any higher praise. In daylight, it's clear to see less fine detail is being captured than 13-megapixel rivals like the LG G3. Images frequently appear dull, even after bumping the saturation manually, and dynamic range and exposure metering is pretty lousy too. In low-light conditions, things get grainy and noisy fast.
It's a similar story when it comes to video recording. The E8 shoots footage at up to 1080p resolution with 30 frames per second, but the video camera doesn't capture a great deal of fine detail, and outdoor shots are frequently washed-out and either under- or over-exposed.
The camera does benefit from the E8's faster processor compared to the One Mini 2 and Desire 816, both of which use the same sensor. Shutter lag is noticeably reduced, and the faster CPU also enables extra software tricks like Zoe mode, which records a burst of 4-megapixel stills and 1080p video at the same time. Dual capture, the mode that shoots with both front and rear cameras simultaneously, and Panorama 360, HTC's answer to Google's Photosphere, are also along for the ride.
Ultimately, though, if you were hoping for a 13-megapixel camera to match flagships from other manufacturers, you'll come away disappointed. The E8's camera isn't bad, just very, very average.
HTC E8 battery life
With the same battery as the M8, powering the same hardware as the M8, running the same software as the M8, it should come as little surprise that the E8's battery life performance is essentially identical to that of its metal-clad sibling.
In our week of testing, the fixed 2,600mAh battery provided enough juice to get us through each day with power to spare. With heavier use, frequently hopping between LTE and Wifi and often using the device outdoors with the screen brightness maxed out, we were hitting the danger zone after around 16 hours — again, more or less the same as we got from the M8.
Despite the use of a plastic body, HTC hasn't availed itself of the chance to incorporate wireless charging in the phone, nor will you be able to swap out the battery for a fresh one. That's par for the course on HTC phones, though, and we wouldn't necessarily expect these features in a device at this price point anyway.
The E8 offers a variety of software features to cut back on power usage, the most drastic of which is Extreme Power Saver mode. This cuts back on all the phone's higher functions and leaves you with a featurephone-like experience, complemented by HTC apps for Mail and Calendar. It's not something you'd want to use every day — nor, in our experience, will you often need to use it at all. But it's a useful safety net for if you're ever caught short.
The bottom line
The HTC One E8 is a curious beast. There's no disputing that it's a less premium handset than the M8, and as such it doesn't feel quite as special. But in day-to-day use it actually has some advantages over the more expensive model — it's lighter, easier to hold, and furnished in a material that some might actually find preferable to the relatively slippery brushed metal of HTC's flagship.
On the inside, the fact that it's essentially an HTC One M8 automatically makes for one of the most compelling Android experiences out there — fast, beautifully designed and with software features that actually add value. Sense is Sense, and when it's paired with top-notch hardware it absolutely flies.
As with the M8, the main area where the E8 underachieves is its rear camera — but for different reasons this time around. Whereas the M8 is heavily tilted towards fast capture speeds and low-light performance, the E8's is fairly underwhelming across the board. In some situations, particularly in daylight, it's possible to get good-looking images, but it requires much more effort to do so than most high-end handsets.
Unfortunately for those wanting to pick up an E8 in the West, HTC has only announced availability for the device in China, India and Russia for the moment. What's more, the devices currently out there don't have particularly broad LTE band coverage for importers. And that's kind of a shame, because despite its shortcomings the E8 is a tempting proposition at its current import price of £370-400.
Chances are if you're reading this review, on a Western-focused site, you're not in the E8's target market. Regardless, a phone of this quality around this price point is a great deal, and should it ever become more widely available, one we can definitely recommend.
Alex was with Android Central for over a decade, producing written and video content for the site, and served as global Executive Editor from 2016 to 2022.
Its ridiculous to even make this phone. Its a waste of HTCs time, money and resources. They should be focused on rebuilding their brand image, not rehashing their phone. This dilutes what their trying to do. Why buy the One M8, if this is mostly like it without the price? C'mon HTC, I want to see you succeed, but this isn't the way.

I wouldn't call it a waste of resources. HTC simply swapped the chassis and the camera out to aim at another market where if they went in with the M8, it may be tremendously overpriced. Personally, I didn't buy an M8 because it wasn't my feel...but I loved the hardware. If I didn't have a Z Ultra that I thoroughly loved, I could see myself using this as a daily driver. Posted via Android Central App

I have to say if this was offered here I'd probably pick one up and give it a go. The front facing speakers that HTC offers are great - anyone else find themselves "cupping" the rear speaker port? Posted via Android Central App

I will NEVER go back to a phone where the speaker is on the back. It's just dumb. These are supposed to be smart devices.

Yes, unfortunately :/ since most phones are media consumption gateways, I think they all should sport front facing speakers. HTC has done a great job with that. Posted via Android Central App

HTC One M8 is the highest rated phone among consumers (see http://www.consumertop.com/best-phone-guide/ for example), therefore I don't agree with Linebarrel86.

What do you expect from a sinking ship? Posted via NEXUS 5

Hey they finally are starting to right that ship. They turned a profit last time around

Yes but they still sold fewer phones than during the same time last year. They can't keep cutting costs.

You gotta start somewhere. I agree that they cannot continue, but they had to build some confidence in the brand. Earlier in the year (or maybe it was last year) there were a lot of people in these comments sections that were cautious about buying into a dying ecosystem. They needed a win...

But the Premium feel of the metal body is worth twice the price /sarcasm. Reality is that they cannot just give the mid range space up to the other OEMs. This phone does appeal to the people who do not want to spring for the price of the M8 but want all the great features of it. HTC really needs to get the cameras right next year. If they can do that they will finally start to see a real turn around.

As a long time HTC supporter, I'm not too confident that they will get it right. I've seen too many instances where the software isn't optimized for the hardware (i.e., capping the bitrate even though the GPU can handle higher values, not being able to correctly utilize the dual cameras on the EVO3D, poor dynamic range and overprocessing ). I think they may need to outsource the camera development to more experienced/competent vendors. Posted via Android Central App

I agree with you on the camera, but respectfully disagree on the skin. The most recent version of Sense is the best skin out there (not counting near stock skins) right now. It is fluid and intuitive. It is pretty nice overall

Oh my mistake on the wording. I meant that the software isn't optimized for the camera hardware. Based on the camera specs, the results could be better than what they have been. IMO there is no reason as to why the camera on the E8 should not produce better results. Posted via Android Central App

IMHO, cameras don't make or break a phone. Can you guys name me one phone that is selling millions because of a great camera. The galaxy phones did it and before the s4, they had crappy cameras. The iPhone did it 5 or 6 times and they're latest iteration has killed Samsung's GS5 in sales.... It ain't the camera that makes most people want a phone. First, it's name brand recognition, then stylIng (cool factor), then everything else! That's how you sell millions! Does it always mean those are the best phones sold "NO! " But, despite Android fans thinking they're not sheepish like Apple fans...they're actually not much different! I don't know how many times I've read"why can't they give the HTC M8 a higher MP camera! " SHEEPISH! THE IPHONE 5S still has arguably the best camera you can get on a cell phone and it's just 8 MP! But, not a single person I know that owns an iPhone bought for it's great camera! They bought it because Apple stuff has the "it just works and does what I need it to do reputation! " And, it's still a cool looking device! Posted via Android Central App

The S series had good camera for the times. They still do have one of the best The iPhone does not come into this discussion. They have fallen off the table in terms of camera a bit. Especially when you are talking about sales. The iPhone could put a screen on a turd and it would sell 50M units. The 5S does not have a great camera, it is passable but not great. If you would have said Lumia I would have agreed. Do you by a phone for the camera? No, but if I have 2 phones that are comparable except one has a much better camera than the other I am going to go with the better equipped camera. You may not buy it because of the camera but you certainly can NOT buy it because of the camera.

I think that I have looked passed many cell phones with great cameras simply because the phone did not look cool to me and most consumers choose most of their purchases that way! If you want a Lumia with a gigantic nerdy looking camera lens on it, then have at it, but I'm choosing cool first. My phone must be stylish like me! And, except for the iPhone there are no more stylish phones out there than the htc M7 and M8! IMHO! Lol..ha! I'm so tired of the htc M8 camera situation...I like the damn camera and if you don't, then don't buy the phone. But, it's my opinion that the HTC camera haters are hating so much because they really want the damn M8 or wish that their beloved phones could be cool like the M8. The way I see it.. It's a win win for the htc M8 because the more haters you have the more you're doing something right! Posted via Android Central App

Your wrong in that a camera can make or break the phone for sales. When it comes to marketing, it is but 1 aspect that can be used to do this. Just look at the clip with the S5 galaxy posted here on AC to see what I mean. It's all in the marketing these days and the sole purpose is to drive people to buy, not keep those who already have, and if you have a great commercial showing off a camera, it could very well be the deciding factor that draws people who could be on the fence into the fold. Sometimes it doesn't take much to do this for some folks, sometimes it takes much more. I was just on the phone with HTC asking about being able to use add on lines on my M8, and she didn't have a clue about this which I thought was odd. Since the only issue I have found about the camera is the light issue and taking longer range landscapes I thought it only natural to inquire about using them. Anyway the camera is a pretty big deal with some...... just saying Posted via Android Central App from my HTC M8

What you wrote did nothing to show that my statement was wrong. Your concluding comment was that the camera is a "pretty big deal to some people." My comment was that it's not a make or break for most people. Those statements are nearly identical just in reverse order, so what's your point?
I had no idea what you were talking about with calling HTC for "add on lines!" Huh?
What your comment actually stated, which is more important than a camera as a deciding factor, is ADVERTISING! HTC IS anemic in the advertising department! And, they don't have to advertise a camera to sway buyers. Many people love their music and movies and HTC could easily advertise the awesomeness of the HTC M8s media capability with their front facing speakers and awesome screen. Yes the camera is one aspect! But if I'm advertising, I'm advertising my best feature! Apple has advertised ease of use and fans have bought it hook, line, and sinker! Samsung has used Apple brand recognition in advertisement to boost their brand! And, it has worked! BUT, I HAVE SEEN NOKIA advertise the superiority of their cameras....and, well we know where NOKIA phones stack up against Samsung and Apple and HTC for that matter! Again,I say, most people don't give a damn about a great camera on their cell phones. Most people just want a cool looking phone that does everything they want it to do without hiccups! Only the geeky nerds in this and similar Android forums think that their cell phones should have all of the best of everything in order to be satisfied for all of TWENTY GODDAMN MINUTES, and then it's on to something else to complain about! Android fans do have ADHD...I can see that clearly now!
Posted via Android Central App

While you're right that this is too similar to the M8 and could affect its sales, it's actually a good option for some. I'd have bought this instead of the M8 myself since I can't get myself to like the metal on the M8 given it is too slippery and a fail at ergonomics. I prefer utility and practical design and the plastic suits that better. I would prefer the high-resolution camera as well since I'm not particularly impressed by the UltraPixel, but sadly that doesn't seem to have been well done on the E8, but I guess HTC never does standard cameras right except for sometimes.

Surely E8 is having totally different chassis and a better camera than M8. Plus htc is trying to focus on every user. Posted via Android Central App

I live in the UK and I imported a dual sim E8 variant last week. I have it in black (aka grey) and I definitely have a love/hate relationship with it. Love: speakers, feel in hand, screen quality, dual sim (Three sim for 4G, Voda for calls)
Hate: the camera is really not good, status bar *full* of icons especially with 2 sims, battery life for me is good not great, lack of qi, screen size with on screen buttons and sense 4 column view *looks* small (compared to G3 anyway!) Its so intriguing as it fixes my major gripe with the M8 - thats its too slippery. But in typical HTC fashion, they have screwed up the camera. I also have a problem with Blinkfeed - my Chinese import will not show English language sources but I think thats a issue particular to this ROM.

Can you please elaborate on the battery life a bit more? What's the percentage of battery left after a day of heavy use and at what screen brightness level?

This looks really nice. I am not a big fan of the metal on the M7 and M8, but I like the look of this alot.

I like this. I would try it. The metal HTC phones are too heavy. I like my phone lighter if possible.
Posted via Nexus 5

Not heavy for all. Posted via HTC ONE M8 Gunmetal Gray

IMO this is what the M8 should have been..

Ding ding ding.. Better margins for HTC.

Trying go blow up a wheelchair? Lol

I have an EVO 4G LTE for my home phone, and a Nexus 7 for my work phone. I'll take grippable plastic over slippery aluminum every time. I absolutely HAVE to keep my EVO in a case. I dropped my 1st one and cracked the screen, and am not every interested in that again. If the Nexus had an SD card, I probably would have cancelled my home account, quite honestly.

The E8 is even *taller* than the M8, photos are still underexposed and shadowed areas lose a lot of detail. At least it has BoomSound, 2600 mAh battery, and Sense 6 is lag free.

Beautiful review, respect. Posted via HTC ONE M8 Gunmetal Gray

I think the E8 looks great, especially for the price. And I wonder if I would have a problem with its 13 MP camera since there are a lot of complaints about the UltraPixels on the M7 and M8, but I, personally, just don't have any issues with my photos. In fact, I printed my recent 4th of July pictures, and everyone says they look amazing. Of course, several were taken at night during fireworks, but I'm happy with the daytime shots as well. Anyway, hopefully HTC can step up the camera to satisfy more users. The camera features are already quite nice, I think. Posted via AC App on HTC One

Does the E8 have optical image stabilization? Posted via Android Central App

At the back... Looks like a Moto X.... Just saying....

Me too. I love this form factor. Still not a fan of the giant bezels/speaker area, this length. Not a big audio user on my phone, even though I've cupped my hands on back speaker a few times.
Love the truly modern and more functional material of this over the m8. And I live the clean look of the back.
The HTC One X was made of an awesome polycarnbonate and this looks 10x better.

I would buy this if it came to the states. Posted via Android Central App

t00 expensive..cut the price... ... ( 0ppo F5) ...

Yeah it is a bit overpriced.

What Android smartphone has the best camera by far? Fait Accompli

HTC reviews.The long and the short.Great phone.Crap camera. Posted via Android Central App

my phone is heating up while using internet or longer duration after lollipop up gradation also airtel fellows say this phone is incompatible for 4G usage
will there be any help for me
Android Central Newsletter
Get the best of Android Central in in your inbox, every day!
Thank you for signing up to Android Central. You will receive a verification email shortly.
There was a problem. Please refresh the page and try again.