HTC announces new Butterfly 2 flagship for Asia, arriving next month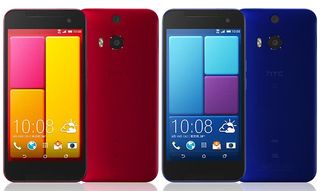 HTC has today unveiled its Butterfly 2 flagship smartphone for the Asia region. As previously covered, we're looking at a localized version of the One M8 but with some interesting additions. The new Butterfly device will launch next month across Asia.
Not only is the Butterfly 2 (or simply J Butterfly if you reside in Japan) plastic, but it's waterproof too. There's a 2.5GHz quad-core Snapdragon 801 processor, 13MP rear shooter (with 5MP front-facing camera), louder speakers than the HTC One M8 and the product itself powers Android 4.4. The rear camera on the Butterfly 2 is also a duo setup with a secondary lens to aid with focusing and generally improve overall performance.
The smartphone is set to go on sale in Japan first (on KDDI as the HTC J Butterfly), followed by Taiwan on September 2 and other markets thereafter. There's still no word on pricing just yet, or if we'll ever see this device outside Asia. Would you want to pick one up? Let us know your thoughts in the comments.
Source: HTC (opens in new tab)
I can't believe a two camera setup is cheaper than a really good iPhone quality single camera.

Why stop at iPhone quality? Sony and Samsung have some great shooters in their phones. And imo better than the iPhone. Posted via Android Central App

Let's take it a step further and go LG quality!

Isn't the iPhone camera Sony anyway? Just better processing on their part was my understanding n5

Will this come to India? And what about the battery? Normally the butterfly used to have a bigger battery then the flagship

A bigger battery is unnecessary due to the Snapdragon 801 processor and supporting chipset. If you want an awesome smartphone with an easy to handle beautifully designed form factor and mighty fine HTC Sense user interface with loud & clear stereo Boomsound speakers and great cameras, then the HTC J Butterfly may be the only choice beyond the HTC M8 or HTC E8. Hope you get availability.

And, of course, waterproof without cumbersome easy to break off flaps.

This is the camera the M8 should have. Instead of the 4 ultrapixel setup, just have a normal 13 mp shooter with the secondary depth lense. Hopefully the M9 or whatever it will be called will have something like this. Otherwise, looks like a very nice phone. Posted via Android Central App

I hope HTC goes with a better camera for M9. With what Samsung, LG and Sony have done with their cameras it seems like an easy problem for HTC to solve, and will make them look stupid if they don't.

They will based on the feedback from all their customers. You can already tell since they switched it up with the E8 and now this.

Dna 2? Wireless charging? Posted via Android Central App

It's also ip57 rated I believe. And no rubber plugs for the charging port or headphone Jack. This would have been the perfect m8. Ah well.

With this that means the m9 will be awesome Posted via Android Central App

Exactly what I was thinking.

F*ing huge bezel tho Posted with the speed of my G3

Right? Looks like an iPhone 4s lol.

Wifey loves her DNA still. This iteration would be sweet. Posted via Android Central App

Holy bezel batman! I love HTC, but they should try to trim down the exterior footprint of their phones a bit. Posted via Android Central App

Nah. Bezel, bezel, toil & trouble. I much rather have the loud and clear stereo Boomsound speakers. The bezel issue when incorporating stereo Boomsound speakers is totally lame. Would you rather have a tiny rear speaker covered by a case? Seriously? In addition to Sony, some other manufacturers, although slow in the uptake, will attempt to copy this awesome media feature; perhaps Motorola and perhaps Apple.

If they can't make those speaker grills less ugly and the bezels slimmer just get rid of BoomSound altogether. Offer them as some kind of detachable micro-usb add-on with a kickstand. Too much compromise for something most people won't use all that frequently.

Even louder front facing stereo Boomsound speakers and waterproof without flaps, improved cameras, and exceptional fit, finish, and form factor, HTC has just released another award winning smartphone candidate. Other manufacturers will emulate HTC's distinctively brilliant design cues.

This would be such a hit here in the states. Though if they go the route the W8 is with VZW it's just about useless for most of us. It needs to be on all carriers to no exclusives. Well I can dream. Posted via the Android Central App

Carriers determine what handsets they contract to purchase and stock to sell, not the manufacturers although there are minimum production requirements.

And let me guess, Verizon will get this as the DNA 2 for Christmas lol Posted via Android Central App on my daily driver, the Droid MAX
Android Central Newsletter
Get the best of Android Central in in your inbox, every day!
Thank you for signing up to Android Central. You will receive a verification email shortly.
There was a problem. Please refresh the page and try again.