HTC announces the HTC One in gold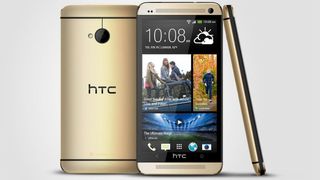 Following the (very) limited arrival of the HTC One in 18-carat gold, HTC has announced a new "golden" version of the HTC One to go alongside the silver, black, red and blue versions. As a mainstream color option, this version isn't plated with the precious metal — rather the aluminum chassis has been treated with a "champagne" color, similar to the "gold" iPhone 5s. Besides the eye-catching exterior, it's basically the same handset we've been using since the spring, with a Snapdragon 600 CPU, 1080p display and Android 4.3 plus HTC Sense 5.5.
The gold HTC One will be released across Europe "with a number of partners," HTC says, adding that details of local availability will be revealed later today.
So is anyone tempted by this new color option for the HTC One? Shout out in the comments!
Press Release
HTC ONE® RECEIVES GOLDEN MAKEOVER FOR CHRISTMAS
The world's best smartphone, now in Gold arrives in Europe
London, November 25th, 2013 — HTC, a global leader in mobile innovation and design, today unveiled its award-winning HTC One flagship model in a sophisticated new colour. Available across Europe and building on the existing colour portfolio of Silver, Black, Blue and Red, the new HTC One in Gold packs the power and acclaimed features of this premium model into a brushed body with black accents that oozes luxury and style.
Philip Blair, President of EMEA commented, "Building on the all metal design of the HTC One, and the recent success of the HTC 18 carat gold MOBO phone, we are excited to have developed our own gold device, offering yet more choice to consumers".
The HTC One has won international recognition for its stunning design. With its striking brushed finish and metal unibody design, the latest shade makes gold the glamorous colour of the festive season and a must-have for starting 2014 in style.
This latest addition to the family comes with all of the features of the HTC One, including HTC Zoe, HTC BlinkFeed and HTC BoomSound. The device will be available across Europe with a number of partners.
Alex was with Android Central for over a decade, producing written and video content for the site, and served as global Executive Editor from 2016 to 2022.
A price drop would do the HTC One wonders right about now Posted via Android Central App

I agree, I'm waiting for my off-contract One to arrive now. Got it at half price.

It's $50 on contract.... Posted via Android Central App

I'm talking about the actual price of the phone. Paying thru a contract will usually cost you hundreds more in the long run. Posted via Android Central App

Amazon has it for $0.01. That's the route I'm considering.

Gold is best. Best. Best. Best. - Raffi Jaharian, Apple VP of Gold ;-)

LMFAO!!!! Man, i just wish companies would STOP this crap. "Oh apple did it and it sold, lets release a "gold" version too. RRRRRRRR

I'm just gonna leave this right here. http://ak1.ostkcdn.com/images/products/P11894626.jpg Just sayin'

Hahaha! Reference for those who are not familiar: http://www.youtube.com/watch?v=n7-RetY7fGo

Got it. Awsesome!!!!! Posted via Android Central App

this is gold not plastic gold

This is just coloured, not actual gold.....

did you READ the article? No, this is just colored aluminim, same material is been made out of.

wonder if it can be wood Posted via Android Central App

Copy the iPhone 5S much??? Posted via Android Central App

I knew this comment was coming. Posted via my Nexus 5

HTC did it right with the black accents IMO. Also apple does not own the color gold and is absolutely not the first company to make a gold phone. |❌_❌|

I'm not generally a big fan of gold (when I first read the headline, I was expecting it to look very tacky like the gold iPhone does in my opinion) but I think HTC's design team acquitted themselves nicely here. The black accents really make it classy.

Absolutely. I would never buy the gold, but this color combo is more appealing. |❌_❌|

I agree completely. Black and gold is actually a pretty sweet combo - I always did like the Saints' uniforms ;)

There were gold coloured android phones before the 5s

I got my Motorola aluminum body phone in gold eight years ago. Who's doing the following?

It is very obvious. It didn't really even need to be said though. It is a very strange color for a phone tome. Really ugly. Mr. T would like it though.

Iphone 5S wasnt even released yet?
Look for the 24ct REAL gold edition of the HTC One that was available in June

Kudos to HTC. Despite it's limited success (and launching the Butterfly 2 in Japan, and the One Max) they were able to focus on one hero device instead of, let's call this number, 10 - and I like that.

That looks pretty good actually. Love the black accents. However, I think at this point they might want to upgrade the internals a bit. Maybe kick it up to a Snapdragon 800 and an extra gig of ram. Everything else is good to go.

Totally agree. An upgraded HTC One or the upgraded version of the Galaxy S4 (that has been available in Korea and now in Europe) I think would sell well in the US for the holidays. Unfortunately, I think they have made the calculation that those who want to be on the cutting edge of specs already have one of the modern handsets, and they are now just using marketing to make a play for everyone else.

And what would be the purpose of that? More RAM means more energy consumption .. the ONE is already super fast and smooth, what do people expect from a Snapdragon 800?

This was the point I was going to bring up. At this point, 4 months in, I think I've finally "broken in" my One's battery to the point where I'm satisfied with the duration I get out of a full charge. Upgrading the processor and RAM without upgrading the battery would really cripple the phone, especially with the unibody design. Besides, it already plows through anything I throw at it like a hot knife through butter.

Actually I think the Snapdragon 800 is more energy efficient than the S600. I could take or leave the extra ram.

I would get this in a heartbeat. Eight years ago I got a Motorola Razr in Gold colored aluminum. I always enjoyed the phone. I now have an LG G2 which is a very impressive phone but would be the king of all phones if it had an aluminum body so gold would be the natural choice for that dream phone.

Guys convince yourself its not an iphone copy, just to make you feel good hahaha , im sure you think about iphone whn you saw this article hehh

Naah.. It was all HTC One for me. Why would I think of the iPhone? *-*

Apple does not own colors (though they probably have tried to patent some).

I actually thought of Nokia: http://www.mobilegazette.com/nokia-6700-classic-gold-edition-09x12x09.htm I owned that back in 2010. Regardless how good you are or aren't at math, I'm pretty sure you can figure out 2010 came BEFORE 2013.

Tired of phone wars yet you fan the fanboy flame? How ironic. Posted via Android Central App

I was thinking the same thing.

It is funny to watch people defend the color. Yes, there have been gold colored phones before, all of them probably sold poorly. HTC's decision to release this color at this point in time is because of Apple.

But... but... there were leaks of the gold HTC One (August 2013) before the iPhone 5s was announced (September 2013).

Gold or not. The HTC One is my favourite phone. I Got to use it when my friend had purchased it. Its truelly awesome. don't own one though :)

I guess the color doesn't really matter to me, especially with this phone. I think it's a beautiful phone, but it's the least repairable phone ever so I keep it in an otterbox. My next purchase will be something a little easier to open up and with spare parts available on ifixit. Posted via Android Central App

As much as HTC has introduced this "pretty" colour, it needs to do a V.2 with updated SoC (sd800) and camera modules, introduce a mainstream 64GB version (other than the Developer's Edition) and make a GPe version with Pentaband HSPA+ (just use the T-Mobile USA version as the GPe base but with 64GB and make a black model available or all the colours if you want). The One is a great phone and it impressed me when I was playing my my friend's Rogers One and converted it to dual-boot with the MoDaCo software. Finally, HTC paid Robert Downey Jr. how much for advertising/promotion? Get that money back.

So, it will not give purple tint issue? Or it will be gold tint? Posted via Android Central App

Although the red HTC One is my absolute favorite, they did a great job with this gold One. My silver One is now concerned that it might be replaced.

Beautiful. Posted via Android Central App

Way better looking than the 'real' gold One. Posted via Android Central App

I'll stick with my Blue One

Gold is such an ugly colour for a phone Posted via Android Central App

Good old silver is still the best color in my opinion. Posted via Android Central App

All I want for Christmas is my two front teeth. Scratch that. I'd prefer a Gold HTC One :-)

Looks great but not worth trading in my moto x Posted via Android Central App

That looks beautiful! I want one! PLEASE BRING IT TO T-MOBILE USA!!!!!

Yaay....now we need a Touch ID Sensor and the copy will be complete!

I would have preferred to get the One in gold rather than silver, but it's not worth paying any additional costs at this point. Now, I'm looking ahead to the "M8." Posted via AC App on HTC One

It actually looks quite nice. Man, a silver model with the black trim would have just been gorgeous. I wish HTC could have figured that out. Posted via Android Central App

Will this be available in asia? Posted via Android Central App

Just hope the company doesn't flop before they can get it out the door Sent from my Nexus 7 2013

I love how my comment, which was the very first one made, was censored out because someone considered it politically incorrect. This device will sell well in China, and would sell well to a certain demographic in the US. Faux gold phones are ugly, and they're only copying the rubbish faux gold Apple iPhone, to tap into the same demographics. Posted via Android Central App
Android Central Newsletter
Get the best of Android Central in in your inbox, every day!
Thank you for signing up to Android Central. You will receive a verification email shortly.
There was a problem. Please refresh the page and try again.