How's the battery life on your Galaxy S9 or S9+?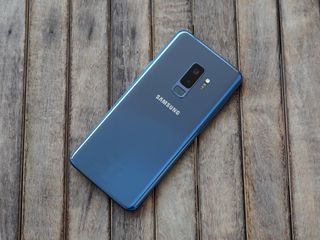 The Galaxy S9 and S9+ are solid upgrades over the S8 series in just about every way, but one area that didn't see any sort of improvement is battery capacity. Just like the Galaxy S8 and S8+ before them, the S9 and S9+ have 3,000 mAh and 3,500 mAh batteries, respectively.
Qualcomm's new Snapdragon 845 processor is more power efficient than the 835 from last year, but even so, the Galaxy S9 series isn't something you should buy into if you're looking for the best battery life possible.
Some of our forum users recently got to talking about how often they're charging their Galaxy S9s, and this is what they had to say.
With that said, we'd now like for you to chime in – If you've got a Galaxy S9/S9+, how often do you find yourself charging the phone?
Android Central Newsletter
Get instant access to breaking news, the hottest reviews, great deals and helpful tips
Joe Maring was a Senior Editor for Android Central between 2017 and 2021. You can reach him on Twitter at @JoeMaring1.
I'm guessing that last guy never uses his phone . . 85% at the end of a workday? That's just standby usage. Goes on the charger after work and not touched till morning? So, kudos for not being a smartphone addict, but do you just carry it for emergencies or ?

Yeah no way on earth that's with any kind of usage. Check AC on his lunch then doesn't touch the phone til he gets home

I've had my S9 for a week and I use it for work. I plug it in when I go to bed and that's it. So far no issues getting through the day

Same for me. Still have around 25% left with moderate usage.

Charging my S9+ At least twice a day (needless to say that the charging process is slow compared to DASH by OP). My OP3T lasted much longer and performed smoother. Yet another poor device by Samsung.

I wouldn't say poor device, but simply not the best on battery..

Once a day at night, or early in the morning if I forgot to put it on the charger at night. But then, usage-wise, I don't have my phone surgically attached to my hand, like some people.

My s9 plus rests on a wireless charger when I'm in bed, on the couch or at work. It doesn't last as long as my Pixel 2 XL but it's battery isn't a problem because it's always charged. I've got 3 wireless chargers & I love them!

Got mine since last friday... i charged it when i sleep and i charged it again at 7pm.

I charge overnight and still have 60% after my day is over. I'm using the S9+. Way better battery life than my S8 that's for sure

I get about 20% better battery than my GS8+. So at the end of the day I usually have about 25% battery left.

I'm a heavy user so on my day off I charge once for a top off. I have 2 phones in rotation Note 7 WiFi use only while the main phone is charging. "I got 2 phones one for........"

on my s9 from sprint my battery last the whole day with streaming music and video
Android Central Newsletter
Get instant access to breaking news, the hottest reviews, great deals and helpful tips
Thank you for signing up to Android Central. You will receive a verification email shortly.
There was a problem. Please refresh the page and try again.