How's Android Pie running on your Pixel 2?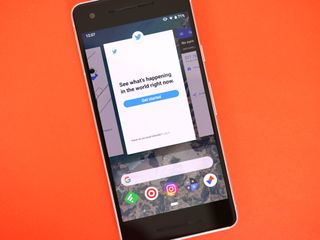 Earlier this month, Android 9 Pie started making its way to the Pixel 2 and 2 XL. This latest version of Android brings new gestures, a refreshed UI, battery-saving tools, and plenty more.
All of these new goodies are certainly exciting, but in day-to-day use, how well does the upgraded OS actually perform?
Here's what some of our AC forum users have to say!
What about you? How's your Pixel 2 running with the Android Pie update?
Joe Maring was a Senior Editor for Android Central between 2017 and 2021. You can reach him on Twitter at @JoeMaring1.
Pretty well. I can discern a fraction of a second of lag from time to time that wasn't there before, but this is all familiar ground for Nexus/Pixel people. Nothing that can't be tolerated and nothing that won't be fixed.

Fantastic on first gen pixel. I still can't get used to the clock on left, but all else is butter Battery life is much improved too

Its good but they fcked up the volume controls. You cant control the ringer volume anymore from quick settings (not sure why they just didnt make a 2nd slider). When you stream Chromecast and get a phone call, you cant control Chromecast volume anymore as well. In general volume seems to be lower then before during calls.

Good point. Yes the volume situation is kind of half baked. They need to update this asap.

Agreed. Volume controls are worse without sliders for all. Also, twice now, I have had to reboot the phone to get audio. I can't confirm yet, but I am leaning toward lost audio due to manual muting (some game ads just don't know when to keep their big traps shut) on at the end of a Do Not Disturb rule.

Bad...notifications are all sorts of jacked up and there is a lot of stuttering on the home screen and within apps. Camera is also very slow to load and switch modes. Take a look at the forum https://forums.androidcentral.com/google-pixel-2-pixel-2-xl/899610-pixel...

I'm seeing some stutter here and there. Fingerprint scanner is definitely slower.

Pretty well, but I was on the beta since DP2 so my process of getting acclimated was pretty gradual. I haven't noticed any lag that wasn't there before, except that the camera definitely takes longer to launch when you double-press the power button.

Been pretty good on mine. I was worried about apps I have to use for work not working right however they seem to actually load up faster since the update. Also before the update I was having some issues with my car's Bluetooth however it seems those are less common since the update even though I have had some come up where people can't hear me talking unless I disconnect and talk on the phone itself. Only seems to happen when I call out for some reason, it works fine when I receive a call. Not sure if this is more my car or what.

Haven't tried it. Until I can move the clock back to the right side and not have to treat my phone like it has a notch I will not be installing it.

Really thats the reason? smh

A few hang ups where it seems like processor gets looped up once in while, seems Bluetooth related, I don't think battery is better at all, maybe a tic worse. Text sounds sometimes double play which is weird. But it is better overall.

Runs well but I not used to some of the changes yet. Not sure I like the direction they went with some but we'll see how it is after some time.

Good.
Battery life is better.
I now get notifications on whether or not I want to receive notifications on certain things. I like that. It seems to track what notifications I dismiss. I like that.
I have no desire to go backwards...

I seem to have the same experience as DMP89145, My battery life during the day has gotten better, but if I leave it off the charger idle at night, it drains faster than on 8.1. It's around a percentage of battery per hour, where with Oreo it was around 3-4% over a 7 hr period. I also didn't do a factory reset after updating (never have).

Not well at all on mine is having lag issue and network and Wifi connection issue it was fine before the update tho

WiFi definitely seems less stable. I can turn it off, and it will pop on by itself later. And when it is on, it seems to have trouble keeping a usable connection with some access points. Overall minor annoyance that I expect will be fixed.

IDK, but it was running pretty sweetly, on my OG Pixel XL.

Running perfectly. not one issue so far.

Runs great. Few minor hiccups. My banking app for my credit union crashes every time now. Waze in Android auto would stop working randomly the first day, but it's fine now. I miss being able to show the hours, minutes and seconds on the clock.

Android Pie is running just fine on my Pixel 2 XL apart from a slightly slower fingerprint scanner.

Just picked up the pixel2 xl and I am amazed how well this device runs plus pie is even more awesome. I should of bought a pixel a long time ago.

It's just fine. I don't notice any difference.

I am having problems with fingerprint recognition. Definitely slower than before the update, and 15-20% of the time it just doesn't recognize my fingerprint at all - says too many attempts. Otherwise, not much different. Battery life is more variable - on days when the phone sits on the desk most of the time, it seems to use less battery than before under the same use - but if I do a lot of viewing with Chrome or just the Google app, it seems to use battery faster than before. Sometimes it will complain about my weather app using too much battery in background, other times it says all is normal. The fingerprint thing is annoying.

No lag in finger print reader outside of environmental and soaking too long in the tub, prune finger. Battery life is a little worse but then there's been a host of updates where YouTube and such were suddenly running in the background where I had silenced the lot back when I bought my Pixel 2 XL. The camera itself became slower to launch and the white balance is indeed a tad off (now there's something to map onto the volume rocker, Google HEED!!!) but locking on a subject while shooting from the passenger seat of a car being angrily driven by the Mrs is better. Bluetooth works better with new devices, the paradigm of such with Hyundai's infotainment system but far worse with my old Jabra bluetooth speaker. The two standouts, light-years ahead of anything else imaginable in an office where Apple's Top tier in gear is common as spoons in the kitchen drawer, the lock screen and the Assistant. One is time, date, weather, alerts and what's playing on the radio without putting a dent in the battery overnight and the other... Witchcraft!!! And to think, they could have gotten rid of all those buttons on the starship Enterprise if they'd have just asked the replicator for the latest Pixel device.
Android Central Newsletter
Thank you for signing up to Android Central. You will receive a verification email shortly.
There was a problem. Please refresh the page and try again.