How to use Kodi to watch live TV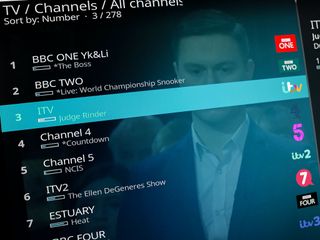 To be clear, this isn't about watching TV channels delivered over the internet (IPTV) but actual over-the-air (OTA) channels. With the right hardware and matching plugins, adding your OTA TV to the main Kodi interface is a breeze. Android TV can integrate Live TV itself, but if you're a fan of having everything inside the Kodi interface then this one is for you.
For the purposes of this guide, we're using a HDHomeRun Connect tuner (opens in new tab), but the process is the same for other supported PVR hardware. You also must have set up your hardware first before going into Kodi.
See more on streaming TV at CordCutters.com!
This isn't the same as just installing an add-on, either. HDHomeRun, for example, has an official Kodi add-on, but that works like a dedicated app. The third-party PVR client built into Kodi, by contrast, integrates the TV channels directly into the main Kodi interface, and there are numerous advantages to using it.
Advertisement
How to enable live TV on Kodi
Click on add-ons in the Kodi sidebar.
Hover over my add-ons in sidebar.
Select PVR clients.
From the list, select the relevant PVR client for your hardware.
Click install.
That's all you need to do to enable live TV within Kodi. It's a simple, seamless setup, and now you just have to go back to the main screen and click on the TV menu item in the sidebar.
Image 1 of 2
All of your channels have been pulled into Kodi's main interface, and it's pretty damn slick. When you first go into your TV section in Kodi, it'll pop up a list of channels on the left of the screen with currently playing shows. To see more channels you just scroll.
There's also a neat TV guide for viewing everything that's on now and upcoming across your entire channel list. And whenever you're watching something live, flicking out to the full guide or even just the upcoming guide for that channel never gets rid of what you're watching. It always fades into the background.
As you watch, recent channels and favorites will begin to populate within the TV section for quicker access. The beauty of this setup is that any device you install Kodi on can integrate live TV in just a few steps using your local network. There's no additional antenna required.
If you have any tips and tricks for watching live TV on Kodi be sure to drop them into the comments below.
Download Kodi (free) (opens in new tab)
Android Central Newsletter
Get instant access to breaking news, the hottest reviews, great deals and helpful tips
Thanks for the article! I'll have to try this out with my Tablo OTA DVR setup! As a side note, I use Kodi with my Chromecasts and this Kodi Cast Toggle app has been a life saver. Sometimes when I want to watch Kodi content on my device rather than through a Chromecast, this toggle works great. It even let's me select a different media player to view content on my device, like MX Player, which comes in handy too. https://www.androidcentral.com/e?link=https2F2F...

Looks like Tablo isn't supported, or if you see something I missed please reply and let me know ...

Follow the directions no channels are being display.

Says no repository.... I have the next one down enabled called iptv simple client.... it works but greatly slows down kodi speed.... I never use it anyways

So.. if you have a cable box and it can only be controlled by an IR Blaster (like, well, most cableboxes - Hitron, Motorola, etc), how exactly do you do this? Oh and if you're not in the US or UK.. how is it on TV listings? Or does that work at all?

You don't do it through a traditional cable box. Your Kodi box (whatever that may be) takes it's place. It's all going to depend on how a cable company conducts it's business. A normal tuner may work or you may need a cablecard tuner. TV listings are similar. I pay for SchedulesDirect just because it's easy and their listings are good. There are ways to scrape the data, but I've found those a lot more work.

What channels does this include? All sports, movies, etc?

It's going to depend on your provider and what means you are using to tune the channels. I do OTA with my setup, so I just get the local stations. I don't want a cable subscription or a cablecard rental.

I think, unfortunately, he was thinking this was for illegal streaming.

The problem between the PVR Plugin and the HDHomerun provided Add-on for Kodi was the ability to record, schedule recording, & live tv pause/play. Hopefully someday the PVR Plugin will incorporate everything into the plugin. I have not looked at the recent updates, maybe the PVR authors are waiting for SiliconDust to release an API or ????

Directions were great - but when I got to the "Install" part - that wasn't an option. It was already enabled - along with every other PVR plugin on the list! I also could not "run" - it was grayed out. Clicking on the TV icon on the main screen brings up the error code that tells me I don't have a PVR set up yet. Have things changed with the Kodi 17 update, maybe? I'm very new to kodi - and a little out of my league here - so any help is greatly appreciated. Thanks!

Never mind! I figured it out! Thanks anyway! :)

How did you figure it out!?? I'm having the same problem as you had. I don't know which pvr to pick. Whichever I try, I don't have the "install" option nor can I "run" it.
And like you, this is all very new to me.
Please emIl me directly: louischarland@hotmail.ca Thank you! HELP ME!! Lol
Android Central Newsletter
Get instant access to breaking news, the hottest reviews, great deals and helpful tips
Thank you for signing up to Android Central. You will receive a verification email shortly.
There was a problem. Please refresh the page and try again.