How to troubleshoot Casting problems with YouTube TV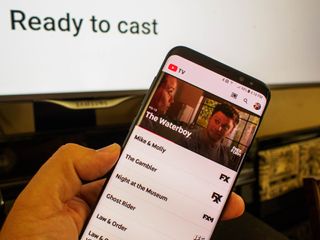 YouTube TV lets you Cast your favorite shows from your phone to your television. However, you can run into some pesky problems while Casting. If you're having issues loading videos, or running into glitchy playback, these are the tips to solve your problems!
Restart YouTube TV
When you run into issues with YouTube TV, the first thing to try is to restart the app by closing and reopening it. This is an easy way to solve some problems, and only takes a moment.
Close the YouTube TV app.
Reopen the YouTube TV app.
Check for Updates
In some cases, your problem may be caused by having an app that hasn't been updated. By updating, you'll ensure that everything is working properly, and patches may outright solve many issues.
Open Google Play.
Search for YouTube TV.
Tap update if your app is out of date.
Check your connection
In order to Cast to YouTube TV, you'll need a solid internet connection with a Wi-Fi network that both the device you are Casting from and your Chromecast on it. Additionally, you'll need to ensure that you have a 3Mbps connection for the best viewing experience. If you're having continual issues with video playback, then lowering the quality may well do the trick.
Open the YouTube TV app.
Tap the program you want to watch.
Tap the overflow button on the video player.
Tap quality.
Tap to choose a new quality for your video.
Reboot your Chromecast
If connection problems seem to be the bane of your existence, then you may need to go ahead and reboot your Chromecast.
Unplug your Chromecast from the wall.
Leave unplugged for about a minute.
Plug your Chromecast back in.
Contact YouTube TV support
In some cases, none of the tips we've listed out here will do the trick. If that's the case, then the next step ought to be to contact YouTube TV support. You can chat with someone, correspond via email, or request a phone call to get help to resolve your issue.
Questions?
Did these methods help to solve your problems?Is there a method for troubleshooting YouTube TV that we missed? Let us know in the comments below
Android Central Newsletter
Get instant access to breaking news, the hottest reviews, great deals and helpful tips
Jen is a staff writer who spends her time researching the products you didn't know you needed. She's also a fantasy novelist and has a serious Civ VI addiction. You can follow her on Twitter.
Jen, thank you again for these YouTube TV articles. I know they will all come in handy once I get the service next month :)

Youtube TV does not get along with my first gen Chromecast. It gives a warning about lower performance and kind of just hangs. I guess it's time to upgrade to an Ultra anyways.

Yep, time to upgrade. They even tell you on the YouTube TV support page: Note: Chromecast and Chromecast Ultra are supported. You can cast from Chromecast (1st gen) but your experience isn't optimized.
https://support.google.com/chromecast/answer/7353493?co=GENIE.Platform%3...

One of the typical problems I have seen with CC is, not showing on cast button. I had to open the Home app and look for the device to show up. And then I re-open the app to cast again. Not sure if this is problem with CC or the implementation on the app side.

You wouldn't have to cast if they will buddy make an Android TV app. What's taking Google so long with this?

I know. After I signed up I went out and got a nice Android TV box with a remote. It supported the Youtube TV app. I thought I was home free and then...it asked me what device I wanted to cast to, because OBVIOUSLY I didn't want to watch Youtube TV directly on my TV. If I wanted I guess I could have the ChromeCast on HDMI1, the Android TV on HDMI 3 and cast from the Android TV box to the Chromecast and then keep switching back and forth from HDM1 and HDMI3 just to watch a show. Yeah...why do companies do crap like this? It's just downright evil. So instead, I have a ChromeBox hooked up to the TV and use a Logitech Wireless Keyboard with a built-in touchpad to watch TV. Very clunky but it still beats using my Phone with a ChromeCast.
Android Central Newsletter
Get instant access to breaking news, the hottest reviews, great deals and helpful tips
Thank you for signing up to Android Central. You will receive a verification email shortly.
There was a problem. Please refresh the page and try again.