How to take a screenshot on the LG G3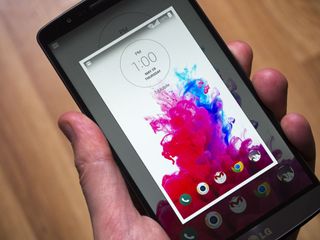 Taking a screenshot on the LG G3 is as simple as pressing buttons or swiping the screen
As with most Android phones, taking a screenshot on the LG G3 is simple enough, if you know the trick. There are a couple of ways to save the image on your screen for posterity, and they're both really easy, as for the most part LG's using the standard Android button configuration. Only thing is, the main physical keys are on the back of the phone, so you'll need to go about pressing them in a slightly different way.
And there's also a secondary way to grab a screenshot and annotate it, using the built-in QMemo+ application. Let's get stuck in after the break.
Also: How to take a screenshot on the LG G4!
LG G3 screenshot — Method 1
As with most Android phones, you can take a screenshot on the LG G3 using the physical buttons on the phone:
Get the screen that you want to capture ready to go.
Hold down the "volume down" and "power" buttons at the same time. (That's the middle button and the bottom button, as seen on the back of the G3.) You'll see the screenshot effect on-screen.
Boom. Screenshot. The image will be saved in the "Screenshots" folder on your internal storage, and you can view this folder through the Gallery app.
Alternatively, you can share your shot immediately with another app by dragging the notification shade down, finding your screenshot and using the "share" button.
LG G3 screenshot — Method 2
The LG G3's preloaded QMemo+ app can also allow you to capture screenshots.
Get the screen that you want to capture ready to go.
From the bar of software keys towards the bottom of the phone — — swipe up and to the right, and select the QMemo+ option (the Q icon).
The QMemo+ app will capture an image of what's on-screen, and you can also draw or write on top of it
When you're done, hit the save icon in the top right corner.
Fun fact — as the G3 boasts an enormous 2560x1440 display resolution, your screenshots could take up as much as 4MB a piece. Keep tabs on them under the "Screenshots" album in the Gallery app.
Hit our LG G3 topic page for more on LG's flagship smartphone for 2014.
Alex is global Executive Editor for Android Central, and is usually found in the UK. He has been blogging since before it was called that, and currently most of his time is spent leading video for AC, which involves pointing a camera at phones and speaking words at a microphone. He would just love to hear your thoughts at alex@androidcentral.com, or on the social things at @alexdobie.
Cue "Why you writing so much about the LG G3?" in the coming days.... Via a cool AC App on a great Nexus 4

Lol Posted from my Nexus 7 2013 or Samsung galaxy S5

And the "i already know how to take screenshots, why are you writing about this" Posted from the Avengers: Age of Droid Ultra

I mean, seriously though. it's the same way as it is on the G2.....and every. other. android. phone. out. there. Posted via Android Central App

I've only had my G3 for about a month. I forgot how to take screenshots and googled tonight. I appreciate being able to find this information. I wouldn't think to Google about G2. composed via Swype voice dictation

Well I have used my Iphone 4s White since release 2011 november, I didn't bother changing to Iphone 5/5c because spec wise it was quite the same just bigger screen, now with Iphone 6/6+ out I felt like it was time to change my phone as it was quite old... But Iphone 6/6+ was still horrible. So i decided to screw apple and use Android. My friend suggested me LG G3. And I have no clue how to take screenshots until I saw this post. So yeah i'm Happy LG G3 user or Android User you might say. and I also apreciate this post a lot!.

The same problem happened to me when using G3, and I have searched for the screenshot way for a long time, lucky me, I find the useful information from here, and the following article is also helpful as it provides more comprehensive solutions. Anyway, thanks to those two articles. http://screenshot.net/screenshot-lg-g3.html

I know...i know *shakes head*

Like with all newly released devices there are thousands of AC editorial readers who appreciate detailed information, sometimes unique, about a handset's functions presented in easy to absorb sections. It's rude and disingenuous to disparage the editors (teachers) if one believes they already know it all. That type of behavior isn't tolerated nor successful where people have attained experience at institutions of higher learning.

Well said jimbo. And thanks to the editor for posting this was very helpful. I picked up my first LG phone from Costco less than 18 hrs ago. And I have no idea how to take a screenshot. I come from Gs3 cm mod.

Also just traded in my Samsung Galaxy SIII for an LG G3 ... really miss the awesome "palm swipe" to take screenshots.

I really appreciated this post because i really didn't know how to take a screen shot. My old phone was a note 2 and it was totally different.

Very well said. So many rude people!

It must be nice to have all the answers and/or a perfect memory. Those of us who just got that phone, or haven't used that particular feature for quite a while, very much appreciate posts like this. Thank you for taking the time to help us aged folks!

Cant wait to get this phone!

What an amazing device it is first place in my book. Posted via Android Central App

Having the G2 I can vouch that the QMemo method is great. Being able to draw or write on a screenshot without opening another app has come in handy to me far more than I ever thought it could. The LG skin in general is just very useful.

Yea the Qmemo method is my preferred method for taking screen shots. I think it's much easier/cooler to do it that way. I don't have to adjust my grip just reach the buttons on the back of the phone, which isn't necessarily hard either. Posted from my LG G2 via Android Central App

I like the battery usage stats. So are you getting about 15hrs out of heavily testing the phone?

Haha... well spotted. I won't deny that. But also bear in mind I'm using a pre-production G3 on LTE networks it's not optimized for (this one's Korean, I'm using it in the UK). Both of those factors can impact battery performance.

Yeah understood. Quad HD or not, that's still plenty for me. I still get almost a whole day out of my Nexus 5. I look forward to some heavy testing of my own!

Q memo method looks useful actually, seems like it stays and doesn't take you to a different app to draw on it (if I'm correct).
4mb a screenshot - ouch! Posted via Android Central App

These methods are unchanged from the G2. A good thing.

Qmemo (on the G2 at least) doesn't work for full screen apps. I have to resort to using the buttons.
At least that's been my experience thus far. Maybe there's a trick...

Wow the LG G3 is awesome! I would love to win one.
I love my Samsung G S4 Active.
It is perfect for me working around the horses.
Water proof to 30 mtr etc...
But the new G3 has the bells and whistles I'd love to get!

Just got my lg g3 18 hrs ago. Screenshots not working by swipe method.all the time qmemo pad turns up blank.

Thank you so much for this info, from switching from iPhone to android again this was very helpful. I just wanted to say thank you. I love my LG G3.

Would anyone happen to know how to change the default format of the screenshots from .PNG to .JPG on LG G3 (or other Android phones)?
Also if there is an option to change the resolution/size of the screenshot it would be nice to know.
Android Central Newsletter
Get the best of Android Central in in your inbox, every day!
Thank you for signing up to Android Central. You will receive a verification email shortly.
There was a problem. Please refresh the page and try again.