How to set up two-factor authentication for your Nest account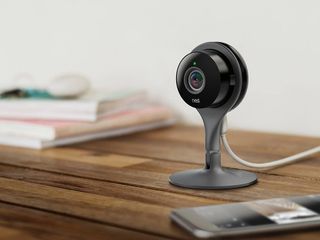 It's always a good idea to add two-factor authentication to any account that will offer it, and that goes double for accounts tied to connected home devices. Two-factor authentication adds an extra factor (a generated code sent to a phone number in this case) to your login process, so even if your account's password is somehow discovered your account stays locked without the code.
Nest has added two-factor authentication to Nest accounts, which means it's time to add an extra layer of security to your thermostat, smoke detector, and home security camera. The process for enabling two-factor authentication is super simple and can be achieved from within the Nest app. Here's how you get it done!
Launch the Nest app.
Tap the Settings button (top right, looks like a gear).
Tap Account.
Tap Manage account.
Tap Account Security.
Tap 2-step verification.
Toggle on the switch.
Enter your password and tap Continue.
Enter your phone number.
Enter the six-digit 2FA code sent to your phone.
Tap Continue.
Tap Done on the confirmation screen.
Keep in mind you'll need to have access to this phone number every time you log in to your Nest account, as you'll have to type in the 2FA code for each new login.
Questions?
Run into trouble trying to get 2FA set up? Give us a shout in the comments and we'll try to troubleshoot the issue.
Android Central Newsletter
Get instant access to breaking news, the hottest reviews, great deals and helpful tips
Mikah Sargent is Senior Editor at Mobile Nations. When he's not bothering his chihuahuas, Mikah spends entirely too much time and money on home automation products. You can follow him on Twitter at @mikahsargent if you're so inclined.
Can I put this into Authy or similar app?

Doesn't look like it. Bummer. 2FA is great, but I hate getting text messages for it.

What's also annoying is that you can't have another device certified such as logging in via your home browser, use 2FA and then have that browser/PC certified like you can on some other accounts.

This can't be right.
I'm into and out of my nest cam ten times a day. No way they expect me to fetch a key from a text message each time?
The description must be wrong.

You only need the code every time you log in on a new device, not every time you access the mobile or browser app. Once I set it up, I was prompted for a code the next time I logged in via Chrome, but not again since.

Thanks, that's much better explanation than Mike's. Still, why is this not integrated with Google Authenticator?
If you have to have that cell available to receive the text message, just use authenticator!!
Has google/nest not heard that text message 2FA codes are not considered secure?
https://www.schneier.com/blog/archives/2016/08/nist_is_no_long.html

I have no idea. I was really surprised by the lack of integration between Next and Google in general. When I got my Nest thermostat and wasn't able to just sign up with my Google account, I was sure I was missing an option somewhere.
Android Central Newsletter
Get instant access to breaking news, the hottest reviews, great deals and helpful tips
Thank you for signing up to Android Central. You will receive a verification email shortly.
There was a problem. Please refresh the page and try again.