How to set up and use the Productivity Tab on the BlackBerry Priv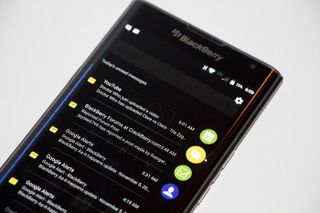 One of the things BlackBerry is loved for is its productivity credentials. One of the nifty features brought to Android with the BlackBerry Priv is the Productivity Tab, an at a glance view of some of the most important information in your day. You can get to your calendar, favorite contacts, messages and tasks list wherever you are on the phone.
Accessing it is easy once you're set up. A simple swipe in over either the left or right hand edges of the phone bring up the view you can see in the image up top. The best thing is you can customize the appearance and position so it's always there where you want it, looking how you want it.
Here's what you need to know.
How to enable the Productivity Tab
Either through the notification tray or the app draw open up "Settings."
Scroll down and tap on "Display."
Scroll down almost to the bottom where you'll see an option for "Productivity Tab."
Make sure the toggle is set to on.
OK, now you're basically set up. You'll now see a tab appear by default on the right hand edge of the screen, whichever app you're in, about two thirds of the way up. .To access the Productivity Tab just swipe in across this area.
Customizing position and appearance
The key thing is that you can move the tab to wherever it's going to be most comfortable for you to access easily and you can change how transparent it is. You can make it almost completely fade away if you want. Here's how.
Swipe in over your Productivity Tab to open the main screen.
Tap on the settings cog in the top right hand corner.
The options in front of you can make it go away, move to the left or right edge, change the height and the transparency to your liking.
To move it up or down the edge of the screen simply go back to the homescreen, hold your finger over the tab until you feel a vibration, and drag it around to wherever you want to put it.
The Productivity Tab is exactly the kind of software additions we'd expect from BlackBerry for the Priv, but as with the rest of its own software on the phone, you don't have to use it. If you'd rather it wasn't there you don't even have to have it enabled. The choice is yours.
Get the Android Central Newsletter
Instant access to breaking news, the hottest reviews, great deals and helpful tips.