How to save what you're reading on your phone for later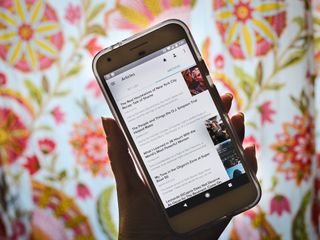 Smartphones are mobile, so naturally, you're using your mobile device to get a bulk of your reading done throughout the day. I know I do — even if my tablet is nearby, I'm still reading the news, perusing Twitter, and delving into articles with the device that's already in my hand.
But you can't stay glued to the screen all day, which is where those "read it later" apps come in handy. Here's what I like to use to keep track of what's interesting on the internet, even when I don't have time to digest it.
Pocket
I'd argue that this is one of the most suggested apps for saving articles to read later. It's called Pocket (it used to be called Read It Later) and I've been using it for so long that my reading list is essentially an archive of what used to get me riled up. You can use Pocket to file away those articles you'll merely skim through or longer narratives that require an afternoon accompanied by a cup of tea.
I like Pocket because you can easily use Android's built-in sharing functionality to file articles for later. You can then go into the app and tag articles to organize them by categories of your choice. After you've been reading for a while, Pocket will start to email you a weekly summary of other worthy reads based on what you've already stored away. There's also a social networking element to the app where you can follow friends with their own Pocket accounts to see what they're reading when they can get to it.
Instapaper
Instapaper is the other popular app for reading stuff later. I don't use it daily, but that's because Instapaper is more focused on the interface environment you're reading around rather than the content. Its layout is simplistic and designed to appear newspaper-esque. Whereas Pocket is a fan of embedding images and media, Instapaper will keep those hidden so that you can more easily digest the diction.
Instapaper also offers myriad settings for customizing themes, fonts, and text size to your liking. And like Pocket, it offers a bookmarklet for pinning articles from Google Chrome.
Facebook Save
I see you scrolling through your Facebook feed during work hours. I get it: I don't want to miss out on what my friends and family are talking about it either. I've curated my social network so that I want to engage in daily dialogue with my pals and a few others who enjoy the banter. But I also have a bad habit of getting into it when I should be working. (Sorry, editors!) Thankfully, there's a feature that lets me save articles for later. I just tap on the more button of the post I'm interested in and select Save link. The article is then archived to my Facebook account, where only I can see the articles I've deemed worth reading later.
Go to your Facebook Reading List
Save to Inbox
Did you know that you can save links to your Gmail account? It's true, and I'm glad for it considering I'm constantly emailing links to my best friend on the other side of the country.
If you're already an Inbox user, you can file away links you read in your email or on Google Chrome to read later by using Android's built-in sharing mechanism. You'll immediately get a notification that there's an email waiting for you — that's the article you filed away! And the best part is that if you find the article you've read worth sharing with the world, you can easily forward it on with a few taps.
Watch it later
I love watching YouTube and catching up on web shows, but I try to avoid going anywhere near that site during work hours. Unfortunately, that's a difficult dance, but I've figured out a way to save the videos without getting sucked into watching them. When a pal forwards a video link with a persuasive headline, I'll open it up on my phone and queue it up for later by adding it to my Watch it Later playlist. Simple as that!
Go to your WatchLater playlist
How do you save?
Do you use an app to save your reading for later? Which one do you use and why do you love or hate it? Let us know in the comments below.
Get the Android Central Newsletter
Instant access to breaking news, the hottest reviews, great deals and helpful tips.
Florence Ion was formerly an editor and columnist at Android Central. She writes about Android-powered devices of all types and explores their usefulness in her everyday life. You can follow her on Twitter or watch her Tuesday nights on All About Android.