How to recover your Google account if you're locked out
It's best to prepare so it doesn't happen to you.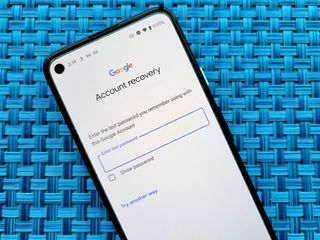 (Image credit: Ara Wagoner / Android Central)
Like many internet users, you probably know how to secure your Google account so that you're not locked out. But what if a bad actor suddenly gained access to your account and changed your password? What if you yourself forgot your password or your actual email address?
Reclaiming your account and all the data, email, and private information that comes with it can seem like a daunting process, but it doesn't have to be, as long as you know where to start. Here's what you need to do to recover your Google account if you're locked out. That way, when it's time to pick up one of the best Android phones on the market, you're not fumbling around trying to log in.
Recover your Google account
If you find yourself unable to access your Gmail account, either due to a forgotten password or a potential breach, you're going to need to go to the Google Account Recovery Page.
This is the official process Google has lined out for you. You'll need to answer a few questions with personal information so that Google can verify your identity. If successful, Google should be able to let you back into your account after the verification process has been completed.
First, gather all the pertinent information you have about the account you want to recover (email address, name on the account, passwords you've used) and go to the Google Account Recovery page. That'll be helpful to have handy later.
Type in your email address or the phone number associated with the email address you want to recover. This must match the number you used when you first set up your account.
Click Next.
If you entered an email address, type in the last password you remember. Alternatively, skip to step #7.
Click Next after you type in the last password you remember.
If you didn't enter a password and want to try your phone number now instead, click Try another way.
If you came here from Step #4 or you chose Try another way, Google will send a verification code to your phone number. Type in your verification code.
Click Next.
If you entered your email earlier, instead Google will ask you to enter the recovery email address you added to your account. Once you've done this, you'll receive a verification code there to continue the process.
Enter your verification code and click Next.
Whether you've used an email address or a phone number to receive a confirmation code, the next step is the same. You'll be able to log in after a quick password change. Here's a refresher on how to change your Google account password.
A few things to keep in mind
If you don't remember the name, email address, or phone number associated with your account, you'll have to do a bit of sleuthing.
Alternatively, if you don't know any of your old or recent passwords, Google will ask you several questions to verify your identity. This may include previous devices you've been logged in on, old security questions, the date you created your account, and more.
If you end up having difficulty logging into your account for these reasons, you may no longer be able to access it without having some of these details. If that happens, you may want a quick reminder for how to to set up a new Google account.
Get the Android Central Newsletter
Instant access to breaking news, the hottest reviews, great deals and helpful tips.