How to play Google Stadia games in 4K resolution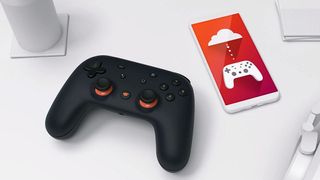 (Image credit: Google)
Google Stadia launched a few days ago and it's safe to say that the launch didn't go as planned. A lot of gamers who preordered still don't have their devices, and there are reports of a number of other problems. However, the biggest issue we've seen on social media is the picture quality. Many reviewers even noted that "4K doesn't look like 4K." Well, you'll be happy to know that we have a quick way to fix image quality until Google addresses this problem.
If you're one of the users who's seeing blurry visuals when you're playing Stadia through the Chromecast Ultra, you should think about turning off high dynamic range lighting (HDR). On many games, it appears to dramatically increase the resolution. Below, you can see a table of the improvements to image quality we witnessed after turning off HDR from the Stadia app on Android. We tested a number of games that users are likely to pick up at launch.
Swipe to scroll horizontally
| Game | With HDR Image Quality | Without HDR Image Quality | Frame Rate |
| --- | --- | --- | --- |
| Assassin's Creed Odyssey | Slightly Blurry Image | Slightly Sharper Image | 30 FPS |
| Attack on Titan 2: Final Battle | - | 4K | 30 FPS |
| Destiny 2 | 1080p | Slightly Sharper Image | 60 FPS |
| Final Fantasy XV | 1080p | 1080p | 30 FPS |
| Grid | Blurry | Blurry | 60 FPS |
| Gylt | Blurry | Blurry | 30 FPS |
| Just Dance 2020 | - | 4K | 30 FPS |
| Kine | - | 4K | 60 FPS |
| Metro Exodus | Slightly Blurry | 4K | 30 FPS |
| Rage 2 | - | 1080p | 60 FPS |
| Red Dead Redemption 2 | 1440p | Slightly Sharper Image | 30 FPS |
| Samurai Shodown | - | 4K | 60 FPS |
| Shadow of the Tomb Raider | Very Blurry | Significantly Sharper Image | 60 FPS |
| Thumper | - | 4K | 60 FPS |
| Trials Rising | - | 4K | 60 FPS |
| Wolfenstein: Youngblood | - | Slightly Blurry | 60 FPS |
Our internet speed is 330 Mbps and we plugged in an ethernet cable into the Chromecast Ultra.
While games like Gylt still look blurry with HDR on or off, the majority of other titles witnessed some improvement. You probably won't be able to immediately tell if you're playing Metro Exodus, Mortal Kombat 11, or Red Dead Redemption 2, but if you're a fan of Destiny 2 and Shadow of the Tomb Raider, you'll be elated. Destiny 2 sees the biggest boost to resolution, but it's unclear if it's running at a higher resolution. Shadow of the Tomb Raider becomes noticeably clearer when HDR is off, too.
Games like Kine and Samurai Shodown don't appear to support HDR so they're at 4K resolution no matter what. Out of all of the titles listed above, they have the best image quality by far.
In order to turn off HDR, open the Stadia app on your Android phone and follow these steps.
Open the Stadia app on Android and tap your profile picture in the top right corner.
Tap on "Display" towards the bottom of the screen.
Slide the "High Dynamic Range (HDR)" slider to the left.
You can also take a look at the visual guide below.
Doing so will turn off HDR on any games you launch in the future. If you have a title open already, you'll have to exit out of it and start a new session for HDR to turn off.
Hopefully, this guide will help you get a clearer image. Let's hope that Google figures out a way to lower the requirements for game streaming so that HDR isn't so taxing on its servers and our internet connections.
Everything you need
A good way to start
This bundle includes everything you need to get started with Google Stadia. It includes the controller, Chromecast Ultra, Destiny 2, Samurai Shodown, and three months of the Stadia Pro subscription for you and a friend. It's a great way to begin your game streaming journey.
Pick up the parts
(opens in new tab)
UHD streaming
You can buy everything together or you can get just the basics for Google Stadia. The Chromecast Ultra is available to purchase now and lets you stream 4K TV as well as play games.
All you need
A firm grip on what's needed
The Stadia controller is all you need to use Google Stadia if you already have the Chromecast Ultra. You can also use it on your other devices. Get the Wasabi colored one, it's gorgeous.
Get the Android Central Newsletter
Instant access to breaking news, the hottest reviews, great deals and helpful tips.
With over 10 teraflops of power AND a blazing fast internet connection, why do you have to turn off HDR to improve the visuals and performance of the game? Someone isn't telling the truth about what or how Stadia is being powered right now.

Because these are all games designed from the ground up to work with Direct X. With Stadia they need to be optimized to work using Vulkan 2.0 with explicit multi GPU support for graphics rendering. The publishers might want to do some more work with them (I expect Rockstar will work on RDR2 forever like it did to make GTAV not peg the CPU on PC) or they might not. This isn't as big of an issue now as it will be when brand new games are released for Stadia. We'll have to see if Google can convince developers to put in the work. Valve couldn't (see Steam for Linux game performance), but Google has more money than GabeN I think.

I just got my code yesterday and had about 45 minutes of gameplay to kick the tires before bed and everything worked very well. Getting configured was a somewhat cluttered, long process to get everything tied together but it's one-time per display device and they did walk you through it, so a minor quibble. I had literally zero noticeable lag at any point, indiscernible difference between this and playing on my PS4. it was pretty cool to claim a game and immediately fire it up and start playing. I have a wired Chromecast, a fast unlimited connection so it *should* work like this, I have no doubt that someone with less in a bad ISP location would have a less smooth experience. The whole HDR thing, though - it's definitely not engaging HDR on my OLED - when HDR is enabled(which btw is completely independent of resolution - your article seems to tie them together) I get a notifier on the screen. Stadia is set to max quality and HDR, so I need to investigate. I probably need to set the TV to a game setting or something. HDR is supposed to be an auto-detect and switch, so that's odd.

It doesn't seem like it's independent because turning on HDR renders the game at a lower resolution. Destiny 2 is the best example of this. This is an issue related to optimization it seems.