How to make your own Kano Computer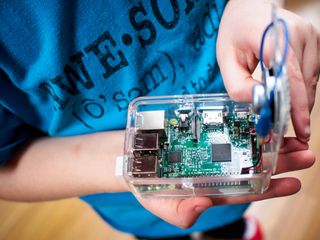 We've all done that one thing we should never do: buy something for our kids only to figure out far too late that we have no idea how to put it together. We're not here to judge. In fact, we're here to help. While you could just buy the Kano Computer Kit for yourself and start on that, why not go the cheaper route instead? After all, building a computer from scratch sounds much more fun, doesn't it?
Products used in this guide
The Guide
First thing's first. You'll need to unbox everything that comes in your Kano package. We advise doing this on a hard surface with plenty of space.
Now that everything's out, take your Raspberry Pi, also known as the motherboard, and place it in its plastic casing.
Insert your USB keyboard with the integrated touchpad into the motherboard.
Your MicroSD Card 8GB will now be put to good use. It's time to install the Kano Software.
First, you'll need to install a program called Etcher.
You'll see on-screen instructions. Follow them.
Check that you have the right download. If you have a Raspberry Pi 3 and an 8GB card, click the download for that version.
Sit and wait impatiently for your download.
Or connect your power adaptor to your motherboard.
Then, using your HDMI cable connect the motherboard to a monitor or TV.
Next, take the memory card with your finished download and slide it into the memory card reader in the motherboard.
Open the Kano OS software you downloaded and click Open.
Your memory card should be detected.
Click the Flash button that comes up. The computer is now accessing the data from the memory card.
Wait once again.
Once you see the Flash Complete you're finished!
Now that you've finished setup, you should be able to get stuck into creating anything you want with your very own Kano Computer. Pft, who said you needed to spend so much to get everything you need?
Our top equipment picks
Our pick
The brain behind all your creations.
Your Kano Computer could not even exist without the Raspberry Pi. This model in particular has everything you'll ever need, as it has two giant upgrades that changes just how you'll work. WiFi is built in, meaning no pesky adaptors, and the processor speed is out of this world.
The Raspberry Pi 3 is also a dream to set up, coming with a HDMI video/audio connector, 4 USB 2.0 ports and a RCA video/audio connector. Honestly, why would you get anything else?
Additional Equipment
With everything you buy, you're going to want to know the pros and cons, right? We're here to help.
Raspberry Pi B 2/3 Case ($8 at PiShop US)
A snap together case that is as stylish as it is useful. It has a cutout for all connection ports and stick-on rubber feet for stability.
HDMI Cable ($3 at PiShop US)
HDMI cables are the bread and butter of our society. Where would we be without the HDMI cable that supports high definition audio, and can connect us to our TVs, consoles, and PCs? Nowhere.
Raspberry Pi Official Universal Power Supply ($12 at PiShop US)
You won't be getting anywhere without some power to make your Kano Computer work. Thankfully, the Raspberry Pi universal power supply gets the job done.
MicroSD Card 8GB or Bigger ($5 at Best Buy)
There is nothing worse than running out of space. With a MicroSD card that's 8GB or bigger, you'll be able to store images, video, and apps with little to no trouble.
USB Keyboard With Integrated Touchpad ($60 at Best Buy)
Who needs a mouse and a keyboard when you can have both in one? Even better, if you have an Android TV, this is completely compatible with it. So now you can browse Netflix while on the couch with a simple keyboard. Nice!
Sign up for Black Friday email alerts!
Get the hottest deals available in your inbox plus news, reviews, opinion, analysis and more from the Android Central team.