How to keep Pandora from hijacking Android Auto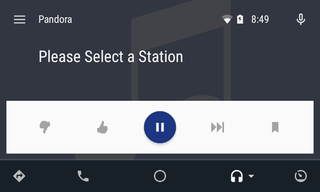 Pandora has become one of my favorite music apps to use with Android Auto. Except for when it decides to hijack things and start playing atop other apps.
Here's how to keep that from happening.
The culprit — as you might have suspected if you caught it on your head unit's display — is Pandora's auto-play feature that's meant for Bluetooth-enabled devices. I think what's happening is the phone first sees the Bluetooth in the head unit (I've got the Pioneer 4100) and so Pandora fires up. By the time Android Auto kicks in, Pandora is grooving away.
To keep that from happening, just go into the settings menu, hit "Advanced," and then uncheck "Enable automatic launch" under "Bluetooth for devices."
That should take care of it.
Step 1. Uninstall
Step 2. Never use Pandora ever again. Problem solved. Posted via the Android Central App

Haven't touched it since signing up for spotify Posted via the Android Central App

Back when Google first started up with music and you could connect to your vehicle via your Bluetooth device, Amazon music used to do that when connecting to the car audio. At that time there was no fix so the only option was to just uninstall Amazon music if you had a Nexus, if not you could only sign out of your account since it was a 'forced on device' app. Nice to see that Pandora at least included an 'un-hijack' option. Then again I use Google Music so doesn't really matter. Posted via the GS6 Active, aka GS6 M.E. (Manly Edition)

Does not happen on the Kenwood Ddx9702S. Maybe you need a firmware update on the pioneer? Posted via the Android Central App
Android Central Newsletter
Thank you for signing up to Android Central. You will receive a verification email shortly.
There was a problem. Please refresh the page and try again.