How to fix slow Internet problems with Comcast Xfinity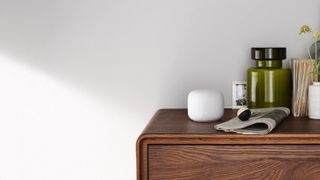 (Image credit: Google)
Comcast Xfinity provides high-speed internet for millions of Americans over its cable infrastructure. As people use more data and ask more of their internet connections all the time, connection issues may become more apparent. It's also possible that the internet needs of a home may be overwhelming some old equipment. If you are experiencing slow Internet problems there are a few things you can try to improve your situation.
Products used in this guide
Start with some investigation
You can simply search for "speed test" on Google. You can also use speedtest.net.
Check your Xfinity bill to see how much speed you should be getting.
Run the speed test near the router for wireless or with a wired connection if possible.
Check other common areas to find areas with a weak Wi-Fi connection.
Compare your speed test to your package speed.
If your speed test results are showing what you pay for but it's not enough, it may be time for an upgraded package. Comcast packages start around 25Mbps down, depending on your area, and can go all the way up to nearly 1Gbps. If you have a lot of people on your Wi-Fi, especially if they're streaming HD video, 25Mbps likely won't cut it. We use more data than ever and we are finding the limits of our connections more often. If this is the case, you'll need to call Comcast Xfinity to get set up.
Restart your internet connection
If you're not getting what you pay for or the connection is inconsistent, the first step is a restart. One of the simplest ways to restart your modem is to sign in to your Xfinity account (opens in new tab) and click on the Restart Modem button. This window will also tell you if there are any known issues in your area. Restarting your modem will refresh the connection and settings in case something got out of sync.
You can also unplug your router and plug it back in manually.
If your connection is still spotty, you may need to contact customer service (opens in new tab) to have a technician check your lines for damage.
Improve the performance of your existing network
If you can, it's always a good idea to put your modem and router in a central room so you can cover your whole house. You can also put your router a little closer to the devices that need the most speed like a video streaming device or a game console.
For gaming, it's always recommended to go wired if possible. A wired connection directly to your router is going to provide the most stable performance possible. You should also be able to get more consistent high speeds since a wire will be much less likely to have interference.
If you simply need more coverage on your Wi-Fi but you don't want to or don't have the option to upgrade your modem or router, you can order xFi Pods (opens in new tab) to add more coverage to your network. These are relatively small mesh Wi-Fi extenders that plug directly into the wall.
Upgrade you equipment
If you bought your own modem, it might be time to upgrade since some of the faster speeds offered now simply aren't possible with an older DOCSIS 2.0 or 3.0 modem. You might need a new DOCSIS 3.1 or higher modem like the Xfinity-compatible Netgear CM1000 (opens in new tab) if you're trying to go faster than 500Mbps.
If your Wi-Fi just isn't delivering your full internet speed to your devices, you have a lot of options. One of the things that will most likely improve your experience is a better router with improved range and better support for multiple connections. There are a lot of great routers available and it's even possible to upgrade to Wi-Fi 6.
If you just want consistent coverage and reliability without so much focus on speed, a mesh solution might be a great option. It can even be expanded as your needs grow.
To get an internet connection to your computer, a remarkable number of things have to go precisely right. Not only does your Xfinity connection need to be working, but your modem, router, and wireless devices must also be working efficiently. Diagnosing a slow connection can be a bit tedious, but there are a lot of things the end-user can do to improve every link in the chain.
Our top equipment picks
If you want to upgrade the Wi-Fi speed and capacity in your home, you'll need a new router.
Fast Wi-Fi 6 Performance
(opens in new tab)
Fast performance with future mesh expansion
With speeds up to AX6000, the MR9600 from Linksys is enough for most households alone and you can add mesh expansion later.
Simple Mesh Networking
(opens in new tab)
Nest Wifi router and point
A mesh system with great software and easy setup
Cover up to 3,800 square feet with a Nest Wifi router and point. With AC2200 speeds, it should have enough speed for most homes.
Additional Equipment
If you need a new modem, make sure to get one with DOCSIS 3.0 or 3.1 support with enough channels to support the internet speed you're paying for. You can also add capacity to your Xfinity modem/router with xFi Pods.
Netgear CM1000 (opens in new tab) ($190 at Dell)
If you want to use 1 gig internet over a cable line, the Netgear CM1000 is a great choice and you can ditch the rental fees.
xFi Pods - 3 Pack (opens in new tab) ($119 at Xfinity)
You can add mesh wireless coverage to your Xfinity modem with xFi Pods. They even have an Ethernet port onboard.
Get the Android Central Newsletter
Instant access to breaking news, the hottest reviews, great deals and helpful tips.
When Samuel is not writing about networking or 5G at Android Central, he spends most of his time researching computer components and obsessing over what CPU goes into the ultimate Windows 98 computer. It's the Pentium 3.