How to DVR programs using YouTube TV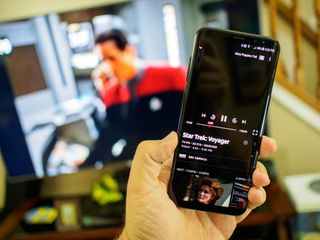 Managing to catch all of your favorite television shows can be a hassle. Between family obligations, nights out, late evenings at work, and the small catastrophes that show up unannounced, managing to sit down at the same time each week to watch your favorite programs can be nigh impossible. Thankfully with YouTube TV you can avoid that by setting up a DVR that will record your program, so that you can watch it when — and where — you want to.
Using the DVR on YouTube TV is pretty easy to do, and we have the details for you here!
How to DVR a program
With YouTube TV you can easily set up a DVR to record all upcoming instances of your favorite show. However, when you set up a recording, it will automatically record every upcoming episode — including reruns — until you remove the program from your DVR list.
Open YouTube TV on your phone.
Tap the search icon in the upper right corner.
Type to search for the show you want to record.
Tap to select the show.
Tap the plus icon to add to your DVR list.
How to view programs you have recorded
After you have recorded programs using the DVR feature, you're able to view them through the app. You can watch your recordings at your own leisure, and they'll stay in your library until they expire, or you delete them.
Open YouTube TV on your phone.
Tap Library at the bottom left of your screen.
View your recent recordings at the bottom of the screen.
How to view scheduled recordings
If you're unsure if you've got all of your favorite shows set up to record, it's easy to check. The Scheduled recordings tab will show everything you have opted to record, letting you keep track nearly effortlessly.
Open YouTube TV.
Tap Library at the bottom left of the screen.
Tap Scheduled Recordings.
How to remove scheduled recordings
Sometimes you get tired of a show, or you just don't want to watch t anymore for a variety of different reasons. If it's a show that you had set up to record, then you'll want to remove the recording so that it isn't cluttering up your app.
Open YouTube TV.
Tap Library.
Tap Shows.
Tap the show you want to stop recording.
Tap the stop icon to the right of the show title.
Tap the minus icon to remove the show from your library.
Questions?
Do you still have questions about using the DVR to record programs on YouTube TV? Have you been recording your favorite shows? Let us know about it in the comments!
Android Central Newsletter
Get instant access to breaking news, the hottest reviews, great deals and helpful tips
Jen is a staff writer who spends her time researching the products you didn't know you needed. She's also a fantasy novelist and has a serious Civ VI addiction. You can follow her on Twitter.
and yet no landscape guide yet like the iOS version. come on, Google. I want to see what's coming up next on YT TV

Yeah...maybe they'll eventually have more than like five channels!

they have a good offering of channels and their DVR system works well. yes, it's missing a few channels that I like to watch but it also has a lot more sports offerings at the price point than Vue (at the similar price).

For series recordings it records everything. That means reruns. They need a series record for new episodes only.

Agreed. Much work to be done with series recordings, especially for Sports. Reruns are less of an issue to me because there is unlimited storage. But they are responding to feedback quite rapidly, so there's hope.

When you record a series, it gives you the option to record all episodes or just new ones. Edit: only works for some shows?

Great feature and done the best of anyone, but still not in Richmond VA, no app for Android TV, ,and still missing some big networks (NFL RedZone, Food Network, TBS, TNT)

I'm pretty sure the Beach/Norfolk area is coming soon. Hopefully Richmond will come soon. Along with Salem/Roanoke, where I live.

So here's a couple wrinkles: Sports running over time, the broadcaster switching channels mid-stream, and you can't start a program mid-broadcast and rewind to the beginning. My wife and I follow F1 but don't have the motivation any longer to get up at 4:00 AM to watch live. So in the first case, Monza qualifying had a two-hour rain delay beyond the scheduled time. NBCSN kept broadcasting, but YTTV stopped recording. The broadcaster does have a bad habit of switching to CNBC to make way for sports more popular to US audiences, so there is a issue there. And if we do get up by 5:00 AM and want to watch the race with a time delay, no such luck. YTTV picks he show up live and there is no pause or rewind. The service is new, and we expect the issues to be addressed, but by and large, the DVR function works pretty well. Just keep opening tickets when annoyances arise.

First off, tip of the hat for finding a wife into F1. YTTV does a good job of going long for baseball and soccer - surprised it doesn't auto extend for F1. As far as changing channels when the broadcaster does, I don't know a single DVR that will do that. Would be a nice feature though. I am right there with you for starting programs from the beginning - easily my biggest complaint. If I watch from the DVR, it should start at the beginning, even if mid broadcast EVERY TIME. Absolutely kills sports watching.

Yes, they need to add "record only new episodes" option to the DVR features. Also make the App available on tablets!

I cut the cord and have YTTV...and really enjoy the service. DVRing programs is much easier than using a cable box. My biggest complaint it FFWing through commercials. I wish YTTV had a button to get past a group of commercials to when the programing restarts. Instead you have to use the slider to get to where you want to be, and it's not very precise on a long program.
Android Central Newsletter
Get instant access to breaking news, the hottest reviews, great deals and helpful tips
Thank you for signing up to Android Central. You will receive a verification email shortly.
There was a problem. Please refresh the page and try again.