How to adjust privacy settings on Oculus Quest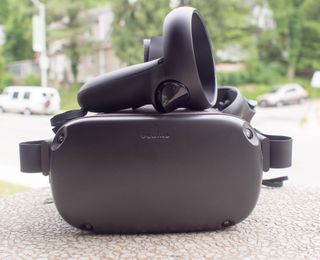 (Image credit: Android Central)
The Oculus Quest has arrived, delivering the next step in untethered play. However, if you don't want everyone on the platform to be able to access when you're playing, or who you are, you'll want to adjust your privacy settings. This doesn't take long, and it's doable from right inside the Oculus app.
How to adjust privacy settings on Oculus Quest
Open the Oculus app on your phone.
Open the Settings menu. It's located at the bottom right of the app, with a gear icon.
Open Privacy Settings.
Adjust settings for your Real Name, Activity, and Friend List using the menu.
Oculus has made it extremely easy for you to change your privacy settings whenever you need to. You can change who can view and search for you by name, what your friends see, and what activity is shared.
Our top equipment picks
All you actually need to take advantage of everything Oculus Quest has to offer is the headset itself. It's an awesome self contained system that takes untethered VR to the next level.
Untethered VR
No wires, no tether, no limits
The Oculus Quest delivers the first high-end wireless VR experience. With a headset and controller, you have everything you need to get started in VR in one simple package. Whether you want to watch videos or enjoy the best VR games out there, this is the headset to do it.
Oculus Quest delivers an untethered VR experience that gives you the fun of a Rift, without the drawbacks of wires to get in the way. This makes it easy to travel with and share, and means you never have to worry about lugging around a giant bag of gear along the way.
Our Favorite Accessories
The Oculus Quest comes with everything that you need to play. However, picking up a few accessories can also enhance your play, and ensure that your system doesn't get damaged when you travel.
Oculus Quest Travel Case ($40 at Amazon)
Oculus Quest is easy to travel with, but if you want to keep it safe while you're on the road a solid travel case is definitely your best bet.
Mamut Controller Grips ($38 at Mamut)
The Oculus Touch controllers have a smooth plastic casing, which makes them easy to drop if you work up a sweat. Mamut's Grips solve that problem.
Oculus Quest VR Cover ($19 at VR Cover)
As you play, the foam pad for the Oculus Quest will inevitably wind up gross and sweaty. If you want to protect your foam pad, this fabric cover can do it, and it's machine washable!
Get the Android Central Newsletter
Instant access to breaking news, the hottest reviews, great deals and helpful tips.
Jen is a staff writer who spends her time researching the products you didn't know you needed. She's also a fantasy novelist and has a serious Civ VI addiction. You can follow her on Twitter.