How to add complications to your watch face on Android Wear 2.0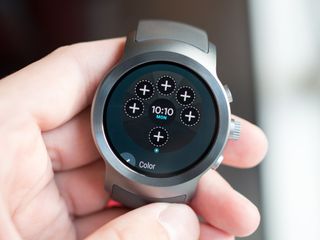 Android Wear 2.0 brings a ton of new features to your smartwatch, but one of the more noticeable is the addition of customizable "complications" on your watch faces. Complications are a two part system — watch face developers can design their faces to have open slots of the complications, and app developers can surface parts of their apps to integrate as complications.
As the Google Play Store on your Android Wear 2.0 watch starts to fill with freshly updated watch faces and apps that include complications, you'll want to spend a little time customizing things to make the most of the new capabilities. Here's how you can get it done.
If the watch face supports complications, it will launch into an editor with options.
If you don't see the editor, the watch face has not yet been updated to support it.
Scroll down to Layouts where you'll see multiple options for the number and arrangement of complications.
Tap the complication layout you want to select it and go back to the edit mode.
On the watch face, you'll notice empty spots with + buttons — tap them to add a complication to that spot.
Some apps may provide more than one complication, and will show all options when tapped.
To replace a current complication, just tap that spot to go back to the picker.
And that's it! Your watch face will be looking great (and personalized) after you spend a few minutes configuring your complications. Once you've configured a watch face with complications, they will stay in place on that watch face until you change them again — even if you switch to another watch face.
Get the Android Central Newsletter
Instant access to breaking news, the hottest reviews, great deals and helpful tips.
Andrew was an Executive Editor, U.S. at Android Central between 2012 and 2020.
"complications" is a really bad word Google used for these actions.

This isn't something that Google invented. "Complications" is a watch face term that came long before digital screen-based smartwatches.

Complication is the word used to describe anything on a mechanical watch that displays anything other than the time. Apple uses it for their smartwwrch too. It's in keeping with the watch thing

Ooooo Apple uses it to so it must be true.

Lord, it's a standard industry term, has nothing to do with Apple.

Still doesn't make it a good idea. I doubt that most smartwatch buyers (all 12 of them) are watch nerds who understand the history. To most people "complications" are bad.

When can I update my Huawei watch to Android wear 2.0?

We all would like to know how updates will work. So far I have not seen any existing android wear device get updated to 2.0 and have not seen one company announce their upgrade plans for it. I got 2 Moto 360 watches waiting for it.