How to access and use the hidden Service Menu on the Galaxy S5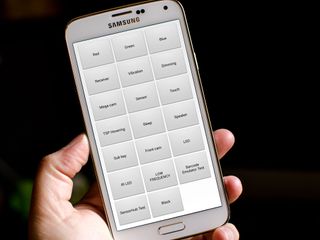 Samsung phones have long come with a hidden Service Menu, and the Galaxy S5 is no exception. While many people won't ever have a need to access the Service Menu, it's a good feature to know about in case you run into issues with your Galaxy S5 and want to troubleshoot it on your own first. (And seeing as how most of us reading this love to tinker and can't keep our hands off the big red button, well ...)
You can test sensors, make sure the touch screen is in working order, and lots more. Follow along and we'll show you not only how to access the hidden Service Menu, but how to use the features inside of it.
How to access the Hidden Service menu on the Samsung Galaxy S5
Launch the Phone app on your Galaxy S5 and open the dial pad.
Type * #0* # (no spaces)
How to test the functionality of certain features of the Galaxy S5 with the Service Menu
There are many features you can test under the Service Menu but the ones most people will be interested in are the following:
RGB Test- Tapping the red, green, and blue buttons along the top are an easy way to check for dead pixels on your display. Once you've inspected, just tap the screen to go back to the main Service Menu.
Touch - This test lets you test the accuracy of the touch screen on your Galaxy S5. Trace the outside square and the inside X with your finger to make sure the touch screen registers the individual squares you're going over. Tapping the screen shows you where the touch screen registers your taps as well.
TSP Hovering - Similar to the Touch test, this lets you test how sensitive your Galaxy S5 is to hovering your finger over the display. This is used for Air view and if you think it's not functioning properly, give this test a try.
LED - Performing the LED test will cycle through red, green, and blue notification LEDs so you know they're all functioning. Just tap the screen to move to the next color until the test completes.
Sensor - This menu is for more advanced troubleshooters and tests all the sensors in your device from the accelerometer to the gyroscope and everything in between. It's not one that everyday S5 owners will probably understand but it could be very helpful for technicians or those that are tech savvy enough to understand what everything under the Sensors tests means.
Some tests seem to require you to finish them before exiting so just keep that in mind when starting a test. When ready to exit the Service Menu on your Samsung Galaxy S5 just tap on the back button to return to your Phone app. As always, be careful when poking around in any menus and don't ever change any settings unless you know what they do. That's our word of warning for the day! If you've checked out the Service Menu on your Galaxy S5 or another Samsung phone, have you ever had it catch any issues? Let me know in the comments!
Get the Android Central Newsletter
Instant access to breaking news, the hottest reviews, great deals and helpful tips.
Hmm - doesn't seem to work on the VZW S5.

Yup, not working on my VZW S5 either.

Same; not working on my VZW S5 as well. Just another feature of my phone Verizon has locked me out of.

Then change carriers and buy unlocked.

Lmao Posted via Android Central App

You do know that's nearly impossible, right? Samsung phones are region locked. You CAN'T use a, say, European s5 in the US without several minutes of phone calls logged with a recognised European Sim running on recognized European towers. If you travel a lot, or have European friends who can ship you stuff, good for you. If not... You're out of luck

I bought my phone from T-Mobile (paid cash, not on plan). After a short wait, they provided the unlock code. You don't have to get a foreign phone. By the way, I can access this on my phone.

yeah, unfortunately it didn't work on the s4 (and i believe the s3) either on vzw, yet it does on other carriers

It works on my Verizon Galaxy S5, you have to manually enable the secret hidden menu. Check xda forums it takes 1 min or less to. After that this phone code and others will work.

how can i locate these instruction. unable to find forum

Wow is work and very good, thank you Posted via Android Central App

works on the note 3 as well Posted via Android Central App

Not working in us cellular s5 either. Posted via Android Central App

Yes. It won't be accessible on Verizon and I think AT&T and some other carriers.
This is a very helpful piece, thank you.
I was guided to this in a Note 3 forum a while ago. My European unlocked has this option, but I don't understand what to do when I get a fail (red) on any first box in the X pattern thingy, then a pass on all the rest. Also happens with the S-Pen in another test, which I should have checked before writing. My S-Pen on screen guide button was slightly off, a change of nib improved it, but still not ideal.. I will do the tests a little later when time allows. There are one or two other access codes like this. via my Note 3 on AC's app

I have AT&T and that's the phone I used for the guide, seems like Verizon may have blocked it :\

Yep. It works fine on my AT&T branded Galaxy S5.

Yes I got it confirmed by a Verizon user and later others in a thread. I thought AT&T came up as well, but wasn't sure. via my Note 3 on AC's app

It worked on my AT&T phone ;)

It works on my T-Mobile S4

is there a feature like this on the HTC One X?

Works perfectly on my Sprint Note 2. From my Note 2 to you

Works on the old Sprint S3.

Also works on the Galaxy S4.

It seems from the comments above that Verizon has little respect for their customers (other than their money).

I was shown a screenshot of the white Verizon phone pad, so I guess they do change a lot on the phone. via my Note 3 on AC's app

Works on S3 GT-I9300 running 4.3 stock

Works on my rooted Verizon S3 (SCH-i535; running the pre-Knox bootloader and modified ML1 firmware).

Works on my T-Mobile Note II

Works on my Gear 2 as well.

Works on sprint gs5 Posted via Android Central App

Samsung GALAXY Note 3 - Secret Codes, Service / Test / Hidden Menu.
Video tutorial:
---------------------------------------
http://youtu.be/E4ygW-7Ajf0
---------------------------------------

Doesn't work on a vzw note 5. Just so you guys know.