Honor 9: Should you import it if you live in the U.S.?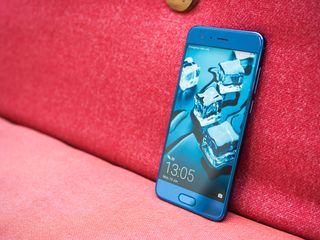 I'm digging the latest trend of sub-$500 smartphones that are worth using. These aren't just generations-old flagships offered at a discount; they're marquee devices in their own right.
One particular phone that fits into this category of "worth it for the price" is the Honor 9. It's the successor to the Honor 8, which saw much fanfare in the U.S. last summer. The Honor 9 didn't get much press in the States this time around, however, and at one point we didn't even think the Honor 9 would make it here.
But it's here. Lately, there've been listings popping up for the device on Amazon, so you might want to know if it's worth considering. And you should: the Honor 9 is a good deal under $500, though there are some compromises you'll want to know about first.
So beautiful, but so slippery
Smartphones are no longer considered utilitarian slabs of metal-covered circuits. They're now glass-and-aluminum works of art, and the Honor 9's 15 layers of glass contribute to an especially unique look you won't often find at the sub-$500 price.
Just look at those chamfered blue edges, the curved edges of the backside. There's even a cute little light behind the ear speaker, and the rear-facing dual cameras are flush underneath a layer of Gorilla Glass 3. This phone looks like it costs a lot to make.
The Honor 9's other pleasing design choice is its bright 5.1-inch 1080p IPS LCD. Honor knocked out the bezels on either side, so it looks bigger than it is, and it looks good. I felt satisfied watching YouTube TV and playing through Sonic the Hedgehog, and I like that this is a smartphone I can hold.
There is the one little downside to this particular device's design that you should be prepared for: it slides around, a lot, and often perilously. I can't tell you how many times in the last few weeks I've heard a crash while in another room, only to discover it was the Honor 9 on the floor. Thankfully, there are already clear cases available on Amazon so that you can grab one if you decide you like the phone.
Dual cameras that dull out at night
The Honor 9's dual 12-megapixel and 20-megapixel cameras are not only fun to play with, but they're also quite capable where there's plenty of daylight. The Honor 9's primary camera offers solid dynamic range, and it's fast at capturing the scene due in part to its phase detection autofocus. I love how quickly the software starts up, and how convenient it is to switch between the different camera modes at will. The 2x lossless zoom is impressive, as well, because it produces sharper shots than you'd typically get with a camera phone.
The front-facing camera is 8-megapixels, complete with a built-in beauty mode and group selfie mode. But bizarrely, its night time capabilities are better than that of the dual cameras. The Honor 9's rear lenses are f/2.2, and there's no optical image stabilization, so night shots require that you stand very still. You can use the aid of one of the Honor 9's low-light camera modes to help you shoot, but for best results, pair it with a smartphone tripod.
Unlocked and ready for 3G
Part of the reason I like to nab smartphones off Amazon is that they typically come unlocked for use on a variety of compatible carriers. The Honor 9 is unlocked, too, and it's usable with a variety of frequency bands, including:
4G LTE: B1/B3/B5/B7/B8/B20
3G UMTS: B1/B2/B5/B8
GSM/EDGE: B2/B3/B5/B8
The Honor 9 will work with T-Mobile or the AT&T network in the U.S., but mainly on 3G. AT&T does use Band 5 for LTE in pockets of the U.S., but it's not nearly as widespread as Band 4 or Band 12, which will lead to sporadic drops to 3G. T-Mobile doesn't use any of the Honor 9's bands for LTE. The phone doesn't work with Sprint or Verizon at all.
I used it with Mint Mobile SIM, which is a T-Mobile MVNO, and it worked splendidly on 3G, though data was a bit slow. I took calls on the device, too, and they sounded clear and crisp. The only problem occurred when the Honor 9 slipped out of my hand because, again, it's so slippery.
Not-quite-Android version of Android
Despite the relative ease of using this particular smartphone in the U.S., you'll still have to contend with a different, not-quite-Android version of Android. Huawei, Honor's parent company, has been lambasted by the community before for its failure to adhere to general Android design standards. EMUI 5.0 gave us some hope of a clearer future, and for the most part, Honor has delivered. The Honor 9 itself runs Android 7.1 and EMUI 5.1.
I plopped the modified Pixel Launcher onto the Honor 9, anyway, and it looks good. If you grab an icon changer like Awesome Icons, you can go even further to eliminate any evidence of Honor's interface. But the bigger question is whether the Honor 9 will receive the right updates for U.S. users and whether you'll be patched up monthly with security updates.
Should you buy it?
If you're looking for a deal on a marquee smartphone that looks good, works great, and doesn't cost exorbitant flagship prices, the Honor 9 is worth considering if you can find it on Amazon. It's heavy on the specs like the rest of its competition, not to mention it's one of the prettiest devices you can buy and it's equipped with a dual-camera system you won't typically find in the $400-$500 price range.
You will have to put up with 3G speeds in most of the country unless you come across a pocket of AT&T Band 5, but that's not a huge deal, especially for a phone this great in other areas.
Be an expert in 5 minutes
Get the latest news from Android Central, your trusted companion in the world of Android
Florence Ion was formerly an editor and columnist at Android Central. She writes about Android-powered devices of all types and explores their usefulness in her everyday life. You can follow her on Twitter or watch her Tuesday nights on All About Android.