Honor 7X and EMUI 5.1: Tips and tricks for getting the most out of your new phone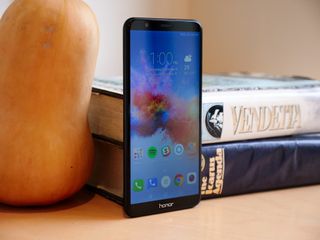 With flagship-level build quality and an 18:9 display for just $200, the Honor 7X is bound to be a popular choice in the budget space. Many buyers will already be familiar with the included EMUI 5.1 software interface, but for first-time Honor users, it can feel like a completely new experience. Luckily, while EMUI is full of long lists of options and settings, it's easy to master the important parts.
That's why we've put together a list of some of our favorite ways to get the most out of your new Honor 7X.
Customize the home screen
The home screen is one of the most personal parts of a phone, and one of the first things you'll want to familiarize yourself with. There are plenty of ways to customize the EMUI home screen, but before you start rearranging apps and adding widgets, you should decide whether or not you want an app drawer by going to Settings > Home screen style. Not only will this affect the way you use your home screen, but the software remembers different layouts with and without the app drawer, so if you change your mind later you'll have to reorganize everything.
Once you've made your decision, jump back to the home screen and long press on an empty area (or pinch in with two fingers) to access some other quick home screen options. You can set a new wallpaper (for both the home and lock screens), add widgets, change the transition animation when scrolling through pages, or open the rest of the home screen settings.
From the Settings option, you can adjust the home layout grid (options include 4x5, 4x6, 5x5, and 5x6), toggle quick alignment options, set up notification badges, enable app suggestions, and toggle home screen looping and rotation.
Make use of Smart Assistance
Smart Assistance offers a number of useful options to get even more functionality out of the Honor 7X. From Settings > Smart Assistance, the floating dock option makes one-handed operation much easier by adding a transparent circle to the side of the screen that, when tapped, fans out into five shortcuts: the back/home/recents navigation buttons, a button to lock the screen, and the cleanup option from the Phone Manager app.
You're also able to enable motion controls, including flipping the phone to mute alarms and phone calls, and double-tap to wake the display. One-handed UI allows you to swipe over on the navigation bar to shrink the display, and offers a similar feature for the keyboard. There are also options for voice control, headset controls, and even scheduling the phone to turn itself on and off at set times.
About that dual SIM tray
Dual SIM phones are great for international travelers and employees who don't want to carry a personal phone and work phone. The Honor 7X is equipped with a dual SIM tray, and supports bands for most GSM carriers, but that's not all it can do. The second SIM slot on the tray doubles as a microSD slot, meaning that you can expand the 32 or 64GB of onboard storage if you only need one SIM card.
Try out the pre-installed apps
For a lot of us, it's easy to ignore the OEM-made apps that come pre-installed on new phones, but EMUI actually has a decent selection of useful apps. SwiftKey, the default keyboard, is one of the most popular keyboards on the Play Store. HiCare is also a great way to find manuals and additional support for the Honor 7X, and the Recorder app is a simple and convenient way to log audio memos.
In addition, Phone Manager is a centralized hub for quick optimizations, allowing you to free up RAM, turn on data saver mode, check battery performance, and even view phone calls and text messages from blocked numbers. You can also perform virus scans, and set up PIN security for certain apps.
The Optimize button performs multiple tasks at once to best improve your phone's performance, while the percentage above it shows how well-optimized your Honor 7X is.
Adjust the display
With a great LCD panel and a new 18:9 aspect ratio, there's a lot to customize with the Honor 7X's display. Visit Settings > Display to begin tweaking the different options. Of course, the standard settings (wallpaper, view mode, text size, auto-rotate, etc.) all act as they would on any other phone, but EMUI 5.1 has some unique options that allow for a more personalized experience. Full screen display lets you choose which apps scale to fill the entire display, which is particularly useful with apps that haven't yet been updated to support taller aspect ratios, though stretching can occur in certain apps — I've left Animal Crossing: Pocket Camp at 16:9 to avoid the elongated look.
Eye comfort is yet another implementation of the popular blue light filter that shifts the display to show warmer tones to help prevent irregular sleep cycles and other negative effects of prolonged viewing of blue light. You can switch it on or off at any time, schedule it to come on automatically, or adjust the intensity of the effect.
Most phones these days let you choose from a few different color profiles (standard, DCI-P3, RGB, etc.), but few give you the level of control that the Honor 7X offers with EMUI 5.1. By tapping color temperature in the display settings, you're able to choose from default, warm, or cold presets, or fine-tune with an entire color wheel to get exactly the look you want.
Any others?
Got any other tips or tricks for fellow Honor 7X owners? Sound off in the comments below.
Get the Android Central Newsletter
Instant access to breaking news, the hottest reviews, great deals and helpful tips.
Hayato was a product reviewer and video editor for Android Central.