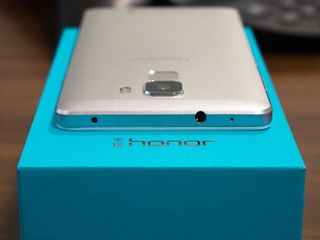 The quick take
Through a mix of solid hardware — in terms of performance as well as build quality — the Honor 7 finds its way into the fast-growing category of really-good-and-extremely-affordable Android phones. At a functional level, it does just about everything really well, and it packages that functionality in the kind of impressive metal chassis we've come to expect from Huawei. But just as Huawei is a strength for Honor, it's also a weakness. For some buyers, particularly Android purists, the company's highly customized EMUI software will be the biggest reason not to buy.
The good
Solid build quality and easy one-handed use
Fingerprint scanner works well
Speedy, lag-free performance
Bright, punchy display and impressive speaker
Excellent value for money
The bad
Huawei's EMUI software is overbearing as ever
Many software issues from the P8 left unaddressed
Camera hit and miss in low light
5.2-inch Full HD
LCD Display
1920x1080 resolution (435ppi)
20.7MP, ƒ/2.0 lens
5MP front-facing camera
3100mAh capacity
Quick Charging
Octa-core Huawei Kirin 935 processor
4x2.2GHz A53e cores + 4x1.5GHz A53 cores
3GB RAM
16GB internal storage
microSD slot (also second SIM slot)
About this review
We're publishing this review after a week using a European-spec Honor 7 (PLK-L01) in the UK. Most of the time we used our review device on Vodafone UK, in areas with decent LTE and HSPA coverage and a 64GB Samsung microSD card fitted. To test the phone's dual-SIM capabilities, we used it with an EE SIM alongside the Vodafone SIM.
Honor 7 Video Walkthrough
Familiar, Sturdy, Dependable
Honor 7 Hardware
If you know your Huawei phones, the look and feel of the Honor 7 is pretty easy to sum up. It's basically a cross between the Mate 7 — last year's Huawei "phablet" device — and the company's current high-end offering, the P8. Although Honor is its own distinct brand in the UK, the Huawei design traits are clear to see. There's a largely untouched front face, save for the usual earpiece, camera and sensors, while the back panel serves as a reminder of Huawei's high-end phones, with a curved aluminum surface and eye-catching chamfers.
Veterans of the Honor series will find a device closer to the Honor 6 than the larger (and beefier) 6 Plus. The LCD gets a modest bump up to 5.2 inches with the same 1080p resolution, while modest hardware upgrades from the Honor 6 can be found in other areas.
The Honor 7 runs Huawei's homegrown 64-bit Kirin 935 CPU, an octa-core chip packing four higher-clocked "A53e" cores at up to 2.2GHz and four lower-power A53 cores at 1.5GHz. If you're keeping score here, that's basically the same as the Kirin 930 powering the Huawei P8, only at higher clock speeds. And it's paired with an ARM Mali-T624 GPU and a roomy 3GB of RAM. Elsewhere, the battery capacity stays at an ample 3,100mAh, while the front and rear cameras earn upgrades to 8 and 20 megapixels respectively. (The front camera's also grown an LED flash for low-light duckfacing.)
Image 1 of 4
There's an even more significant addition around the back. The Honor 7 features a touch-activated fingerprint sensor with a few neat tricks to offer. As well as biometric security — no need to unlock first, by the way, as touching the sensor will activate it even when the phone is off — you can swipe down to open the notification shade, or up to view recent apps. The notification shortcut in particular is ridiculously useful — even on a relatively small phone like the Honor 7, reaching up to the notification shade can be troublesome, and the swipe shortcut replaces this awkward finger-gymnastics with one easy gesture. We really hope everyone working on a fingerprint-scanning phone steals this feature.
And like just about everything else in Huawei's EMUI, these extra functions are configurable in the menus. There's also a "smart" button on the left edge, which can be programmed to load up different apps or perform various tasks on a single, double or long press. All genuinely useful stuff, though it's easy to accidentally press the "smart" button along with the power button when picking the phone up.
The Honor 7's display matches that of the P8 on paper, and we found it to be equally bright and vibrant as well. (And, anecdotally, perhaps a bit easier to see in direct sunlight.) There doesn't seem to be anything too crazy going on with contrast enhancement, though Huawei has implemented a brightness-limiting feature that adjusts the backlight brightness depending on the brightness of the image being shown.
Despite the presence of two grills, there's just a single loudspeaker to be found, located to the left of the microUSB port. Smartphone speakers are still really hit-and-miss, but the Honor 7's impressed us, and like the P8 it offers surprising volume, bass and clarity from a relatively small cutout.
In the hand, the Honor 7 feels sturdy yet classy. The top and bottom sections are plastic to allow those all-important radio waves in and out, but the main contact points are along the metal sides and back, so this isn't especially noticeable. The same goes for the slim plastic border between screen and body — which should protect the phone from knocks and scrapes as well.
Conventional wisdom suggests that a 5.2-inch screen is about the limit for comfortable one-handed use, and this holds true for the Honor 7. There's no in-hand slippage due to the metal body, and the combination of this screen size and the angular metal design makes the Honor 7 easy to one-hand. While it's not spectacularly thin or light, it feels solid and dependable — arguably more so than a lot of more expensive phones.
Dual-SIM connectivity is the other big trick up the Honor 7's sleeve. The SIM tray has two slots — a primary nanoSIM slot, and a secondary slot that can hold either a second nanoSIM or a microSD card. In a country like the UK, where users aren't generally hopping between two coverage areas, dual-SIM support isn't especially useful. But it is an added bonus for frequent travelers, and doubling it up with the microSD slot means it's not wasted if you're just using one network.
As for internal storage, you're limited to 16 gigabytes, which is the bare minimum of what we'd consider acceptable from any smartphone in 2015. You'll have 10GB and change left over for your own stuff, though the SD slot may alleviate some of your storage woes.
Other hardware notables? There's a top-mounted IR blaster that works with the built-in "Smart Controller" app, allowing you to control just about anything with an IR receiver. And quick charging support is included, though we're told the bundled charger won't be quick-charge compatible. While we couldn't confirm that the phone was definitely charging at higher voltages on our Motorola Turbo Charger, it seemed to reach peak capacity pretty quickly.
Familiar caveats
Honor 7 Software
The Honor 7 runs Huawei's EMUI 3.1 software atop Android 5.0. And if you've read our P8 review you'll know what to expect here — a heavily-skinned version of Android with a highly-customized look, a few pet hates, and system that feels at odds with Google's vision of the OS.
Though most of the things that were straight-up broken about the P8's initial firmware have been fixed, many visual and functional annoyances remain.
Aesthetically, there's a lot to like. The UI is built around circles, lines and rounded icons, with accent colors from your chosen wallpaper being included in Huawei's built-in apps. Everything, including app icons, is heavily themeable, and the library of themes has been expanded upon since the days of the P8, including some that now actually look pretty good.
The entire theming system still feels overbearing, though, and because not all the themes are up to date with the latest app icons, the experience is somewhat disjointed too. It's one of many areas of the software where we wish Huawei would have just left things alone.
Others include the notification system, which duplicates notifications from some apps, including Gmail, and only shows notifications on the lock screen if you're using a certain lock screen style. If you're used to the relatively light touch of Samsung, HTC or LG, these changes may well be maddening. If not, then they are what they are: Different, and not necessarily for the better. In particular, Huawei's approach to "protected apps" — apps with permission to run when the screen is off — and constant notification area nags about apps using power in the background, add unnecessary mental overhead.
When it comes to overall performance and the visual cohesiveness of Huawei's own apps, there's not much to complain about. While it might not gel with Google's vision of the OS, it's clean, sharp and undeniably iOS-influenced.
You also can't fault EMUI's expansive feature set, which is surprisingly light on cruft and surprisingly heavy on genuinely useful stuff, like programmable shortcut buttons, voice-activated wake-up functionality and a wide array of camera features. But we'd still like to see a comprehensive overhaul of Huawei's software for EMUI 4.0, and hopefully see this highly customized layout replaced with something closer to vanilla Android.
We've got a more in-depth look at EMUI 3.1 in our P8 review, so check that out for more of the good, the bad and the confusing from Huawei's take on Android.
Competent, if not spectacular
Honor 7 Camera
As smartphone hardware becomes more commoditized, imaging is one of the few areas left where traditional flagship phones have an edge. Even so, we're starting to see some impressive photographic capabilities from less expensive handsets, including Huawei's own Honor 6 Plus with its wacky dual-camera setup.
The Honor 7 opts for a traditional front and rear camera arrangement, however. There's a 20-megapixel shooter around the back, behind an f/2.0 lens with dual-tone LED flash, while the front-facer gets bumped up to 8 megapixels and is joined by a single LED of its own.
When you're selling a phone around the £250 price point, however, there are some trade-offs to be made. The biggest of these is the lack of optical image stabilization, which is the main reason the Honor 7 can't match the clarity of phones twice its price in low-light conditions. (And that's not unexpected, honestly.)
There is a "super night" shooting mode that combines a series of longer exposures, though this is largely useless without a tripod. We've also noticed an unfortunate tendency for the Honor 7 to miss focus in darker conditions, resulting in shots that are both blurry and grainy.
Image 1 of 8
As for pics in good to moderately-lit conditions, the Honor 7 is a reliable performer across the board. Auto HDR mode dutifully kicks in to prevent washed-out skies and underexposed landscapes, keeping everything evenly lit. Overall, we have no real complaints when it comes to image quality — plenty of detail is captured thanks to the high-resolution sensor, and colors are generally accurate, if somewhat desaturated compared to the likes of the GS6 and G4.
Huawei's camera app also presents a bunch of useful features, including a dedicated light painting mode like the P8's, where longer exposures are used to create artistic light trail effects. You'll want to use a tripod with this feature though, as the lack of OIS makes it almost impossible to get steady, longer exposures with the phone in-hand.
As for the front camera, it's comparable with what you'd get from the current Android flagships, complete with beautification modes to either enhance your features, or make you look like a terrifying live waxwork version of yourself. There's also a front-facing LED for when the lights are low and fun things are happening, which, given the proximity to your face, takes a little getting used to.
So that's the Honor 7 camera experience — competent, capable, but not quite a match for the current flagships, or, we'd argue, the Honor 6 Plus's insane low-light capabilities. Everything about this phone needs to be considered in the context of its price, though, and with that in mind you're getting a pretty solid imaging setup for your money.
All that juice
Honor 7 Battery Life
By the numbers alone, a 3,100mAh battery should be able to provide more than enough juice for a phone like the Honor 7. The manufacturer claims heavy users will comfortable get more than a day (1.2 days, in fact) out of the phone's fixed battery, with lighter use getting you up to two days per charge.
And our experiences with the phone track pretty closely to that. Throughout more than a week of testing the Honor 7 never died on us before the day's end, even with extensive use on LTE, and with two SIMs inserted. On lighter days, which were mostly limited to Wifi usage indoors, we easily reached the evening with 50 percent or more remaining. In terms of screen-on time, we're looking at anywhere between 3.5 to 5 hours, depending on usage.
A word of warning on some of the battery charts displayed here: The firmware version we're using doesn't seem to display awake time and mobile network reception properly, so take both with a pinch of salt.
For all practical purposes, though, you'll simply won't need to worry about battery life if you're used to a regular nightly charging pattern. That's still not true of all high-end phones, so Huawei deserves credit where it's due.
As for charging, the Honor 7 supports quick charging — a welcome addition given the battery size — although Qualcomm's standard isn't specifically mentioned by the manufacturer. That said, Quick Charge 2.0 doesn't necessarily require a Qualcomm CPU, and as previously mentioned we've found the phone charges fast enough using a Motorola Turbo Charger.
A worthy contender?
Honor 7: The Bottom Line
The Honor 7's impressive array of hardware and highly competitive price point makes it worthy of your attention, and perhaps your money too. As usual, Huawei gets the hardware side of the equation right — the Honor 7 is a well-built, premium handset and a quick performer, camera capabilities that stand out in the mid-range space. EMUI, despite its flaws, adds genuinely useful capabilities, and has a coherent look throughout, even when themed.
But we think it's time for an overhaul of Huawei's software experience. From the confusing notification and background app management system to the overbearing way in which EMUI takes over icons and status bar colors, there's plenty here to irritate Android purists. If that's you, that could be a reason not to buy.
Ultimately, as much as Honor is a distinct brand in its own right, its handsets' triumphs and foibles run in parallel with the parent company's. You're still getting a Huawei phone through-and-through, with all the benefits and annoyances that brings.
Should you buy the Honor 7? Maybe
We keep saying this over and over, and we'll have to do so again here: Huawei makes great hardware — really great hardware. But software continues to be a glaring weak point. For that reason we can't recommend the Honor 7 unreservedly, but it is worthy of your consideration if you're shopping around for a capable new mid-range handset. But the Honor 7 has tons of competition from countless rivals, and you'd be wise to take a look at the hardware-software balance from the likes of Alcatel, Motorola and ASUS before parting with your cash.
Android Central Newsletter
Get instant access to breaking news, the hottest reviews, great deals and helpful tips
Alex was with Android Central for over a decade, producing written and video content for the site, and served as global Executive Editor from 2016 to 2022.
I do like the hardware design of Huawei handsets and honestly, I think they're one of the best looking around in the Android business. My only gripe is the software. I don't like how it looks, but there are some features that many would like. Just hope that they clean it up a bit more. Also, in the spec sheet just before the review, you mistakenly said "Qualcomm Kirin". Posted from the LG G4 "Spigen + Anime" Edition. It says "Pointy end of the S Pen goes into the slot first. NOT the other way around".

Yeah the Nexus is gonna be a winner. You can check out the overwhelming fan reaction to it in my signature. Check out the new Nexus! https://youtu.be/u3uFOavLo_w, not a Rick roll

:-) where outside Philly are you? Check out the new Nexus! https://youtu.be/u3uFOavLo_w, not a Rick roll

Nice, i think I am moving out to exton Check out the new Nexus! https://youtu.be/u3uFOavLo_w, not a Rick roll

oh nice! yeah I love it out here. great schools and nice place to raise a family. I graduated from SJU in 01 and lived in the city then Media before coming out here 6 years ago. where do u live now?

Harrisburg but was born in Pottstown so I know the area pretty well Check out the new Nexus! https://youtu.be/u3uFOavLo_w, not a Rick roll

oh nice. exton is a great town!! keep me posted.

Hahaha that's brilliant Sony Xperia Z2
Nvidia Sheild
Xperia Z3 Tablet Compact

and the camera work very well under low light... just tested...

If this phone was paired with stock or near stock Android, I'd probably buy one.

Same here and if the new Nexus 6 that Huawei are making looked like the Honor 7 I might have considered it. Posted via the Android Central App on my Moto G 4G 2nd Gen

releasing a phone with 5.0 at this point of time is lame duck

But when the software is this heavily modified, does it really matter? Posted via the Android Central App

yeah it does matter because you probably are not going to get Android M for a very long time or maybe ever

Huawei doesn't have a good track record on updates. If they bothered to release the kernel, the community would do the rest. Posted via the Android Central App

You missed my point entirely Posted via the Android Central App

Do not like the black bezel around the screen. Posted via the Android Central App

I would buy one but it's made by China. Posted via the Android Central App

Excellent racism. You should be pleased. Posted via the Android Central App

I'm sure he is referring to China's government, so his comment wouldn't be racist. The word is thrown around to casually nowadays. Posted via the Android Central App

You still doing this? Get another line.

China isn't a race ....... Racism is a word that is banded around to loosely nowadays

So are many parts that are in all smart phones. Better chuck yours in the river!

My wife has a Sony Z3. Maybe I'll try. In a shallow spot. Maybe.

Probably a good idea or the Chinese government might spy on you.

Most of the components in your phone are made in China.

The battery in my G4 is made in China Posted from the LG G4 "Spigen + Anime" Edition. It says "Pointy end of the S Pen goes into the slot first. NOT the other way around".

Ok zigzag we get it. Check out the new Nexus! https://youtu.be/u3uFOavLo_w, not a Rick roll

Pretty sexy. Like if an M9 and a Note 4 mated. Two speakers grills and only 1 speaker is just a mean trick though. Lol Posted via the Android Central App

Rumor has it that there will be a new start up company coming out with a better phone at the same price. it is being referred to as the Honor Killer. Unfortunately it will be for the Taliban and Islamic State market only.

You are trying to hard. This is not really the time or place. Posted via the Android Central App

I thought it was quite good. Posted via the Android Central App

Ronald Reagan was the one that got that company up and running. He was a great man with tons of foresight. /s Check out the new Nexus! https://youtu.be/u3uFOavLo_w, not a Rick roll

Knock it off. This I not the time or place, I've been told.

Lol, it's all good. Posted via the Android Central App

Sometimes war makes strange bedfellows. Posted via the Android Central App

Can't you just use Google now launcher if you really don't like the look of the software it really is not that bigger deal. People make such a big deal about it when you can just change it Posted via the Android Central App

Can't change the settings menu or notifications tray. This also matters to some. Posted via the Android Central App

The tray or the shade? You can change the shade. I honestly don't care about the settings or tray. Homescreens, app area, and lock screen matters Check out the new Nexus! https://youtu.be/u3uFOavLo_w, not a Rick roll

The whole notification pull down with quick settings. This is why I do not like TW or LG skins. I need to get rid of all of it. All to cluttered for my taste, especially LG. Posted via the Android Central App

Gotcha Check out the new Nexus! https://youtu.be/u3uFOavLo_w, not a Rick roll

agreed, maybe I'm just used to it but especially 2015 TW doesn't bother me nearly as much as LGs skin. I always go back to nova, but there's just something about LG that really bothers me. not a fan of the G4 at all.

Anyone know how to get that live/scrolling wallpaper from the video on my note?

Makes me eagerly anticipate their Nexus phablet. Huawei nails the hardware but not the software, so Android as Google intended should be a revelation this year. Posted via Nexus 6

Did you not see the pictures of the Nexus? Check out the fan reaction in my link Check out the new Nexus! https://youtu.be/u3uFOavLo_w, not a Rick roll

Just emphasizing how they nailed the hardware on the nexus Check out the new Nexus! https://youtu.be/u3uFOavLo_w, not a Rick roll

Don't you have a world series to not be in BTW? Check out the new Nexus! https://youtu.be/u3uFOavLo_w, not a Rick roll

Nice looking phone, but you've got to wonder if it will ever get any software updates. Posted via the Android Central App

Interesting review. I'm curious about Huawei (and Xiaomi) phones, especially with the upcoming Nexus. However, I likely won't buy a Huawei device any time soon.

No mention of NFC? Wireless charging? Even if it's just to confirm that they're not present?

A drink to Honor!! Get Honor and Stay Honor!

I think you mean "hit OR miss". Not sure how one can hit and miss. Must be a British thing?

Anyone know what the extra button below the volume rockers are?

it's a fast launch customizable physical button.

No NFC.
Not able for mobile payment by the end of this year or beginning of next year

Too bad it has a lame gpu, it would have been a great deal.

No honour in buying Chinese handsets. I wonder it's pre-installed with some bugs. Posted via Android Central App

Errrrm, 99% of handsets are manufactured in China, including the overpriced iPhone. Preinstalled with some bugs? What does that even mean?

Will this work on AT&T LTE?

Almost as good as the Note 3

6inch phone is the best size for phablet and they start to build them smaller. I have note 4 and i was going to move to new note 5 ,but they did same 5.7.

My HTC mini 2 died on me, so I was looking for a new phone. I think I've had 30 phones in my hand in the last month, but something was just right when I picked up the Honor 7.
One of the things that I actually like alot about the phone, is the UI. I find it refreshing that they don't just use the "standard" software. And that I am not forced to have apps like facebook installed. (it couldn't be uninstalled from my HTC, and I hated it!) It's good that there are so many brands to chose from. And that they are not all the same.
Let's face it. If one phone could really satisfy everyone, then there would only be one phone in the world!

This is a gorgeous phone... my son just happens to be needing a new phone.... hmm..
Android Central Newsletter
Get instant access to breaking news, the hottest reviews, great deals and helpful tips
Thank you for signing up to Android Central. You will receive a verification email shortly.
There was a problem. Please refresh the page and try again.