The highest-end OnePlus 8 Pro will reportedly cost over €1000 in Europe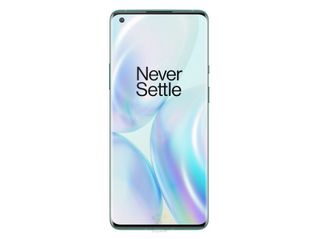 (Image credit: WinFuture)
What you need to know
Pricing for the OnePlus 8 series was spotted by WinFuture via a European retailer's website.
The OnePlus 8 Pro with 12GB of RAM and 256GB of storage is slated to cost €1019.
At the opposite end, the base OnePlus 8 will start at €719.
On April 14, OnePlus is set to fully unveil its upcoming OnePlus 8 series of smartphones. There's a lot of hype and excitement surrounding the new handsets, and thanks to a report from WinFuture, we now have one of the last remaining puzzle pieces — details on pricing.
European retailer Alza published product pages for the OnePlus 8 devices ahead of schedule, and while they've since been deleted, WinFuture managed to grab all of the info before it vanished.
The most affordable configuration this year is the OnePlus 8 with 8GB of RAM and 128GB of storage. For that phone, you'll pay €719 — a noticeable step up from the OnePlus 7T's €599 price in Europe. The flagship OnePlus 8 Pro will start at €919 for 8GB of RAM and 128GB of storage, going up to as much as €1019 if you step up to 12GB of RAM and 256GB of storage.
OnePlus 8 (8GB RAM and 128GB storage) — €719/729
OnePlus 8 (12GB RAM and 256GB storage) — €819/829
OnePlus 8 Pro (8GB RAM and 128GB storage) — €919/929
OnePlus 8 Pro (12GB RAM and 256GB storage) — €1009/1019
What does this mean for pricing in the U.S.? We don't know the exact conversions for sure, but with OnePlus CEO Pete Lau saying that the highest-end model will cost "under $1000" in the country, we'd expect slightly lower prices across the board (although probably not by much).
Although such drastic price increases aren't fun to see, none of this should come as that much of a surprise. The OnePlus 8 Pro, in particular, is shaping up to be the company's most technically impressive phone by a long shot — offering a 120Hz AMOLED display, 30W wireless charging, and further improved cameras.
Those specs, paired with this new pricing, further reiterates the point that OnePlus is really gunning to take on the Galaxy S20 with the 8 Pro this year. That's understandable, but it remains to be seen if the regular OnePlus 8 offers enough upgrades and improvements to justify the potentially steep price hike up from the OnePlus 7T (opens in new tab).
OnePlus 8: News, Leaks, Release Date, Specs, and Rumors!
Android Central Newsletter
Get instant access to breaking news, the hottest reviews, great deals and helpful tips
Joe Maring was a Senior Editor for Android Central between 2017 and 2021. You can reach him on Twitter at @JoeMaring1.
Wow-we, I guess the flagship killer days are over? Yikes, 1,ooo bucks for a one plus phone, E-gadds? Say it ain't so!

As I said before when people were complaining about 1000 smartphones, you just aren't going to get these big specs you're demanding without paying a price for them, period.

I can't OnePlus increasing the price of the OnePlus 8 and 8 Pro by that much, as They're encroaching on Samsung and Apple pricing now and they haven't quite earned that sort of standing quite yet although their phones are great.

I meant to say I can't see OnePlus increasing the price of the 8 series so drastically, ok maybe the Pro model but again they can't justify the highest end model costing as much as it does if these prices are to be believed. Only Apple can justify their high prices thanks in part to how long they support their phones for and their great customer service which OnePlus is found lacking.

Apple definitely for it's build quality, software support, customer service as you said and ecosystem

I think Qualcomm is partly at fault. The 5g modem is two hundred bucks right off the top. Then add wireless and a possible ip-68? The flagship killer days have hit the skids! There's always a pixel 4a at 399.oo? That way your not spending all your stimulating money. Rent, mortgage, food seem to be the priority instead of a damn phone? Granted we like new toys but, but!

If the 8 pro is over $900 I can't justify paying that when the Samsung s20 plus has virtually the same specs for just a tad bit more than that. I love One plus phones because of Oxygen OS but I may pass on this version.

It's just as well I got my OnePlus 7T nearly 6 months ago because I can't justify spending more cash on another OnePlus phone every 6 months but I'm sure 5G is the reason why the 8 series will be the most expensive OnePlus phones to date, I think OnePlus need to make 4G versions of their phones and be priced similar to the 7T series.

their logo should be always settle now. 1000 bucks? I will run toward another well made brand. well, apple really. Only phone with support. Android phone makers need 5 years of OS support to justify those insane prices.
Android Central Newsletter
Get instant access to breaking news, the hottest reviews, great deals and helpful tips
Thank you for signing up to Android Central. You will receive a verification email shortly.
There was a problem. Please refresh the page and try again.