Hey, BlackBerry fans — what phone are you using now?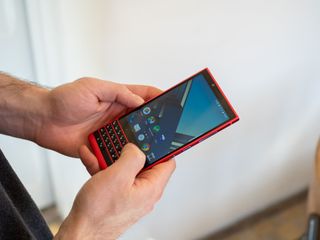 (Image credit: Android Central)
It goes without saying that it's a hard time to be a BlackBerry fan. The iconic smartphones with their keyboards and trackballs are nowhere to be seen these days, and while there was a revival of the brand with a few Android-powered phones, that saga was killed back in February.
The smartphone landscape is constantly changing, and the market has decided that there's no longer a need for keyboard-touting handsets. That's fine for those of us that have moved on, but what if you're still a dedicated BlackBerry fan? What are you supposed to buy as your daily driver?
One BlackBerry user came over to the AC forums with this very question, with our other members providing the following recommendations:
What about you? As a BlackBerry fan, what phone are you using now?
Get the Android Central Newsletter
Instant access to breaking news, the hottest reviews, great deals and helpful tips.
Joe Maring was a Senior Editor for Android Central between 2017 and 2021. You can reach him on Twitter at @JoeMaring1.
3a XL after leaving Motorola behind. I miss BB10 but the transition to Android was much smoother then I expected. My last real BB was a Passport SE and I loved that phone, but I have moved on and am not looking back.

I didn't like blackberry phones either, but rubbing it in like this just seems mean.

It's been a little over a year since I have used my last blackberry device. I have switched to a Pixel 3a and have been very pleased with my purchase since. It covers 2 key things that my blackberry lacked: guaranteed updates and camera. I still use blackberry for both email and vkb. I am still not as accurate and fast as I was on a pkb but I am close enough. It made the most sense for me to choose the pixel brand and I am here to stay.

I'm still enjoying my KeyONE, but it is at 66% of original battery capacity, so I'm looking at getting a new battery.

I replaced it on my KEYone Black Edition a few months back, definitely worth it. They're less than $15 on eBay. But be careful with those little tabs of the back cover, they break easily. I bought a new back cover to use after I replaced the battery because most of those crappy little plastic tabs broke when I removed it to access the battery

From BB10 z10 /z30 then to Android BB Dtek60 to Pixel 2 XL two years ago was the best phone decision. Amazing camera, stock OS, with latest updates. Hopefully Pixel 5 doesn't disappoint.

Similar trajectory for me except I bought the Priv instead of DTek series. Storm 2, Z10, Z30 (loved that phone) Priv. Now I own a Pixel 2XL which I bought for the security updates. I am also hoping the Pixel 5 is a worthy upgrade. My fear is it won't be XL sized.
The KeyOnes in our family are on their last legs. Those will probably be replaced with Pixel series as well.

Pixel 4XL with BlackBerry keyboard and all the BlackBerry apps.

Miss my passport and Z10. Went Sony love the look of them but awful performance, been on Motorola G6 since, great phone.

Still a BlackBerry of course! KEY2 (primary)
KEY2 LE (backup 1)
KEYone (backup 2)
Samsung S10e (media purposes)

I have not considered replacing my Blackberry K2. Truly a great phone with all kinds of attributes, including wonderful keyboard. Business and Personal exceeds my expectations. Annoying when people have not had the K-2 experience to cast judgement. Each cellular phone built for different customer wants. Blackberry K2 is way in front of some of the phones being touted as better.

Pixel 3XL with BB launcher and BB Apps.

I have been a BlackBerry user since 2007 , I am using a Note 10+ since last November.

I sank to an iPhone for a few years, tried a Pixel for 6 months but then a Galaxy S9+ fell in my hands and I fell in love. On my 2nd Galaxy now with the S20 Ultra and the affair continues.

I'm waiting for the Note 20 wohoo

I never saw the appeal of Blackberry phones and hated the way they looked, they were ugly looking phones along with being horrible to use with that physical keyboard along with being complicated.

Did you even try one of the recent Android Berry's? Eh, no point if you hate keyboards, it's not for you anyway

You say complicated, others would say powerhouse. So much efficiency built into those phones.

Complicated... Ha ha ha...

Key one
Now Key2.
Great phone - may well buy another for backup since no more are being made.
I was hoping for key3, key4, etc.
Tried iPhone & Samsung. I "hate all touchscreen". Give me my qwerty anyday!!

I really enjoyed BB, even into android. BB10 was flawed. I could not read or download PDFs. Got the Samsung S7 (refurb). Great phone, but pined for the KeyOne. Loved the Hub, DTEK Security, programmable keys and Hub (yes again because it subsumed ALL communication and was easily searchable).

I decided to finally move on from BlackBerry and moved to the Galaxy Fold but use the BlackBerry Hub software to keep all emails and communications together. The Fold is a great device and much more durable than originally reported/predicted.

Nope, I don't plan on buying any Android tablet, they're second rate next to nthe iPad.

Key2 , keyone as backup . Unfortunately my classic is now my alarm clock .