Hero 2+ gets scrapped by Alcatel OneTouch and Cyanogen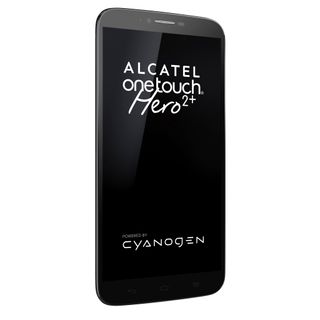 Alcatel OneTouch and Cyanogen have released a statement regarding the release of the Hero 2+, in which both companies reveal that they will not be releasing the device. In a mutual agreement, the companies have decided to forgo the release of the device as it 'does not have a clear Android 5.1 upgrade path.' The public statement from Steve Cistulli of Alcatel OneTouch and Vikram Natarajan of Cyanogen reads:
While this news is disappointing to hear, both companies are dedicated to releasing a Cyanogen powered Alcatel OneTouch device in the future.
Jared started off writing about mobile phones back when BlackBerry ruled the market, and Windows Mobile was kinda cool. Now, with a family, mortgage and other responsibilities he has no choice but to look for the best deals, and he's here to share them with you.
ARE YOU KIDDING ME!!!! ugh this could have been so awesome :(

What the hell does "does not have a clear Android 5.1 upgrade path" even mean?

Google touch some people... Posted via the Android Central App

My guess is the CPU/GPU they were planning to use (probably not one made by Qualcomm) didn't look like it would get Android 5.1 support. Perhaps the manufacturer decided it didn't sell enough to warrant the cost. Anyway it's a guess.

Was actually a Qualcomm CPU. But that still may be the reason, see Nexus 7 drama from 2014.

Actually not a QCOM CPU. It's 2 GHz MediaTek MT6592 ARM Cortex-A7 octa-core processor

Yep, there's your problem. Great and all to save money on the budget SoC but upgrades will be non-existent. Posted via Android Central App

Had this one confused with another thing. Sorry!

There you have it.
Try to put Cyanogen on anything other than a SnapDragon, and..... Still using the Sprint GSIII on FreedomPop Unlimited for $19.99

http://www.phonearena.com/phones/Alcatel-OneTouch-Hero-2_id9275 Supposedly a MediaTek MT6592 Qualcomm is pretty easy to support (A lot of their code is open source on CodeAurora Forum so doesn't require them to send a full source package to each OEM). MSM8960 and any SoC released after has 5.1.

Also, the Nexus drama is unrelated. Qualcomm doesn't like distributing binaries for whatever reason, but they have no issues sharing most platform source and are generally pretty prompt for BSPs (depending on the customer, they come between 3 months before the OS release to 2 months after based on the tags in the graphics libraries). MediaTek on the other hand has had issues distributing legally required kernel source (and also has proprietary licenses in the kernel source, which is illegal).

This I'm not confused about. The drama was/is very related to problems with certain parties not being able to get required updated code that is not open sourced from certain vendors. I've spent time over glasses of beer discussing it with people affected. Of course, I only have heard one side of the story — a story nobody really wants to share all the details of.

Another Chinese failure....one plus one and alcatel must be operated by the same idiots Posted via the "None-Ya" app

Yes, OnePlus was such a failure. Posted via the LG G3

Um okay. Alcatel isn't Chinese anyways and neither is Cyanogen. Furthermore wasn't this aimed at the Indian market. So not much of any Chinese failure oops Posted via the Android Central App on my Nexus 5 or Nexus 7 2013

Cyanogen is batting 1000... xD

And oneplus 2 won't have cyanogen! :( Posted via Android Central App on 1+1

Not surprising! What would you expect from Cyanogen Posted via the Android Central App on my Nexus 5 or Nexus 7 2013

Cyanogen Inc doesn't bring something to release? Shocked! Shocked!

This is why you think twice before buying mediatek. Still using the Sprint GSIII on FreedomPop Unlimited for $19.99
Android Central Newsletter
Thank you for signing up to Android Central. You will receive a verification email shortly.
There was a problem. Please refresh the page and try again.