Here's why India is banning TikTok, UC Browser, WeChat, and other Chinese apps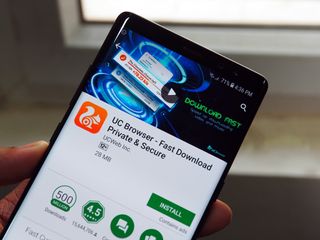 (Image credit: Harish Jonnalagadda / Android Central)
Amidst a surging wave of anti-China sentiment following border clashes between China and India, the Indian government has banned 59 popular Chinese apps. Leading the list is TikTok, UC Browser, WeChat, Weibo, Helo, Likee, Xiaomi's Mi Community and Mi Video, and so on.
This is the latest salvo in a series of barbs the two countries have traded over the course of the last two months. Back in May, Indian and Chinese soldiers clashed in a skirmish at Pangong Tso, a lake located in the Himalayas that sits along the line of control between the two countries. The ensuing tussle led to over a hundred soldiers being injured on both sides, with China claiming 23 square miles of Indian-patrolled territory in the Line of Actual Control (LAC).
Now, the Line of Actual Control is a 2,175-mile stretch that sits between territories controlled by India and China. The conflict in the last two months was due to the fact that Chinese soldiers have encroached on this LAC, leading to several skirmishes. Things escalated on June 15 at the Galwan Valley when both sides faced off for six hours using improvised weapons like barbed-wire clubs. The skirmish led to 20 Indian fatalities — the first time the country faced casualties along this border in over 45 years.
That tussle led to the Indian government condemning China and calling for a boycott of all Chinese products, leading to a wave of demonstrations on social media and protests outside the Chinese embassy in Delhi. This is where things get murky; India is heavily reliant on Chinese products, with Chinese phones making up 8 out of 10 phones sold in the country.
Xiaomi is the largest phone manufacturer in India, followed by Samsung, OPPO, and Vivo. Chinese manufacturers are dominant in the handset market, and because India is a mobile-first market, there really is no way to curb that reliance without basically cutting off the entire industry at the knees.
Because banning hardware products is a no-go, the government is turning to apps instead. Citing security issues, the Indian government is now enforcing a wholesale ban on Chinese apps like TikTok, ShareIt, and other services. This is a huge deal, because most of the apps on the list have hundreds of millions of users in the country. Here's the full list:
In its statement, the Indian government noted that these apps are "prejudicial to sovereignty and integrity of India, defence of India, security of state, and public order." Other than the fact that all of these services are Chinese in origin, there is no commonality among the apps on the list. ShareIt is a file transfer service, WeChat is a messaging platform, and UC Browser is a mobile browser.
The government's main point of contention is that these services transmitted Indian users' data outside the country "surreptitiously" and in an "unauthorised manner," but that again doesn't clarify why services like Facebook aren't included in the list. Facebook also stores Indian customers' data outside the country, but it isn't being targeted. According to the Ministry of Electronics and IT (MEITY), the apps on this list have been selected because they pose an immediate threat to the national security of India.
Chinese investors like Tencent and Alibaba have poured tens of billions of dollars into Indian startups over the last five years, with the likes of Paytm, Byju's, Oyo, Ola, Zomato, and BigBasket counting Chinese firms as key investors. Just like the handset market, it isn't possible to divest from Chinese-funded apps and services, so instead the government is targeting Chinese-origin apps and promoting home-grown alternatives. The main issue is that the apps that the government is pushing — like the video sharing platform Mitron (opens in new tab) — are nowhere as polished as their rivals.
Essentially, this is the Indian government's only way of retaliating against China. This isn't the first time TikTok was been banned in the country — the app was blocked on the Play Store and App Store last year, but was reinstated a few weeks later. MEITY is now asking Google and Apple to ban the full list of 59 apps from both stores, but that is unlikely to occur. Failing that, the government body will likely issue an order to ISPs in the countries to ban access to these services, so even if anyone has TikTok or WeChat installed, they won't be able to use the apps. How that will look like on a browser like UC Browser is unclear right now.
It's still too early to know how the ban would go into effect, or its legality in the first place. MEITY issued the ban under Section 69 of the IT Act, but according to a series of tweets from the Internet Freedom Foundation, there are no legal grounds — even under the purview of national security — to issue a wholesale ban on a wide range of services.
India doesn't have a lot of options against China at this point, so by enforcing a wholesale ban on the most popular Chinese apps, the Indian government is effectively drawing a line in the sand. We'll have to wait and see what this will lead to in the coming days and weeks, but for right now, if you're in India and use any of the services on that list above, you'd best find an alternative.
Harish Jonnalagadda is a Senior Editor overseeing Asia at Android Central. He leads the site's coverage of Chinese phone brands, contributing to reviews, features, and buying guides. He also writes about storage servers, audio products, and the semiconductor industry. Contact him on Twitter at @chunkynerd.
Android Central Newsletter
Thank you for signing up to Android Central. You will receive a verification email shortly.
There was a problem. Please refresh the page and try again.