Here comes Hurricane Isaac: Charge 'em if you got 'em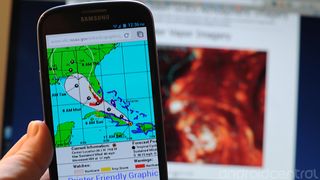 Some 364 days ago, we talked a little bit about how your smartphone can help you prepare for natural disasters. (At least for the ones that you have time to prepare for.) That was Hurricane Irene. Now, we've got another I-storm (excuse the pun) headed for United States, with Isaac. (And, yes, more specifically, the Gulf Coast and your's truly.)
Here are some of the tips we brought you last year, updated with some new ones.
Charge your phones. Now. Keep them charged. And once the storm starts, keep them off. You'll likely lose power at some point, and there's a good chance your local cell network will go down for a bit, even with generator backups.
Spare batteries. If you got 'em, make sure they're charged, too. If you still have time to get some, do it.
Car charger. Get one. Get a couple, actually.
After the storm, text messages may work best. If the network's up, it's going to be clogged, and calls might not go through. Text messages have a much better chance.
If you're worried about damage and don't have a traditional camera, use your phone to take a few pictures of your home and your belongings. It'll make insurance claims much easier, should it come to that.
While you still have power and internet access, be it on your phone or broadbad, take advantage of features like instant uploading on Google+ Dropbox to make sure those pictures get somewhere that can't be destroyed by the storm. Better to be safe than sorry in that case.
If you just have to use Instagram during a storm, don't use a damn filter. Folks wanna see what's happening, and filters don't help that.
Use apps like Evernote to help keep track of your emergency supplies.
Before the storm, use those gas-finder apps to track down the cheapest petrol. That won't help you with the lines, but it may save you a few bucks.
See if your phone can serve as an FM radio, if you don't have any others around. (That's not out of the question in 2012.
Those are but a few ways your phone can get you through this. Have a tip you'd like to share? Let's hear 'em in the comments! And good luck, everyone. Stay safe.
Sign up for Black Friday email alerts!
Get the hottest deals available in your inbox plus news, reviews, opinion, analysis and more from the Android Central team.