The creators of Monument Valley made a Motion Sense game for the Pixel 4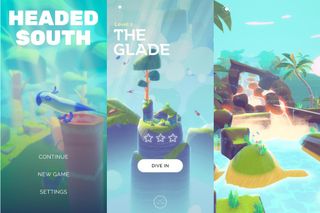 What you need to know
Monument Valley developers, ustwo Studios, have created a Motion Sense game called Headed South for the Pixel 4.
You play as a bird named Soli trying to rescue other birds from a storm using unique motion gestures for each one.
Pokémon has also gotten in on the Motion Sense fun with a demo app called Pokémon Wave Hello.
At the Made by Google event on October 15, Google showed off some of its latest hardware, including the Pixel 4 and 4 XL. One of the most intriguing new features on the Pixel 4 is the Soli chip which allows you to control the phone with Motion Sense gestures.
For example, Motion Sense will allow you to do many common tasks such as silencing alarms, dismissing calls, and skipping tracks when listening to music. Beyond these normal day to day tasks, the Soli radar technology will also be used for more fun endeavors, such as gaming.
The first true Motion Sense game comes to us from the acclaimed developers at ustwo Studios, most known for their stunning puzzle game Monument Valley.
The game is called Headed South, and according to the description, you play as a bird named Soli on a mission to rescue wild birds from a storm. In order to help rescue the birds, you'll have to catch up to them using unique gestures for each one.
As you play, you'll unlock new levels and challenge boss birds. Plus, knowing ustwo Studio's reputation, you can expect the world to be stunning with a beautiful soundtrack. It's nice to see that Google's Motion Sense technology will be used for more than rejecting calls and skipping music tracks. Hopefully, we see more games in the future, but launching with a game from ustwo is a wonderful start.
Google's greatest
The motion sensing phone
Google's latest and greatest phone, the Pixel 4, comes with lots of tech packed into one impressive smartphone. One of the most intriguing features is the Soli sensor which allows you to interact with your phone hands-free with motion gestures.
Get the Android Central Newsletter
Instant access to breaking news, the hottest reviews, great deals and helpful tips.