The Head and the Heart - a rising band available on Google Play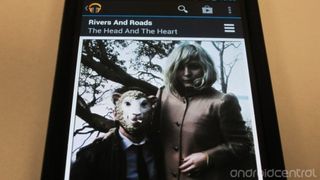 I'm a huge music fan and I tend to enjoy all genres. If you're not fond of much of the music today that is too often full of auto-tune and artificial sound, I have a recommendation for you. The Head and the Heart is a band that originated in Seattle and boasts many different styles, specifically folk, rock and Americana. I discovered them a few years back after they released their self titled debut album and I was fascinated by the lyrics and melody put forth by the three lead singers. From their songs and several YouTube videos that I checked out, I was immediately struck by their passion for authentic music and sound. They are a talented band and deserve a lot more attention in the age of auto tune. Their first album can be bought for $9.49 from Google Play.
The Head and the Heart - "The Head and the Heart" from Google Play (opens in new tab)
Heard them on XPN here in Philly. Good stuff.

Nice recommendation. I'm gonna buy their album. Thanks!

I just heard them on Wednesday for the first time. Down in the Valley. Good stuff!
I love this band.....perfect timing...I was just about to buy from itunes too!

Good stuff.
If you like these guys you should check out a band called Delta Rae.

+9000. Great band on record, as well as live. Throw in The Lone Bellow while you're at it.

Great find! Listening on the train to work in Sydney. They are also on spotify if interested.

Just bought their CD. Thanks for the amazing recommendation!

No, please. Android site, not personal blog. Please don't change the focus.

Agreed. Don't be like the Verge and lose focus on what makes you special. AC is the best Android site for Android coverage. If this is advertising, just make a note to that effect. I don't see anything like that on the mobile site. But I do appreciate the need for advertising.

I can't wait until AC gets into politics like the verge does too /sarcasm. Mark ads as ads please.

I'm sure the band is just amazing. When I come to Android Central, I expect to see advertisements on the right side of the screen, left side, on the top of the page, bottom of the page, maybe even a pop-up window. But I don't expect to see advertisements pretending to be news articles. There's about as much nexus between any band and Android as the restaurants that you can read about on Yelp. You might as well start writing about a restaurant that you can reserve on Open Table on the Android. Someone needs find some editorial standards and exert some control.

How about exerting your own standards and ignore articles you're not interested in?

I hate to criticise Android Central since I love the site, but I 100% agree with dimsdale on this one.

I don't mind one bit that this story is in the headlines section, but it should really be in the forums.

Agree. Fine in the forums (under the appropriate headings), but under Android Central News? Seriously? Aside of being on Google Play, this has nothing to do with any Android news. I could say that I bought a Billy Joel Best Of on Play...I believe he has a real shot one day of making it big..... ;) Interestingly, the author has plugged them on Twitter, Pinterest and Google Plus, yet the band released their album 3 years ago. Vested interest? I just think the author crossed the line a bit of using this site to plug a band he likes.

I agree 100%. It seems half the comments on this article are stating the same thing, that this seems more like a shameless plug than anything to do with Android. While I did take the time to check the band out on YouTube and listen and they are good I don't see the need for this to be on the front page. Phil, please don't let this happen!

Wasn't expecting this on AC but from the sounds of the first two tracks (listening just now on Spotify) it's a spot-on recommendation! Even better only £4.99/$7.49 on Amazon so even cheaper than Google Play ;)

How is this 50 cents cheaper on itunes when they both google and apple have each song listed at 99 cents?

the songs and album are individually priced...
Android Central Newsletter
Get the best of Android Central in in your inbox, every day!
Thank you for signing up to Android Central. You will receive a verification email shortly.
There was a problem. Please refresh the page and try again.