Having LTE issues on the Nexus 6? Google is working on a fix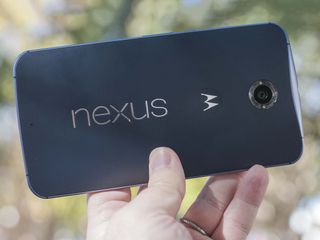 If you're having LTE issues on the Nexus 6, you're not alone. Users from all over the world are facing issues with LTE cutting out when used in conjunction with location services. Google has mentioned that it is aware of the issue, and that it is working on a fix.
The issue isn't limited to a carrier or version number, with users from Australia, Sweden, Canada, Finland, the U.S., and Hong Kong facing random LTE drops. While a fix is in the works, this temporary workaround seems to work for now:
Is your Nexus 6 affected? Let us know if the aforementioned workaround fixes the issue.
Harish Jonnalagadda is a Senior Editor overseeing Asia at Android Central. He leads the site's coverage of Chinese phone brands, contributing to reviews, features, and buying guides. He also writes about storage servers, audio products, and the semiconductor industry. Contact him on Twitter at @chunkynerd.
Thanks for the tip.
Now I can go out playing Pokemon Go again

3G would have worked for that unless you're on Sprint.

You misspelled t mobile. Posted via the Android Central App

Yep, I'm affected. I'll try the workaround and pass this article around in the meantime. T-Mobile was aware of the issue, and I have a trouble ticket open so they know my phones are affected. Posted via the Android Central App

Same problem in Bangkok. US Nexus 6, Developer preview 5. No Pokemon, but whenever I use something with GPS it cuts lte

Running dev preview 5, tested this morning. Drops LTE, then drops signal all together. Then it reconnected, LTE and all. Total downtime was about 3 seconds. Turned GPS off and back on again, stayed connected. This is a signature.

Mine is ok, but I'm not running the developer preview. Is this just a problem with the developer preview? Posted via my Nexus 6

Looks like folks on 6.0.1 are having issues as well.

I'm using a Nexus 6 purchased directly from Google. Experiencing the same issues as described by others.

The 6P does the same thing. GPS on the 6P is definitely the phone's weak point. Posted via the Android Central App

Not for me. My GPS has been working good :) Posted via the Android Central App

My N6 has been horrible since installation of the last N preview. It worked better than the day I bought it on the first 4 but 5 I get it freezing constantly and at least 3 random reboots daily. Posted via the Android Central App

So I thought nexuses were the magical and pure messiah phones... Posted via the Android Central App

That would be Nexus. Nexuses isn't even a possibility here. And every phone has its issues from time to time. Some just have issues all the time. The N6 has been a really good Nexus. Posted via the Android Central App

Right just like the iPhone 4 dropped connection when held with the left hand because of poor antenna design but the iSheep forgot about that one. This is a temporary bug that this idiot can't comprehend. Posted via Nexus 6

Right. We're running a beta version of a program you ding dong. Bugs are going to happen. Posted via the Android Central App

Not to mention Google sees the problem quick and seems to start fixing quickly, unlike the non nexus phones. Posted via the Android Central App

Weird....I thought the same about these phones being so great and utterly superior with 'pure' Android and super duper fast updates and all. My kid has had 12 months of utter frustrations with his N6 that I recommended to him because I believed all the hype about this device being 'the best Nexus to date'. I thought he was being a diva until I do some checking around and ALL of his complaints about this device are very widespread. Looks like he will be taking my upgrade while I take over this N6 and research how to make it usable. Reminds me of how I first found Crackberry in order to make my first smartphone, a BlackBerry Storm, usable. Could be fun, but let's not pretend this is a good phone without all kinds of work-arounds... Posted via the Android Central App

Looks like I stand corrected.....I should have known to not believe the bs on the internet... Looks like Marshmallow has some really cool things about it that my kid knows nothing about, so I'm sure takes zero advantage of. Now I'm looking forward to getting my hands on this phone and seeing what I can do with it! Posted via the Android Central App

Nexus devices are far from being perfect. But since they are directly supported by Google, are the more likely to get nasty things fixed. And, as far as I know, the only ones that get montly security fixes, too.

Travelling from UK to Poland, Switched to Polish SIM - 3G/H+ 50/50 instead of Lte in the Lte area. Haven't been on 3G for a while makes you wander how we could deal with it in the past. :) Posted via the Android Central App

I don't think I'm seeing any issues here. What exactly is happening? The LTE indicator in the status bar turns off when opening Maps? Posted via the Android Central App

Yep. Started on Wednesday for me. Took my phone to T-Mobile, and they replaced the SIM thinking that was the issue. Phone worked when restarted, so I left the store. A little while later I thought "Well maybe it's corrosion on the SIM contacts", so I gently filed them a bit to clean them off, reinserted the phone, and powered it up. Still nothing. Very disappointed that my beloved Nexus 6 was flaking out, I started searching for a phone to get me by until the next Nexus phones come out this fall. That's when thankfully I found a thread telling me that I was very much not alone.

Fall is just around the corner. Is the problem so bad that you couldn't just dobthe workaround until a patch comes out? Posted via the Android Central App

No, I've done the fix to get data reestablished and like everyone else I'm waiting for the update that'll fix it. I'm glad it was just a software issue and that I don't have to get a replacement for my N6 just yet.

Also having issues here in CT. Both Nexus 6 devices on my account with T-Mobile are having this issue. What is interesting is that one is completely stock and the other is rooted and running custom ROM (PureNexus). Both devices started having the same connectivity issues on Tuesday of this week. Interesting that this issue equally effects stock devices and those with custom firmware. Unfortunately however, the workaround by removing updates for Google Connectivity Services did not work for me. I placed a call this morning with T-Mo tech support and got a very honest apology for the issues. They ultimately blamed Google for this but said they are working very closely with Google to push a solution asap. The rep stated that T-Mo sent out internal notices to tech reps yesterday (8/4) mid-day and they expect 72 business-hours turnaround before having a solution, which puts us into Tuesday of this coming week if that turns out to be the case. Looks like I will be hunting for available wifi connections while I am out and about until then... Maybe Google should, as an apology to all of us with an N6, give us a nice little discount on the 2016 Nexus device(s)...?!?! Just a thought ;) Posted via the Android Central App

That work around didn't work for me either. What did work was just disabling gps. I disabled gps and have not had my data drop in 18+hrs now and counting.

I am using BlissROM, but regardless, I rolled back the updates to Google Connectivity Services, shut down, powered back up and was still having the problem. Went back to check if the update somehow magically reinstalled and it did not, but while poking around there, I found that permissions for two things were not granted. Location and I can't remember the name of the other, but I granted permission to both and without rebooting I have had no drop outs when Location is accessed anymore and so far it is rock solid. On a hunch, I will reapply the update and then check to make sure those permissions are set and see what happens. It could be that the permissions were lost when the update applied and that's what is causing this issue. I'll report back in a few, but either way, granting those permissions should fix this after you roll back the updates. At least it did for me. I have a Nexus 6 and use T-Mobile.

So, after applying the update for Google Connectivity Services again, I went into apps and checked it and there are no permissions options now. However, I am also not experiencing ANY issues with Location services and LTE drop outs anymore! I've rebooted my phone several times too and still no issues. I see the location icon appear when accessed and no drop outs. ;-)

And hopefully this works for others too. So, you can still play Pokemon with your Location services still on. Addicts!

The August security update has not come to my phone yet, I'm going to wait until they fix the issue to update.

I never noticed any issues, but I haven't used my N6 for a while now. Gotta get the display replaced. Posted via Xperia Z5

I've been having the same issue for the last 4 days. WHich leads to me restarting my phone 3 or 4 times a day. That seems to be the only fix currently.

Turn of your location. Ever since I turnedoff my locationi haven't had the LTE drop off. This is an easy fix for those that don't need to use GPS for maps or Pokemon hunting.

People might want to try clearing cache partition and cached data along with that temp workaround just to blow out any clutter. I'm running DP5 with no problems. (knock on wood)

Just turn off "location/GPS" if you don't need it. Did the trick for me. So far no LTE connectivity issues for 20 hours.

This worked for me. :) Thanks!

Haven't notice any issues on my N6 but I'll keep this is mind. Posted via the Android Central App

I recently had my iPhone 6S Plus stolen and switched to Nexus 6 as i got it at a bargain price. Was loving the phone but then this problem started to occur and I was almost certain that the phone was faulty. Thank God I checked online before heading back to return the phone! :) p.s. from Pakistan, using Warid LTE.

I'm affected and I can't do the workaround in the article cause after I press on connectivity service, there's no where for me to uninstall the updates. Posted via the Android Central App

I went into settings, then apps. Find the app, then disable it. Did this hours ago, no issues since

This does not actually fix the issue. The temporary workaround is really simple. Go to Settings --> Location (Under Personal Section) --> Turn Off. Do a cold reboot. Don't run any services which may turn it ON such as Google Maps in the interim until Google comes with a permanent fix.

Here in Italy i have the same problem since Monday. GPS + LTE (or 3G) Data Connection don't work for 20seconds. After that my device re-connects by itself and then work again with no problem. But just with Pokémon Go, with GMaps or any other Apps that need GPS and LTE it works perfectly! (i'm on a Custom Rom)

I'm affected, I can't send text messages either.

How does something like this just randomly start happening worldwide? Can I just blame Pokemon Go? I'm on Wi-Fi most of the time, so I haven't noticed anything like this happening. I also don't leave GPS on all the time. If GPS is on, then I'm likely using Waze, driving and don't need my data. N6/9
Posted via the Android Central App

I have this issue on my Nexus 6. I went to T-Mobile and had my SIM card replaced. That seemed to fix the problem for a full day, played pokemon GO, used maps to get directions, and it was working fine. Woke up the next morning to the issue reappearing. The workaround does work for me just as long as I don't use anything that uses GPS. Applied workaround and disabled Location and phone has had solid signal since then with no interruptions.

Today made it 3 times this week that I had no service....could not call anyone, could not text anyone, could not use the internet. This lasted from last night at 9:15 pm until this morning at 11:20....over 14 hours with a T-Mobile network outage. Called T-Mobile customer service and they claimed that they are working on towers. Bottom line is that it's not the phone it's crappy T-Mobile service. I am using a Nexus 6..... finally got fed up with T-Mobile and changed to Verizon today. No more issues!!! Ladies and gentlemen if you have T-Mobile service my advice is run don't walk to the nearest Verizon store. It was quick, painless and easy for me to switch today. New sim card and a $20 activation fee that will be billed and still using the same Nexus 6!!!!!

You can say what you want about any of the wireless carriers in the US, but I've been with T-Mobile just over a year, and they have been great to me. The building I work in is horrible for AT&T and Verizon customers. I get 5 bars and 4G LTE on both of my T-Mobile phones, one of which is a Nexus 6. Enjoy overpaying for your Verizon service. I'll have a happy T-Mobile Tuesday next week. Posted via the Android Central App

Same issue in HK , N6 using CSL and I replaced my SIM card also can't fix, now need to uninstall Google Connectivity Services updates seems working.

Google Connectivity Services have broken the wifi connection on my 6P since the June 1st update. I could barely connect to my home wifi for over two months now. Judging by the other reviews I'm not the only 6P users affected. Google Nexus 6P

Possibly first time (and probably only time) glad to be on the AT&T branch for Nexus 6. I haven't seen the issue yet. I don't use GPS much, but did for a few hours of navigation yesterday.

Was wondering why this was happening. Now this explains it. Did the suggestion - hope it works. NEXUS 6 T-Mobile

first though it was sim card issue, t mobile bunch of dumb asses, they when weren't aware of the problem when
I went to the store, they wanted to sell me a phone. go figure,

I just got my Nexus 6 yesterday and I couldn't help but notice it started up with 3G. Not really a problem seeing as I rarely even use my data since I'm generally home if not at work. Posted via the Android Central App

I started getting this issue yesterday. Nice to see it isn't just my phone. I was about to use Motocare to get it fixed. Probably will anyways, the screen is cracked around the edges. Posted via the Android Central App

Seeing this on my Nexus 6 running N DP5 starting today. Switching to 3G while running waze did not drop the network connection. Not ideal, but usable. Saw a suggestion to switch to device only (GPS) location setting and will try that as another option. Using t-mobile MVNO.

T-Mobile has confirmed to me today that, Google has taken out their latest version of "Google Connectivity Services" from the Play store. So uninstall all updates to the service and then reinstall to the latest available at Play store, which is June 1st as of now. Seemed to work for me instantly. I even started location services, maps etc. So far going great. It was a 84 hour nightmare for me. But I can confirm that all is good now.

This fixed the problem. Even after it was autoupdated again, the problem did not come back.

didn't see this was a wider issue and had my carrier give me a new SIM as part of my troubleshooting and it's been fine since.. chances are that Google just fixed the issue around the same time.
Android Central Newsletter
Get the best of Android Central in in your inbox, every day!
Thank you for signing up to Android Central. You will receive a verification email shortly.
There was a problem. Please refresh the page and try again.