Have you tried to disable or remove Bixby from your Samsung Galaxy phone?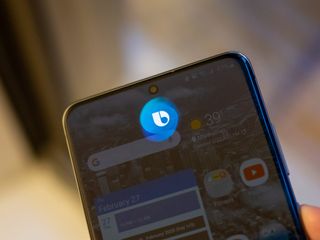 (Image credit: Android Central)
There's no question that Samsung makes some of the best Android phones on the market. From budget phones to mid-range marvels like the Galaxy A52 5G or Galaxy S20 FE, on up to the most premium devices like the Galaxy Z Fold 2, Samsung is a leader in smartphone hardware.
The company has also seriously stepped up its software game with its One UI skin of Android, which is packed with all sorts of accessibility and usability features. One of those features, love it or hate it, is its Bixby smart assistant. Some people coexist with Bixby, some ignore it, and some are downright hostile to it and want to get rid of it at all costs, including rooting their phones.
We want to hear from you — Have you tried to disable or remove Bixby from your Samsung Galaxy phone? Let us know!
Join the conversation in the forums!
Jeramy is proud to help *Keep Austin Weird* and loves hiking in the hill country of central Texas with a breakfast taco in each hand. When he's not writing about smart home gadgets and wearables, he's defending his relationship with his smart voice assistants to his family. You can follow him on Twitter at @jeramyutgw.
Of course! First think after initial setup is Co necting to PC, fire up ADB, and off with all that crap!

I use the Package Disabler app, it allows me to shut down any app I want. When done the phone will not even update those apps, as, if they are not there. Though I will admit to use Routines, seems the only app Samsung got right. Without it I would have given away my S20..

Nope, why would I? I kinda like Bixby and the Bixby routines have proven very useful, especially the frequently visited places, no other OEM gives me that level of control and can't live without Bixby routines, before I discovered the joys of Bixby on my S20 FE 5G, I would get annoyed at my phone trying to connect to WiFi when I was out and about, thanks to Bixby I have control over that now.

I used to disable Bixby. But now I use it. It's good.

Most people who hate on Bixby have never given it a try. It can be incredibly useful.

I had a Samsung Galaxy Note 9 once and it's the reason I'll never buy another US model Samsung phone unless Samsung starts allowing bootloader unlock again. One UI was bloated with garbage (including a Samsung-branded app store and internet browser) and Bixby was basically impossible to fully rid the phone of. I messed around with package disablers, adb, but trying to get rid of or hide all the bloatware was next to impossible without breaking everyday function of the device. Never again.

Their browser is really good. I feel you on the app store. IMO, OneUI is worse than the Samsung Experience UI the Note 9 initially shipped with. But, I've never had an issue with Bixby. I use her the way I use Siri on an iPhone.
Android Central Newsletter
Thank you for signing up to Android Central. You will receive a verification email shortly.
There was a problem. Please refresh the page and try again.