Have you given up on the Pixel 4?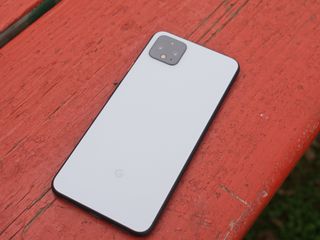 (Image credit: Joe Maring / Android Central)
Oh Pixel 4 — what more is there to say about you? Google's latest flagship has now been out in the wild for around three months, and during that time, it's been met with plenty of criticism and controversy.
Some of us at AC do enjoy the phone (myself included), but there are others who aren't so keen about the device. Taking a look through the AC forums, that sentiment is the same.
One of our AC forum members recently shared why they were finally giving up on the Pixel 4 to move to a different phone, and that sparked quite the conversation.
Now, we want to hear from you — Have you given up on the Pixel 4?
Joe Maring was a Senior Editor for Android Central between 2017 and 2021. You can reach him on Twitter at @JoeMaring1.
I was going for the base model pixal4 but with the battery at 2800mamp I couldn't pull the trigger. So on cyber Monday picked up the 3a XL for 4oo.oo bucks tax included. Saving hundreds made me & my pocketbook very happy. So am I missing much, no not really. I think I made the right choice! Love the camera, almost the same plus the battery 7to8hrs SOT, you won't get that with the base model?

Copying Apple and removing the fingerprint sensor really hurt this phone.

Mine was broken right out of the box and I sent it back after 4 days.

I think the negative press this phone has received is way over the top. It doesn't matter what Google does the press seems to go way over board on everything. Face recognition: you know about company that has problems with their face recognition? Apple. Do you hear anything about that? Nope. Wide angle camera: you one who went years without a wife angle lens when other phones had them for years? Apple. Hear anything about that? Nope. The point is Apple is given a free ride on it's issues quite often. If the press can over look Apple then they should offer the other manufactures the same.

Apple gets heavily criticized. Google's Pixel 4 deserves it's criticism for its high price (thinks they're like Apple's iPhone), lack of fingerprint sensor (bec they follow Apple), ultra wide camera (bec they think ppl prefer a telephoto lense), apps that support their new biometric face unlock, smaller battery on their regular model and whatever else I missed that was mentioned in previous articles on here.
Android Central Newsletter
Get the best of Android Central in in your inbox, every day!
Thank you for signing up to Android Central. You will receive a verification email shortly.
There was a problem. Please refresh the page and try again.