Hangouts is finally completing its transition to an enterprise communication platform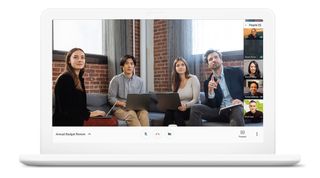 (Image credit: Google)
With a set of massive changes planned for the near future, Hangouts is set to find a proper place as an enterprise-focused communications platform. Google just announced sweeping changes to its G Suite enterprise tools, and chief among them is big improvements and restructuring of Hangouts to work best for business.
It breaks down into two distinct products that Google calls "an evolved Hangouts purpose-built for teams," called Hangouts Meet and Hangouts Chat, that are new integrated pieces of G Suite and also a direct shot at Slack and Microsoft Teams.
Hangouts Meet is solely a video messaging experience aimed at making it easy as possible to get remote workers in the same room together. Google claims its Hangouts Meet experience is even smoother, faster and lighter on computer resources, letting you run 30-person video conferences. As before you can start conferences by just sending a link — and people can dial in from phones if needed. Meet of course integrates with G Suite accounts to pull in information from Calendar so everyone's on the same page.
Hangouts Chat is a complete overhaul of the Hangouts experience, bringing in much of the design and smarts we see today on the consumer side with Allo. Hangouts Chat lets your company create direct message and group chats for projects or teams, once again including G Suite integration for sharing files from Drive and Docs, including photos and videos directly in the conversation. Powerful search keeps everything within reach.
Google then of course sprinkles in some AI to Hangouts Chat, including the ability to support third-party bots and scripts right in-line with conversations. There's also a headline feature called "@meet," a Google-powered bot that processes natural language to automatically schedule meetings via Meet and Calendar. The revised interface and features of Hangouts Chat will be found on the web, Android and iOS with native clients for each platform.
To round out today's business-focused announcements, the G Suite enterprise tools are also getting big upgrades to Google Drive, a new add-ons platform for Gmail and a final price and general availability for the collaborative Jamboard screen at $4999.
This full-on refresh of Hangouts is exciting from the perspective that Google has clearly ignored the aging and bifurcated platform for years, but what does this mean for individuals who want to keep using the chat and video call platform? Google naturally is focusing on the business aspects here, but there is no mention of what this may mean for the future of Hangouts as a consumer-ready app.
We've seen the slow — but steady — progression of new design and features for chat and video move from Hangouts to Allo, Duo and Android Messages, and with these sweeping business-only Hangouts changes, this could signal that the final move of Hangouts out of the consumer space is near. A Google statement given to The Verge indicates that there will be a free tier for anyone to use, but doesn't clarify what restrictions or features will be implemented and how (if at all) it will be tuned to consumer functions — we don't want to be using a free tier of an enterprise app, we want a proper consumer version.
If Google does decide to open up this new design and some features to regular Google users, it'd be a real treat for all of us who have dealt with the lackluster Hangouts experience for years.
Get the Android Central Newsletter
Instant access to breaking news, the hottest reviews, great deals and helpful tips.
Andrew was an Executive Editor, U.S. at Android Central between 2012 and 2020.
Is this Google's answer to slack and Microsoft teams?

Absolutely. (Not sure how I left that sentence out from my first revision of the article. It's there as it should've been from the start ;) )

Branding aside, is there actually a vast difference in the communication needs of a business and consumers who want to IM/video call/etc?

Dramatically larger scale and higher reliability requirements. This is part of G Suite now, which companies will pay a not-insignificant amount of money to use. When you pay, you expect things to work near-perfect all the time, and have the same sorts of features that other paid platforms offer.

Totally different set of stickers! #walkedintothatone

Tell that to Skype for Business when it inserts emoji after emoji in the middle of functions or even when you add a (s) at the end of a word to indicate singular or plural. How has Microsoft not figured out that it's VERY rare to include an emoji attached to a word, instead it's more likely if you want one, you'll have a space separating it from a word and, more likely than not, you'd explicitly pick an emoji from the icons instead of typing its text equivalent. It's so effing annoying and you don't even know it'll happen until after you send your message!

That has always annoyed me about MS Enterprise chat programs (Communicator, Lync, and now Skype For Business). A freaking emoji is not appropriate for business, specially when it automatically changes it for you. Try sending PS commands to another person and it becomes an emoji mess.

Oy, HipChat does that too, at least the last time I used it!

As someone that uses hangout privately and slack at​ work, I can attest the different focus. On Enterprise most of the chat happens in rooms focused for particular teams or subjects. Also features on file sharing/viewing is an order of magnitude more seamless. On top of that 3rd party integrations is a HUGE thing, allowing other services to send messages directly to the teams room.

I really hope Hangouts doesn't become restricted to enterprise only. I live on Hangouts and don't want to have to switch apps, especially multiple. I guess I better export all my conversations. I am getting to the point that I don't want to invest in any Google services in fear that a few years later it may disappear. I am all for innovation but ripping out services like they tend to do is getting crazy.

Isn't hangouts already exported to Gmail automatically? You can access your hangouts history there.

But is the separate or just linked?

Hangouts conversations used to be visible (and searchable in Gmail) like you're describing, but when Gmail changed to Material Design and the chat client changed, all of that integration disappeared. Now, the only want to go back to old messages with an ongoing conversation is to scroll and scroll and scroll forever in the Hangouts window.

If they kill Hangouts for consumers then they won't have any IM products that work on PC, right?

They have said that Allo will be getting a desktop client, that being said, I can't see them killing Hangouts for consumer use.

I could see the killing consumer Hangouts - but only once they've migrated the majority of features over to Allo. (Desktop client, Fi/Voice support, SMS support, etc.) I don't see that happening soon, but maybe in a year or two.

Fi/Voice and SMS support is now part of the new Google Voice website and app. It'll probably just be removed from Hangouts altogether. That leaves just desktop support, which is coming to Allo.

But can you make voip calls over the new voice app?

A google exec tweeted out a pic of Allo desktop version last week or maybe two weeks ago. EDIT - https://twitter.com/RealNickFox/status/834922302772916224

Also, no tablet support. Looks like WIFI tablets will be out of the fun, since Allo requires a phone number.

Allo works fine on a tablet with a Google Voice number.

I'm hoping changes to Google Voice replace Hangouts for consumers (especially Project FI users)

Yeah those of us on Project Fi are in a special circle of hell dealing with these changes :)

I'm not on Fi, but I'm still in that special circle you speak of. I'm on the $30 T-mo plan, and my Google Voice+Hangouts is the back bone of my setup. I need Hangouts for my mobile, and for Hangouts communications abilities across all of my devices.

I'm doubtful of it happening but if they are going to kill hangouts for consumers, then I hope they straight swap it out with Allo. Allo directly integrated to the gmail & inbox pages. That would quickly grow the allo platform and eliminate some of the complication of the Google messaging app strategy (or lack-of!)

Hangouts the app has been updated pretty regularly as of late and it's been great in that last few months. I use it constantly on my phone and on the web. I really hope google has a solution for consumers because as a Fi user Hangouts is necessary for cross platform use.

If they kill consumer Hangouts, one of the BIG selling points of Fi for me will then be gone - cross-device texting and calls. With Hangouts integration, I can take calls on any device logged into the Google account linked to Fi, either in the browser (in the Gmail interface), using the browser plugin for Hangouts or with Hangouts and Hangouts dialer on my tablet. Give me a replacement, that will also read my historical messaging, and I'll jump on board. Oh yeah, those of us using Messages on a Mac to connect to the chat protocol for Google will also likely be SOL...

I still use Hangouts Dialer. Maybe there is another option I just havent researched it. When traveling abroad, the hangouts dialer works perfectly for free calls back the US. Guessing I might need to look into a new solution.

Too late Google. Far too late.

I use Hangouts all the time as my messaging app. I am not happy to hear this news. Google can be very frustrating. Why they do not stick with something and make that something better, I can not understand.

Google continues it's progress to nowhere. Another iteration of a chat app, another unfinished product, etc.

I know I'm not alone, but apparently I'm in the minority of people who rather like[d] the Hangouts Android app several months ago. I use gchat, SMS to/from my carrier number, and SMS to/from my Google Voice number--in multiple cases two or more of those protocols to the same person. Merged conversations were awesome (once they fixed the bug where they were consistently not merged). I'm sure I'll get on with my life, but it's made me sad as they've taken away features (e.g. merged conversations) and make it clear the app is not long for this world.

exactly all my use cases with this app. I'll be sad as well

So what about us that ported to Google Voice and use Hangouts to SMS using our GV numbers? Will they continue support for us or will I end up having to port to one of the carriers instead???

I assume you would have to use the Google Voice app. I haven't tried the new app yet, but even though Hangouts has much better PC integration (I use the Chrome app), I wouldn't be heartbroken if I had to switch over.

Actually, never mind, I found out that the new Voice app doesn't have VoIP yet, which is a dealbreaker for me. I would stick with Hangouts until they integrate VoIP into the new app.

I love using hangouts for phone calls when my phone is charging or don't want to hold it to my ear for a long period. Not to mention it being free! Hope I can find a compatible alternative.

Fragmentation is a hell of a drug.