Hands on with NVIDIA's 'Project Shield'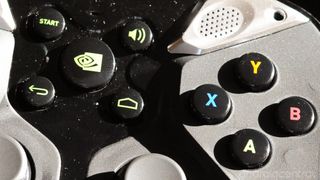 We get our first look at NVIDIA's Tegra 4 processor, and the future of Android gaming
It's hard not to get excited about NVIDIA's "Project Shield," the Android-based hand-held gaming system it unveiled this week at CES in Los Vegas. For one, it's really the biggest piece of news thus far. And for another -- it's just friggin' cool. NVIDIA has taken the traditional gaming-style controller, packed its brand-new Tegra 4 system inside of it, added a 5-inch, clamshell 720p display (NVIDIA's calling it "retinal") and added some truly astonishing gameplay. Consider:
It's running a relatively stock user interface. The nerds love that.
It runs any Android app. If it works on a phone or tablet now, it should work on Project Shield.
There's one-touch access to NVIDIA's "Tegra Zone," a curated section of Android applications tweaked specifically for NVIDIA's processors.
Steam. If you play a game on Steam, you can play it here, too.
PC gaming. NVIDIA's been showing off this tech for some time now, and it's really dialed in here. Your gaming rig does the heavy lifting, beaming the video to Project Shield, which also serves as the controller.
It's not without some hurdles in the way of success (what is), but, yeah. We're excited.
For all intents and purposes here, you feel like you're playing with an Xbox controller with a screen on top. It's bigger, of course, but not grossly so. NVIDIA's balanced things quite nicely, with the 36 Watt/hr batteries toward the bottom of the handles, so it's not top-heavy. The D-pad and analog sticks and buttons are all right where you'd expect them to be. NVIDIA's still dialing them in a tad, so we're not going to go too deep into them. I'm just a casual gamer, and they felt decent enough to me.
Tucked into the center of Project Shield are a Start button, volume button, back and home buttons. In the middle is a big button with NVIDIA's logo on it. Home and back do just what you expect from Android. (Insofar as that damned back button is predictable.) Start works in the traditional gaming sense, and the volume button pops up the volume controls, when you can then work with the buttons on the controller, or by touching the display.
The large button in the center is the "Shield Button," which takes you directly to the hard-core gaming section. From there you can get apps from Tegra Zone, Steam or connect to a PC. NVIDIA's designed this perfectly, and it brings some much-needed purpose to Tegra Zone, which until now has been relegated to sort of a secondary app store on phones and tablets. The Shield Button is a great way to showcase NVIDIA's showcase.
Don't underestimate the speakers, either. They're surprisingly loud, and they have a surprising amount of bass. NVIDIA at its press event said they've got more frequency response than an HP laptop with Beats Audio, and we're inclined to agree.
Round back you've got the ports -- a microUSB for syncing and charging (NVIDIA's not yet sure how long it'll take to charge this guy up), HDMI for connecting to a television for some big-screen gaming, a 3.5mm audio jack -- and a microSD card for expandable storage, which a good many folks likely will make use of, given that the sort of games you'll be playing aren't tiny.
Gameplay is pretty damn impressive. The graphics power almost seems wasted on the 5-inch display -- you know there's some great stuff at work there, with lord knows how many polygons flying around, but you'll never be able to see all them. Still, that's not a knock against the device; we've had that same complaint about phones and tablets. When playing connected to a PC, you might be able to detect a slight amount of latency. We wouldn't call it lag, and there's a decent chance you might not even notice. It really is that impressive.
Don't like green swirly things that kind of look like NVIDIA's logo? You can swap out the top plates.
And the best part about all this -- for as good as it is right now, it's still not finished. (I managed to throw things into a tizzy when I closed the display while we were playing connected to a PC, for instance, along with the aforementioned hardware tweaks.) NVIDIA's aiming for a second-quarter launch, and we still don't have pricing. That's the big question mark, of course, as well as how Project Shield will be sold and marketed. Or named, for that matter -- we don't know if "Shield" will stick, but we wouldn't bet on it.
But this much we do know: Our appetites -- and the appetites of serious gamers -- have been whetted.
Image 1 of 26
Get the Android Central Newsletter
Instant access to breaking news, the hottest reviews, great deals and helpful tips.