Hands-on with the HTC Sensation XL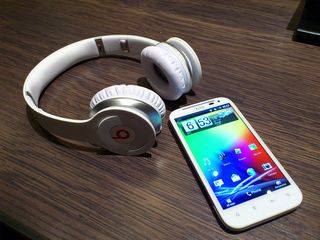 HTC's just unveiled the Sensation XL, its new 4.7-inch monster of a smartphone with Beats Audio. We've also had the chance to try out the phone, which comes with a brand new version of HTC Sense -- version 3.5 -- along with Android 2.3.5 Gingerbread. At 4.7 inches, the Sensation XL is one of the largest Androids we've seen, and with a 1.5 GHz CPU inside it's no slouch either.
We've already seen Beats Audio on the Sensation XE, the red-trimmed refresh of the original Sensation that appeared in mid-September. However, HTC is billing the Sensation XL as the first smartphone built from the ground up with Beats in mind. In addition, the new Sense 3.5 brings faster performance, along with a few neat UI tweaks.
Join us after the jump for all-important hands-on video, along with more photos.
Sensation XL Specs | Sensation XL Forums
Youtube link for mobile viewing
Android Central Newsletter
Get instant access to breaking news, the hottest reviews, great deals and helpful tips
Alex was with Android Central for over a decade, producing written and video content for the site, and served as global Executive Editor from 2016 to 2022.
Nexus prime will not be bigger than my evolution 4g.. trust me! ! No capacitive buttons on the bottom!

When will the screen size wars stop?!

I guess until you can't hold the phone comfortably in one hand anymore.

Then they should have stopped for the average hand has a hard time holding some of the 4.3" devices.

Sure guy. My girlfriend does fine with her thunderbolt. Keep making those ridiculous claims though.

Does she have man hands? Are you sure she is really a girl?

those headphones come with in the initial package?

Sweet. Do they come in a different color like black? My phone can be white, but big, white headphones make a man look a little... um, "fancy," you know? Like Bieber or something.

why so worried what other men thing. Only in America

generalize more brit, with your bad teeth and all

I hope not it'll bump the price up $200!

If only it had a full gig of ram...

480x800 on a 4.7 inch screen? No. Just no. Come on HTC. You have to go qHD at that screen size.

I'm holding out for the 1.6Ghz, 17" screen. I wonder if I can wear those headphones at the hospital while working?

Why is that interesting??

I'm not sure how any other "top of the line" Android phones are going to compete without a 720p screen if the Vigor/Samsung screen rumors are true.

4.7 inches is way too large for a phone imo

I'm guessing the Galaxy Note is out of the question for you then?

This looks like a nice snack for the Prime.

No qhd? That's kind of weird.

not reeeally, it's in the same aspect ratio as all the other phones in that rez. if they wanted to make a phone with a screen of that size with a qhd screen (16:9) it would be super narrow and tall. 800x480 is 5:3 so you get a 4.7 inch screen without having it be super tall. so to keep the same aspect ration and increase the rez they would have to go to 1280 x 768 (which would be awesome). however that would prob put this phone at a price point that isn't competitive at the moment cuz it would also require a more powerful SoC to move all those pixels.

Now that is a huge screen! But at that resolution I can even see the pixels from the pictures you're showing! That res is a complete no-go. The prime might have a 4.65", but that's with no buttons, so it'll certainly be a fair bit smaller physically. And 720p screen means it knocks this phone out of the park

I read this and then the specs, and I don't see anywhere that it lists what carrier(s) will offer this device? I like this phone a lot! Edited to add: It may say in the video, but YouTube videos are no-go (proxy filtering) at work.

European launch for now I believe...

Somewhat unrelated question: When did the clock/weather widget for Sense UI become 4x1 in size instead of 4x2? That looks like an HTC Sense skin on the Beautiful Widgets clock.

This isn't coming to the US so ppl needa stop complaining lol. Prices for specs matter more outside the US cuz more ppl buy at retail price

Last I checked Beats headphones arent wireless yet these look wireless. I couldnt see anything that said they are can anyone confirm?

There's a 3.5mm connector on one of the ear cups and the audio wire goes into there. Alex probably just took it out so the picture would look better.

Engadget has an image with the red cord for the headphones.

now that this fone is build i am wondering will this have NFC on this ?

Like the new clock widget in the main pic. Hopefully HTC will allow us to download it through HTC Hub.

Finally they're making medium-sized screen phones, which is as big as can fit in my pocket. Which I know is greater than 4.3 and less than 7. Podcast folks, it's not too big! We've been using small all along, now we're reaching medium :)

The phone has the same ram as the T-Mobile Sensation and if you noticed there was no lag at all in the launcher like the Sensation(swirling affect). I remember everyone thought the difference in the launchers (lag or no lag) in the Sprint phone and the Sensation was the difference in ram. The sprint evo had 1mb ram and the Sensation had 768 I think was the #. Goes to show the difference in ram was not the problem, Sensation also is dual core and this phone is not. Must be software related.

Singlecore..... NO SALE FOR ME.. It's dualcore only or quadcore next definitely not going backwards... REGARDLESS of 1.5 singlecore processor

No wonder he was having "wifi issues" in the video, the phone was in AIRPLANE mode. What a dope

Wifi was turned on and connected., despite being in airplane mode.

Been waiting for an all white phone on VZW, see if it comes. LTE needed of coarse, we'll see. I am moving kids to Tmobile so maybe one of them can get this beast. Lol

Hope Sense 3.5 comes to the Sensation soon

I haven't really liked the way the all white phones have looked but this is beautiful.

Why does every HTC phone have to look the same? Do they think slapping different color plastic on the thing will make us think they worked hard at the design?

What company will it be with?

This is looking sweeter by the moment. Too bad it is only coming out in Europe. I would love to see this on Verizon's network. But if it did, it would probably have the "DROID" branding on it. Which isn't a bad thing since I currently have a Droid Incredible.
Android Central Newsletter
Get instant access to breaking news, the hottest reviews, great deals and helpful tips
Thank you for signing up to Android Central. You will receive a verification email shortly.
There was a problem. Please refresh the page and try again.