Hands-on with Hangouts, Google's first step towards unified messaging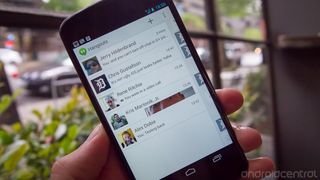 Lots of great new features, but this may not be the unified messaging service some hoped for
We've heard a whole lot about "Hangouts" as a headline feature of Google+ since its launch, but Google is repurposing that branding today for its latest group chat service. There was a whole lot of crazy speculation and expectation leading up to Google I/O about a unified messaging platform from Google, and unfortunately Hangouts just isn't that service quite yet. As if Hangouts coming to phones as an update to the Google Talk app wasn't a good indication, this is more of an instant messaging client then an all-encompassing messaging service.
That being said, if you and the people you talk to most are all-in with Google, this update just gave you a whole bunch of new features. Read on with us past the break for a little introduction to Hangouts, Google's next step in messaging.
Android Central @ Google I/O 2013
It's no secret that the original Google Talk app hasn't changed much in the last few years, and was well overdue for a visual refresh. Luckily on that front Google didn't disappoint. Hangouts has been rebuilt from what seems like the ground-up, and while it still keeps the minimalist look of Google Talk it adds a lot of enhancements. The main view of the app is a list of current conversations, listed by the most recent activity. A sliding panel on the right takes you back to the most recent conversation you had, or the contacts list if you have no conversations ongoing.
The conversation list lets two or more people converse with text, smilies, symbols and pictures (from camera or gallery) in a standard group chat fashion. Anyone in the hangout can tap the video call button to initiate a call with everyone in the chat, which will ring them whether they're on phones, tablets or a computer. Like many other group messaging services, Hangouts supports read receipts (see who has read what) as well as typing indicators so you can see when someone's about to chime in.
You can start new hangouts from the plus button in the top right of the app, where you can then add people to the chat via name, phone number, Google+ circle or email address. If you haven't gone through and integrated your Google+ account with your contacts fully, things may get a little messy in here with duplicate contacts unfortunately. For example my contacts listing has two options for "Alex Dobie", but it isn't clear which one is tied to his Gmail address that I can actually do a Hangout with. But as time goes on there will be fewer people with this legacy problem, and this may be the motivation you need to merge together duplicate contacts.
But that's it -- this app doesn't span into integrating SMS/MMS or Google Voice messages at this time, nor does it plug in with any other services like Facebook Messenger or Skype. This will only benefit those who use Google+ and Google Talk extensively, and have friends that do the same. Aside from a few quirks with getting used to a new app, the new Hangouts app seems to provide a solid service for those who are all-in with Google and don't mind staying in that ecosystem. For everyone else that was hoping for a unified messaging platform to rule them all, we'll have to keep on waiting.
Get the Android Central Newsletter
Instant access to breaking news, the hottest reviews, great deals and helpful tips.
Andrew was an Executive Editor, U.S. at Android Central between 2012 and 2020.
No SMS integration - No care. Will continue to use standard SMS function until they merge Hangouts with it. Right now, it's just a re-designed Talk app, which I personally never used. Always used SMS for text and phone for calls.

Same here and it's pretty clear that the vast, vast, vast majority of users are the same way. These comments sections likely represent the highest percent of Talk users out there and it still seems woefully small among this Google-focused group. I really hope Google is intending to update the app with SMS functionality soon because the way it is now their efforts are going to waste.

I believe they will be integrating SMS/MMS becuase when you start the app it sends a txt to your phone and auto receives it. Very odd that it can apparently send and receive SMS/MMS but didn't take over the SMS app.

Vast majority? Vast majority use what, SMS? I'm not sure about that. I myself use Facebook, MSN, Whats App, G+, Google Talk and a lot of other messaging services, but not SMS. SMS costs money for EACH MESSAGE sent. I suppose you have some plan that gives you unlimited SMS, but not everyone has that. If you say most people don't use Google Talk I'm inclined to agree with you, but today I don't see the "vast majority of people" heavily using SMS for messaging.

It would be cool if they have SMS integration as well as other social messenger like Facebook messenger, Skype, AIM and so forth so all messages are one app. Thought Google was heading this direction when they purchase Meebo. I guess not or not yet.

i wouldn't hold your breathe on Google adding Facebook chat.
and AIM? seriously?

"Always used SMS for text and phone for calls."
LOL, you're missing out 2013. There are things called Smartphones. SMS? What was that?

https://www.google.com/search?q=google+hangouts+sms-integration&aq=f&oq=...

I have yet to figure out how to get this to load... As many others have stated, it shows up as "installed", but it's just the old talk app. Won't let me update. I get the same thing on my desktop version of the play store. I'm on sprint Galaxy S3 unrooted.

Install it from the Google Play website (not the app). Then reboot your phone after it has finished

You don't need to reboot to install it. Or at least me and the only other person I know that's using it didn't.

You'll have to go through the Play Store through a web browser: https://www.androidcentral.com/e?link=https2F2F... Go to the app and choose to install to your device. Honestly, the app isn't great. - No SMS/MMS integration (ie; no one will really use it)
- No way to tell if contacts are online/offline (wtf?)
- You can't set yourself to online/offline/busy etc Just another half-assed Google 'the public will beta test for us' program.

1. Depends on where you are. Here everyone uses WhatsApp and nobody really cares about SMS/MMS so it's a totally viable replacement.
2&3. The world's changed and everyone is always 'online'. You don't really care if your SMS recipient is online anyway. Plus it shows which message your friend has read up to, which is pretty indicative of 'online' status.

Oh, online status doesn't matter? How can I hangout with video with someone that is offline? Did you count how many times you have to touch the screen before start typing your mesage to someone? Try to talk with someone that are not on your most frequent contacts, whose name starts with W. Yeah, comfortable, isn't it? No, it ins't. Major overhaul on the UI. Huge downgrade on usability

I think unless someone doesn't have data, he is always online. I think people won't log out their google + account anyway. So that's why there is no online/ offline status , I guess

I disagree. I use Google talk extensively and this is awesome.

One issue I can see is that most of my friends are already using whatsapp, and I foresee an uphill battle convincing them to switch. They aren't tech-savvy, they use whatsapp because it works and all their friends are using it - what incentive is there for them to hop on to Hangouts?

One incentive is just being able to chat from anywhere. You can use it from multiple devices. Whatsapp is only for one device.

I know right? it's the same problem as FB & G+

Had the same problem. I'm rooted so I backed up Talk and uninstalled (it's a system app). Then downloaded Hangouts from the Playstore app.
All done now.

You have to go to the Google play store in the browser and down loaded from there and restart you phone

I got the same thing on my SGS3 (at&t) and Captivate ;both are rooted.

I also have an s3 and I see no way to send pics.

I installed and tried in my N4. I was not impressed. Far too many contacts to sort through (unlike Talk) I am also gonna need to wait for this to be available on tablets so it can be used on all the devices in my home.

Atleast they consolidated 2 Chat Apps I never used into 1 that I won't use.

I believe that every year sms will fall in use and chat services will go up. I know that chat services are not available for everyone everywhere. But there is something to be said of sitting at your desk and using the new Google Hangouts chat on your computer and then getting up for some lunch and continue the conversation on your phone or tablet. And then vis versa. Sms does not have this capability. I hate picking up my phone to text someone when I am sitting at a desk with a full size keyboard and monitor in my face. Thoughts?

That's why iMessage is so awesome and Hangouts could have been if Google integrated SMS into the app. Then people would be using it anyway to text people, but when you message people who also have Hangouts, it wouldn't send as an SMS. Then you could pick up any conversations with those people on your computer or tablet.

Bad example! Unlike iMessage that doesn't work on android, hangout works on ios,windows,android and probably Blackberry too. I was just chatting with a friend on my phone using the old GTalk but then switched to my iPad 2 and guess what? I continued my chat from where I left off on my phone. Google will integrate SMS into hangouts and it would not matter what device you choose to use as your chats will work across several platforms.

Hangouts is such a mess.... I have people missing from the list completely... People on there that shouldn't be when they aren't in my people app or Google+... Navigating is a real pain in the ass. I realize its brand new but I used talk everyday...now this has made it almost worthless. I want talk back!

If you want Talk back then uninstall Hangouts until they work things out a bit more at Google.

This! I dumped hangouts and was so glad Talk reappeared. Can't believe Google thought that thing was ready for prime time.
A navigation nightmare.
Visually cluttered.
Contacts with incomplete info.
Broken jabber interoperability.
Where did voice chat go? Please Google, don't kill Talk anytime soon!

That's the thing we're waiting for. It's fully unified for me - we don't have Google Voice, and nobody really uses SMS instead of WhatsApp anyway (why pay for texts when we can chat online for free). Bravo.

Whatsapp is not free. You pay for it after one year. You don't pay to use Gtalk .Once SMS integration is added to hangouts and it remains free then it would be a no brainier.

This isn't working for me. It only gives me the option to open saying it's installed and the talk app opens. Then when I open the play store in a browser it says my phone already has it installed and I can't push the update.

Hangouts needs google+ sign in compulsory bummer why need the phone number then ?
Android ppl are ok..but what if iOS ppl who are trying to use hangouts and don't have google+ ?
Nothing can be done...then whats the point of mobile number confirmation

Why I have not got the update yet. Probably once again the crappy way of updating stuff region by region.

Nope it isn't. It's available on the Play Store as a replacement of Talk but if your Talk is installed as a system app it won't update. Try sideloading it.

At least BBM is coming soon

I updated don't seen the big hype about it can't wait for bbm to come out I think it's going to be crazy

I would prefer to have my contacts arranged by online availability and status

My gripe is that its a bit cumbersome although a welcomed change. I don't like the fact that I can't immediately discern anyone's current status (available, idle etc..). Nor do I like the inability to tap on the contacts pic and it brings up all the contact info we have for them...

So now when I want to gtalk I have to go "let's ghangout?" Not liking the name. And...wait...does this require Google+?

I'm actually pleasantly surprised that the new app doesn't include online availability and status. It's the reason I didn't use the old talk app and rarely use gchat. Too AIM like. Most of the people I know stay invisible anyhow (which I hate). And according to Ars, it doesn't require Google+, although I don't think Google+ is as evil as everyone seems to think. Not trying to sway anyone, just saying. "By corralling together at least some of its disparate communication tools, Google has created a single common video and text chat platform that spans Android, Web, and iOS clients. By allowing current Google Talk users to video and text chat with Google+ mobile users without having to create a Google+ profile, Google is instantly creating a significant reach for the service."

You cannot send a picture without a Google+ Account/Profile. You cannot Start a 1:1 Video Chat (Possible in Google Talk before updating) without a Google+ Account/Profile. You can no longer do 1:1 Voice Chats at all. Must turn to Skype, Facebook, or Viber (or whoever else in that market) for this functionality. Muting Video in a Video Call is not the same as doing a simple, seamless, 1:1 VoIP call (the other person can still be sending video, wasting bandwidth/battery, making it unusable on a slower connection where VoIP would work fine, etc.). Contact List is bastardized/unusable, Presence and Contact App integration is gone, contact card integration is gone. This app seems completely rushed to market and beta quality at beast. But then again, Google loves their betas. Only thing worthwhile I got from the Keynote was the Updated Google Maps Mobile app (not coming until Summer) and the Location/Time-based Reminders for Google Now. This Hangouts app is unusable for people who actually used Google Talk to much of its full capacity on desktop and/or smartphone.

I will use the shit out of it and like it.

I really like it. First I was confused by online status not showing but then I realized that I don't know that with sms either. It's a great alternative to what's app with solid desktop support so I don't have to pick up the phone when I'm at the computer. Of course it could be improved a lot but it's a great for a 1.0 and solves a lot for me.

I think you completely miss the point and you're almost making excuses for the ommissions. The min reason why a lot of people here (were it's beyond rare to nt have Unlimited SMS/MMS) use IM instead of SMS/MMS is precisely to get things like Presence. Can't even send contact information over this (i.e. if someone is looking for a plumber (hypothetical), you can easily send the contact info for a good one over SMS/MMS. That's impossible with this, but very possible with WhatsApp or even Skype). Gonna wait to see if Microsoft develops a Universal IM client for Android. They are doing well on the Web, they may bring that to Mobile sooner or later. They actually know what they're doing. Do you guys seriouslyy think everyone's SMS conversations are 100% text? Modern SMS/MMS clients are very advanced and allow you to do things on smartphones that were impossible to do a decade ago. With my Samsung SMS/MMS client I can send: Images, Video, Audio, Memo, Calendar, Location, and Contacts. And none of that requires me to be signed up for Facebook, Google+, Path, Twitter, Foursquare... You get the point? This app exists only as a conduit to force people to sign up to Google+ by providing them with login-links every time someone tried to share an image with them or video call them (which was possible without G+ before updating the app) by telling you to send them an email or text message to join.

@n8ter#AC Sounds like you need a windows phone...

I'm still not able to get this update smh

First to note:
It looks like Google's download system for updating the app is broken. You can't update in the Play app on your device and going through the web interface is hit and miss with if it will update correctly. I was able to push the app from the web interface to my phone with no issues, on the other hand my partner is a totally different story! (FYI: identical Verizon GNex) They tried pushing the app via the web interface, which then confirmed that it updated, went to phone, still old GTalk (both when trying to load it and old icon). Even Play app shows hangout is installed. Tried redownloading via web: won't give the option since its "already been downloaded". Restart? Same result. Wont allow to uninstall any updates to app at all, only disable. Had to copy backed up version from my device over, which finally gave correct install notification (confirm I want to replace system app) and prompts accordingly for JB 4.2.2. Works fine after that. Second major problem: doesn't integrate and streamline into G+ as much as it should. Yes, you can message anyone in your circles and start a hangout from there as well. But you still have the G+ Messenger app and the Hangouts app that exists in the G+ app, both that run parallel with the new Hangouts and duplicates many of the same features (message anyone on mobile device, group chats, start video hangouts, transfer pictures, get delivery notifications). But then you can't reply to someone on G+Messenger except on mobile. Then to make things worse, if you tap hangouts in G+ app, it loads the OLD G+ version which explains why when being invited to A video hangout, they seem to be fighting as to which app should run. I was invited twice yesterday evening by the same group; first time I was invited New hangouts loaded and looked all slick along with chat option, I kept the invite to text chat only and allowed it to keep running. Was reinvited later and instead the old G+ Hangouts notification loaded with the video "call" like screen, when I declined that time,it dropped me into my home screen instead of being able to chat and say I wasn't available to video chat and continue with the text chat with the group. This feels like a very incomplete app that Google tried to do portions of to make it cross platform, but forgetting to fix some of the hooks in their own other apps to make sure there are no conflicts.
I used to like using GTalk years ago for its quick communication option and be able to reply anywhere (desktop, mobile,tablet), but then about a year and change ago GTalk fell off Google's own radar and I stopped getting mobile notifications when screen was off (even though I got it for others like Kik and Whatsapp, and not using any data saver options that could be the culprit). Plus the functionality seemed to be lacking like no delivery/read confirmation, and many lost messages into the void. Plus no options like picture transfer or real multi person chat. G+ Messenger came along, fixed a few of those issues, but added others, including screen off notifications as still being hit and miss. I think if Google wants to do the cross platform chat replacement, do it right: make sure the apps work as they are intended even if they have limited functions, don't have conflicting apps and links all around leading to other similar apps. Once that's done, they could easily just offer to integrate your SMS/MMS like FB offers in messenger for Android as a start and then add functionality from there. Its not like Google doesn't have access to android code to offer this. Would SMS integration be a Android only feature to start or even exclusive to Android? Maybe, but that might be what Google needs to do to compete: dangle the carrot with some features (chat function with hangout) and leave SMS integration to their own products. I know if Google offers to integrate SMS function in, you may even be able to SMS from PC or Tablet since your account is everywhere. (3rd party ones are hit and miss and Google needs to get off its butt and stop worrying about if they are overlapping system functions added by 3rd party apps. Just add features that brings Android to feeling like its from the future!)

Mine hasn't updated, and it won't let me uninstall/reinstall.

This is really cool! Now to convince two of my friends to use this instead of iMessage because I have an android phone.

In most cases I stay silent but I cant stand this bitching I'm seeing from 85% of these comments. Google made this clear that this is a 1st step in combining messaging services, and honestly its a good one. This stuff takes time if you want to do this well and if you want to set yourself apart from the competition. To sit on computer and bitch is nothing less than being childish. I do agree that there needs to be some improvements but there are plenty of things done right with this 1st implementation that has not even been publicly out for 24hrs yet. I'll leave you with this...We are quick to criticize people/companies as user but do really understand what it takes to make these products that you want....I'm done

I tried sending a picture to someone and they said it went to a Google login, and they weren't about to "sign up for that shit." They told me this over the phone. I think that pretty much sums it up for me. If you don't like the bitching, who's forcing you to read. If they don't like criticism, they shouldn't be removing major features in an App Update and pushing out poorly designed user experiences.

Cry some more you fucking nut job.

@n8ter#AC
1st: nobody is forcing me to read...But People like yourself are being unreasonable or only hearing what they want to hear when it comes to product roll outs... 2nd:Bitching is ok if there is solid reasoning for it...half of these comments are just stupid and if we are TRUE supporters of the Android community then we should understand that sometimes it takes time to come out with a quality product. Last a smart person would not like myself would not consider this an update...Its a total overhaul in their messaging system so rolling it out in sections and having some function not usable makes sense to ensure things are running correctly in real life application... sounds like your expectations are unrealistic...

Why does everyone say you can't see of they're online??? When they're on line the picture is lit up when they're not its faded and transparent... the only exception being the 6 main contacts it shows on the add page.... if you scroll it shows who's online and off. I instantly noticed this I wonder how no one else did.

Hey, at least we can share photos now!

I have been using Messenger, which is integrated with Google+ (I thought). Is the only benefit to using Hangouts that I can chat from my computer? What will the fate of Messenger be? Should I just convince my friends to switch to Hangouts if we are already using Messenger?

No SMS Texting from this new app, makes it near useless. I thought we were getting an iMessage type app, guess not.

WTF Google? Why should I have to be on wifi to make a video call in Hangouts now? My LTE is faster than most people's home internet... Oh wait it's AT&T that's being the a**hole in this scenario.

Yeah because it comes pre-installed on the device, which is stupid.

Funny thing is video calls work from the Google+ app lol. Man these carriers are stupid.

The only problem that I have is I can't update the app I tried all methods that has been posted.

It will get better like they said in the keynote give it time inpatient people

For those who seem stuck on the older 'Talk' app instead of the new 'Hangouts' this appeared today on the play store Hangouts app page... NOTE: If you aren't yet able to install Hangouts on your phone or tablet, or the Play Store "Open" button takes you to the old Talk app, hang tight, we are rolling out Hangouts to everyone over the course of several days. Rest assured Hangouts will be available soon for all Android 2.3+ devices, tablets included!

Cool. Thanks for the info Tom.

This is EXACTLY what I wanted. I do not want SMS integration. I want to have control on how I communicate.
Google Voice? Does not even exist outside the USA. I'm sure they will put some of the stuff in later. But it's a great start.
Messenger/GTalk and Hangout put together for Photos and Videos cross-platform and Desktop (mind the Chrome App). Some will never be satisfied. But such an early badmouthing post in the headline is not cool. Obviously you don't want Hangouts to be a competitor against WhatsApp. Now people using exactly that, with less security. Here is the chance. please don't ruin it.

This. You've got the point.

Glad somebody else understands... (Slow Clap)

Lack of SMS integration makes this so pointless. My girlfriend and I talk on Google Chat in our browsers all the time while we're at work, but she doesn't have a smartphone, so we text otherwise. If they had integrated that into one conversation, this would be worth something. Otherwise, who cares? I don't use Talk on my phone as it is, despite using the browser chat all the time.

Still haven't got the update yet.....

it wouldnt surprise me to see an update rather quickly for the app. most of the complaints are legit. how in the world they don't let you know who's online/offline is mind boggling. the SMS integration i'm not too worried about, but understand the frustration. GV integration would be nice as well. if they can send an update for those things within say a month or so...HUGE step...then just go from there. maybe add skype along the way...facebook chat perhaps? essentially make it the "trillian" of android. if anyone remembers the trillian chat (numerous others as well) that allowed you to basically add everyone from every IM client (AIM, ICQ, YAHOO, etc) into one buddy list. i'm willing to ease up on the complaining...i trust google knows these things already and are working to improve the app.

I'm seriously laughing over here. SMS? The only people I use SMS with these days are females that are still on iOS. When I see them in person I feel like I'm hanging out with a real live dinosaur.

i think this has more to do with the fact it just didn't come standard when released. its not so much tons of people use SMS, especially if they have a smartphone, its just nice to have that option. believe it or not...some people don't have smartphones. it was described to people as an "all in one" type messenger...so naturally people figured SMS/MMS, GV, etc would be included. kind of like how a car might come with a tape deck still. no one uses cassettes anymore but its still there just in case.

You must hang out with some real fucking nerds then cause EVERYONE I know still texts.

true...same here...but i get his point. iMessage, BBM, groupme, etc all these messaging apps are decreasing the number of actual texts being sent. no question in the future texts will give way to these types of apps or whatever comes out next.

Updated on my wife's S4, won't sign into Google.

I am going to try this thing out. I am on a iOS device but it seems to me that until they can come up with a app that you can send and receive to different platforms no matter what messaging app the other person uses I will stay with SMS. I have an unlimited family text plan that covers everybody in the family and I pay $35 a month for that. I never have to worry what messaging app a person has. If somebody has sms blocked or not activated on their phone. Oh well I guess they won't hear from me.

didn't take me long to uninstall that crap. part of google + and i want a short and sweet messaging app not a full service replace all apps on my phone service

I had such high hopes that Hangouts would live up to the hype but it's really no different than any other proprietary chat app. The fact that it requires you to sign up for G+ is a complete deal-breaker and will likely stunt this from ever really taking off. I'm not interested in joining Facebook and don't appreciate friends and family pestering me to sign up so there's no way I'm going to press them into joining Google Plus just to use this app. I guess I'll stick to SMS until BBM is released for Android and iOS and see it is fit to wear the cross-platform messaging crown.

How did AC miss this: https://www.google.com/search?q=google+hangouts+sms-integration&aq=f&oq=...

I dont get it! I can live with not knowing someones status since we never know this when sending sms etc...thoug i do feel like this is a step backwards. Sometimes i chat looking for an answer to something and i will pick someone who is online...but anyway Im on a tab btw So i load up hangouts and i have 6 large icons and then an impossibly long list of everyone i have ever emailed ever and/or chatted with in talk Why are those six big icons there? I have never talk to some of them via talk yet someone i spoke with just the other day in talk is in the impossibly long list Ok so then i start talking but i want to go back to my friends list and have a seperate conversation....how do i got back to my list of contacts? Simply put...i cant. I have to close the app and then load it up again. ITs too clunky. It is neither a chat app or a cellular tool..its just another way to post a g+ article to a person or group of people who may or may not be online so a quick response is not a given. EDit: i tell a lie, i can go back to my contacts...but i still dont understand the contacts list EDit: also...also..some people are named twice...like my old man. I guess this is because i added his email address in talk and now hangouts is part of g+ he is in my "family" cirlce. Its annoying. EDit: im not done yet...some people are flat out missing..they were there in the talk app but now they are gone. If i search their name it comes up wih a list of suggested people...people i have never met before. I guess its because the person i had added in the talk app is not on g+?

Anyone finding notifications are very hit and miss? And messages not going through at all? I've been trialling out Hangouts with the wife (she's using an iPhone), and found that messages were taking more than 10 minutes to appear, not going through at all, or the message would come through without a notification. I even had an email from Google yesterday saying she had started a hangout and I need to install the software to see it.... If Blackberry need a leg up to get BBM popular, this is it. Not impressed so far that a basic function doesn't work!

I installed Hangouts in early May, I think Gmail app changed after that. I hated Hangouts, so I uninstalled it and got Talk back on my Galaxy Nexus. I always had my Talk conversations saved automatically in my Gmail Chat label. They are still being saved there on my PC version of Gmail, but they are not appearing (as if they are not saved) on my Android Gmail app. There haven't been any new Talk conversations placed in my Android Chat folder since May 6 (which may be around the time that I tried Hangouts.) Moreover, when I go to Settings > ????.gmail.com > Manage labels, the Chat label doesn't even show up in the list of labels. When I go to the pull-down menu to look at my labels, Chat appears in the Recent Labels and All Labels lists, but again, it is never updated with new Talk messages. Yet, things are just fine on the web version, and the Talk messages are, indeed, being saved in that Chat label. I don't know if this is an issue with my install/uninstall of Hangouts or the new Gmail app. Any ideas? Thanks.