Hands-on with Hangouts, Google's first step towards unified messaging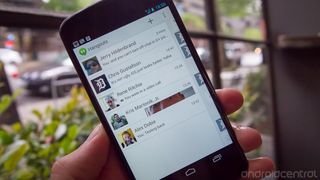 Lots of great new features, but this may not be the unified messaging service some hoped for
We've heard a whole lot about "Hangouts" as a headline feature of Google+ since its launch, but Google is repurposing that branding today for its latest group chat service. There was a whole lot of crazy speculation and expectation leading up to Google I/O about a unified messaging platform from Google, and unfortunately Hangouts just isn't that service quite yet. As if Hangouts coming to phones as an update to the Google Talk app wasn't a good indication, this is more of an instant messaging client then an all-encompassing messaging service.
That being said, if you and the people you talk to most are all-in with Google, this update just gave you a whole bunch of new features. Read on with us past the break for a little introduction to Hangouts, Google's next step in messaging.
Android Central @ Google I/O 2013
It's no secret that the original Google Talk app hasn't changed much in the last few years, and was well overdue for a visual refresh. Luckily on that front Google didn't disappoint. Hangouts has been rebuilt from what seems like the ground-up, and while it still keeps the minimalist look of Google Talk it adds a lot of enhancements. The main view of the app is a list of current conversations, listed by the most recent activity. A sliding panel on the right takes you back to the most recent conversation you had, or the contacts list if you have no conversations ongoing.
The conversation list lets two or more people converse with text, smilies, symbols and pictures (from camera or gallery) in a standard group chat fashion. Anyone in the hangout can tap the video call button to initiate a call with everyone in the chat, which will ring them whether they're on phones, tablets or a computer. Like many other group messaging services, Hangouts supports read receipts (see who has read what) as well as typing indicators so you can see when someone's about to chime in.
You can start new hangouts from the plus button in the top right of the app, where you can then add people to the chat via name, phone number, Google+ circle or email address. If you haven't gone through and integrated your Google+ account with your contacts fully, things may get a little messy in here with duplicate contacts unfortunately. For example my contacts listing has two options for "Alex Dobie", but it isn't clear which one is tied to his Gmail address that I can actually do a Hangout with. But as time goes on there will be fewer people with this legacy problem, and this may be the motivation you need to merge together duplicate contacts.
But that's it -- this app doesn't span into integrating SMS/MMS or Google Voice messages at this time, nor does it plug in with any other services like Facebook Messenger or Skype. This will only benefit those who use Google+ and Google Talk extensively, and have friends that do the same. Aside from a few quirks with getting used to a new app, the new Hangouts app seems to provide a solid service for those who are all-in with Google and don't mind staying in that ecosystem. For everyone else that was hoping for a unified messaging platform to rule them all, we'll have to keep on waiting.
Get the Android Central Newsletter
Instant access to breaking news, the hottest reviews, great deals and helpful tips.
Andrew was an Executive Editor, U.S. at Android Central between 2012 and 2020.