Hands-on with Canary, an all-in-one indoor security system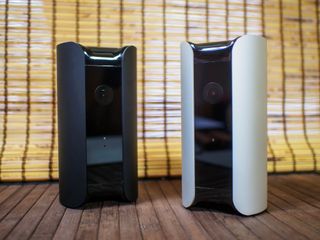 There's a lot of connected cameras out there, for users who want to keep an eye on their home or office from their phone. The key to a lot of these experiences is a quick and painless setup with a convenient app that will keep an eye on things for you. A quick notification lets you know when you need to look at your cameras, but otherwise these systems live in the background until you need them. Canary is a perfect example of a quick and easy connected camera, but the company is aiming a little higher than just streaming video and motion sensing. The goal of Canary is to act as an all-in-one security system, and to look great in the process.
Lets take a look.
It doesn't get much simpler than Canary when it comes to installation and secure setup. You've got a single pillar with a speaker on top, a light ring on the bottom, and ports on the back for Ethernet, MicroUSB for power, and a 3.5mm jack for the initial setup. This single pillar has a fisheye lens and a handful of sensor, built so you can set it up in a corner somewhere and catch the whole room. It looks nice enough that you could set it on an end table and not have to worry about it sticking out, but that also means there's not a particularly convenient way to set it up somewhere high unless you're managing cables in a clever way. The included power cable only gets you five feet, so it's clearly made for sitting on a table.
Image 1 of 5
Setup requires your phone, but not using Bluetooth like so many other connected cameras. You install the Canary app and use the included 3.5mm cable to connect to Canary and start the setup process. The cable is used to securely transfer your login details and Wi-Fi credentials (if you're not plugging in using Ethernet), and once everything is setup and ready to go you'll see the light on the bottom of the pillar glow a subtle yellow. The color ring at the bottom gives you a quick glance at whether the camera is connected and doing its thing, but the real information from this camera lives in the Canary app on your phone.
Once setup, the Canary app gives you access to a live video feel from the camera as well as temperature, humidity, and air quality readings from the sensors in the pillar. This information is recorded over time, so you can see what everything looks like over the course of a day. In its regular standby mode, Canary will send you a notification when there's motion on the camera. There's some sensitivity settings to keep from notifying you every time a pet wanders through the room, but otherwise you're getting a fairly standard camera playback to see what is happening when you're away. The Armed mode in the app sends you a notification and sends out a piercing alarm from the speaker on the top of Canary, and can even be set up to give you quick buttons for communicating with emergency responders to come to your home or office.
On top of the $199 for the Canary camera, there are software options for cloud backup of your video for 2, 7, or 30 days, prices at $5, $10, and $30 per month respectively. Without this extended plan, Canary limits the total number of downloads from the Canary service you can perform each day, and only stores the last 24 hours of video to view within the app. There's no option for local storage of your video outside of these download options, so if anything happens to the Canary online backups or you find you need to go back further than the time frame you've subscriber for, then you're out of luck.
Canary has a lot of interesting features that extend beyond being just a connected camera, which helps the price point as it competes directly with Nest Cam. At the same time, Canary is missing some of the more interesting Nest Cam video features and doesn't currently play nice with any other connected home accessory. There's no IFTTT integration or connection to Smart Things or Works With Nest, in fact your only option is to spend an additional $199 for another Canary, which you can do up to 4 cameras for a household according to the Canary app. As a single camera for an office or small apartment Canary is really interesting, but the company is going to have to work a lot harder to bring it in line with the rest of the connected home products out there today.
$199 from Canary (opens in new tab)
No use to me without PTZ will stick with foscam

Why do I need a camera on the coffee table? Posted via the Android Central App

And you have to keep it on a plug pass. If it could be powered by a poe that would have been better Posted via the Android Central App

I really just want a nice security camera that has an ability to store to a local server using standard protocols rather than the cloud. The cloud is nice as an option, but I want one that doesn't need to constantly upload video, taking up bandwidth. I'm guessing something like that does exist at this point. I currently have some aging wireless ones that do store locally, but it's extremely proprietary and fairly clunky. One of the things I've kept them for is that it has a small flat panel that always displays what's on the cameras so I don't need to use my phone to see who is at the door, since it's always someone trying to convert me to something, or sell me something else.

Axis make some amazing cameras (wired, wireless, fixed, PTZ, in/out door) that are designed for local (and/or off site) storage.

Get Piper. All on the cloud, camera full HD 180 degrees, alarm, 2 ways telecommunication... Yes because robbers break down all your cameras and servers and steal all your HD and memory sticks. But it 's good to have a local option (faster access) and IT robbers do not exist so much. Posted via the Android Central App

"and doesn't currently play nice with any other connected home accessory." And for that reason, I'm out.

It does integrate with Wink hubs. You can setup it up to turn on lights if the camera senses motion as a example. Posted via the Android Central App

Exactly. Here's the press release on it. http://blog.wink.com/wink-blog/2015/10/26/coming-soon-wink-canary

Wink is dead Posted via Nexus 6p

Au contraire: https://en.wikipedia.org/wiki/Wink_Martindale

Why are security cameras so enormous? The camera in my Nexus 6p is QHD, takes great pictures and, if separated from the phone, it would probably fit in a peanut shell. It seems like a camera this size would be far less conspicuous, consume less power, and be easier to install in nooks and crannies where burglars wouldn't find it. It is common now for crooks to steal the security cameras themselves.

Im sure the IR on your nexus 6p is killer!!

So no local storage of video, that's a deal breaker personally

So if I'm not paying them can I download say an hours worth of video from the camera within that 24 hour period?
Android Central Newsletter
Get the best of Android Central in in your inbox, every day!