GSM Galaxy Nexus Android 4.2 update download link live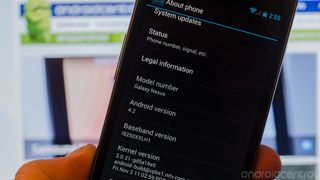 That didn't take long, did it? After the first Nexus devices shipping with Android 4.2 have started going for sale in certain parts of the world, the Android 4.2 OTA for the GSM Galaxy Nexus is starting to roll out. Once one knowledgeable user gets their hands on the OTA, they make the direct download link available for everyone else, and that's what we've got now courtesy of the users over at XDA. According to the poster, this .zip can be flashed over either "yakju" or "takju" devices without issue. We've flashed it over takju, personally without issues.
Eager users with GSM models of the Galaxy Nexus on stock Android 4.1.2 can download and apply the update at their convenience, provided they have a few of the right tools and a little know-how. We have a great guide available that explains how to do just that right below, just substitute in the file names included in 4.2. There's also no shame in waiting for the OTA to hit your device.
Source: Google Direct Download; XDA
More: Google Galaxy Nexus Forums
Andrew was an Executive Editor, U.S. at Android Central between 2012 and 2020.
You should better state that this is for Google Play takju devices only. Yakju OTA isn't available yet.

I literally just got the notification of the 4.1.2 update. lolwut?

OK let me console myself on missing out on a brand new Nexus 4 and get this update for my Galaxy Nexus (she's happy for now as no longer being replaced by a younger model - for now anyway)

Update the guide with new file name.. there's adb command "adb reboot recovery" to go into recovery without pressing buttons

I gave a try on my nexus 7 (on the file from the other post) and the Galaxy Nexus.
No problems for the N7 but the GN checks the file and it failes to assert the file, something to do with the yakju, brabu, molgul versions. Looking forward for a compatible version.

And the waiting for the update notification begins... again :D

Only Takju at this stage everyone. So only works if you have the takju image on your G Nex. Tried to replace takju with yakju in the url but no luck. Will have to wait unless anyone has sniffed out the URL?

I opened up the update in a file explorer and it looks like the new camera isn't there?

looks like I have to wait again and see when my Gnex gets android 4.2 on wind mobile in canada

works perfectly - flashed via cwm. it does include the new camera. it doesn't seem like nova launcher works right with it though, so i had to revert back to stock launcher

worked for me, flashed the takju factory image, then flashed the update, nova launcher is a little flaky, the buttons on the dock do not respond to touch, rebooted still nothing, back to stock launcher for now

God I love having a Nexus! (Screamed like Michelangelo)

Dammit, now I want pizza.

Wise man say, forgiveness is divine but never pay full price for late pizza.

Awesome! I can't wait until March, when it'll come to the LTE version!

Someone here flashed the takju image on a yakju device? How it works?

It doesn't. there is an assertion failure trying to find takju release keys

Is there a trick to step 8 in the linked article?
"When the Android with the red exclamation point appears, hold down power first, followed quickly by volume down and volume up. (So that to start, you're holding down power, then you're holding down all three). After 2-3 seconds, release all three keys."
I've done this a dozen times and it simply doesn't work.

Will it clear my data?
And also, can I just flash it though recovery?

yes zojuist de update van Google naar 4.2 gekregen naar de galaxy nexus
Android Central Newsletter
Get the best of Android Central in in your inbox, every day!
Thank you for signing up to Android Central. You will receive a verification email shortly.
There was a problem. Please refresh the page and try again.