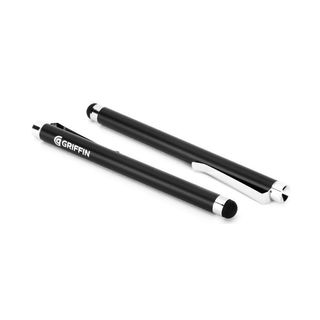 The Griffin stylus is a no-nonsense, sort of bare bones stylus. It does nothing in a spectacular fashion, yet is does everything "good enough" for most users. It feels like a short ballpoint pen, it has a nice pen clip and a spongy silicon tip.
Apps like Sketchbook Mobile, Note Everything and Handwrite will be used to judge the overall qualities of the stylus.
Read on for our full Griffin stylus review!
Criteria for judging a stylus
A quality pen helps your writing; a quality stylus helps your app experience. For launching apps, keeping fingerprints off the phone or tablet as well as taking notes and playing Draw Something - a stylus is a helpful accessory.
The criteria for judging the Griffin stylus will be:
Ergonomics
The Griffin stylus is a bit shorter than the other stylus pens I have tested and used. That isn't necessarily a bad thing – but it felt a bit "short" when I was holding it.
Because it was shorter, I found myself gripping it more towards the tip – just like I would a stubbier pen. This stylus is not stubby, though – it is very slender and very lightweight.
The one advantage to a shorter design is that it was easier to find the "sweet spot" of contact when pressing the stylus to the screen.
Like holding a pen, each user has his/her very subjective opinions of weight and thickness. For my writing style, I would generally opt for a slightly thicker and heavier pen/stylus.
Appearance and finish
The Griffin stylus does not feel expensive like the Jot Pro, but it doesn't necessarily feel "cheap" either. It feels like it is well made and solid. The case feels like it aluminum or some other lightweight metal. The accents are also metal and attached quite well.
The stylus has a satin black matte finish with the Griffin logo opposite the clip. The Griffin stylus has a non-retractable tip and does not come with any sort of cap, so this does make we worry about the tip getting dirty or even getting caught and torn on something when not in use.
Nib/Tip and flow on screen
The Griffin stylus uses a non-replaceable smooth pen nib. The tip is both soft and spongy to the touch. The nib would be considered a larger size at about 8mm in diameter. And 8mm is a bit large to really feel like text input is "accurate."
There is a "spongy" feel to the nib on the Griffin stylus. I found this required a bit more pressure when writing – compared to other Styli with soft tips. Unlike the SGP Kuel H12, there is no small point lurking beneath the tip to help ensure exact and precise pressure when writing.
Writing with the Griffin stylus is most similar to the Wacom Bamboo stylus – and that's not a bad thing. It does feel like ink is flowing from the nib, but at times a bit of extra pressure was needed due to the spongy nature of the tip.
Handwriting precision
I tried a number of tests to examine handwriting precision. From creating numbered lists, to tracing objects, to writing longer sentences to actual "journaling"– the Griffin stylus responded OK in some tests and not so well in others.
A good stylus gives the illusion that one is writing on the glass of the device.
When using the Handwrite app, the Griffin stylus was fine – but not spectacular. The ink seemed to flow and I had no trouble forming letters or words. However, because of the larger size of the nib and a slight "lag," it seemed like the stylus was getting ahead of the actual text.
I could certainly dot my "I's" and cross my "t's" and put periods at the end of sentences – all good things. I just found that I had to slow my writing down a bit since I had the feeling that I was getting ahead of what was appearing on the screen.
Drawing/painting capabilities
There are two main categories of drawing apps for phones and tablets; casual drawing apps/games and true artistic expression apps. The Griffin stylus is fine for a casual game of Draw Something – which is how most of us would use it.
In Sketchbook Mobile, the Griffin stylus is most likely not the stylus I would turn to for serious works of art.
In the Sketchbook Mobile app, the Outline, Draw and Write tools worked fine – but there was a bit of the lag that I also felt in the Handwrite app. All of the tools worked OK – but it was hard to produce a really detailed drawing without going very slowly.
The wrap-up
The Griffin stylus is an economical, competent stylus. It is good for general navigation – like starting your apps, swiping between home screens, etc. For note taking, using the Handwrite app, it was pretty good – but there was some lag. Also, the large nib makes it tougher to actually follow your stroke on the screen.
For casual drawing apps like Draw Something and for basic navigation on the screen – the Griffin stylus performs just fine.
The good
Good multipurpose stylus
Quality construction
Good balance and weight and feel in the hand
Good for writing and casual drawing
The bad
Nib is a bit spongy
Nib is not replaceable
The verdict
The Griffin stylus is a good all purpose stylus pen. It is more economical than most – but it isn't "cheap." For casual drawing games, device navigation and simple note taking – the Griffin stylus will work just fine.
Do you use a stylus on your Android phone or tablet? Have a favorite? Let us know in this forum thread.
Buy it now
Get the Android Central Newsletter
Instant access to breaking news, the hottest reviews, great deals and helpful tips.