GRID Autosport for Android: Everything you need to know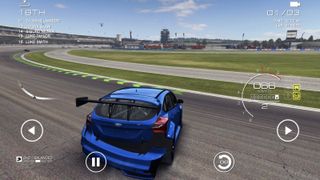 There are a ton of great racing games available for Android, and they all bring something fun and interesting to the table.
But sometimes you just want a pure, realistic racing experience. Android has a couple racing sims available, but nothing that will compare to GRID Autosport. Developed by Codemasters Racing and Feral Interactive, GRID is set to finally cross the finish line and arrive on Android with sign up available for a private beta to test the 4-player multiplayer mode which is a good indication that a full release might be just around the corner!
Android users, we're looking for keen racers to help us road test GRID Autosport in a private Beta programme.

Read the Google Form for entry requirements and to apply for the Beta: https://t.co/khpIuDEduX

Those accepted will be testing in 4-player multiplayer mode. pic.twitter.com/U7As88hkTmAndroid users, we're looking for keen racers to help us road test GRID Autosport in a private Beta programme.

Read the Google Form for entry requirements and to apply for the Beta: https://t.co/khpIuDEduX

Those accepted will be testing in 4-player multiplayer mode. pic.twitter.com/U7As88hkTm— Feral Interactive (@feralgames) April 29, 2019April 29, 2019
Just click through the link below to fill out the form where you'll be asked to enter some personal information including details on the phone you'd plan to play the game with.
What makes GRID Autosport is so special?
This game is made by Codemasters Racing, so you know it's good.
Oh, you need more than that? Well, besides the fact that it's made by the premier racing game developers in the industry, the game is aiming to take the graphics, gameplay, and glory you experience playing games on console and bring the experience to mobile. Who doesn't want that?
That means a full racing experience without shoddy upgrading systems and energy systems limiting how and when you race (looking at you, EA's Need For Speed: No Limits (opens in new tab)). To accomplish that, Codemasters and its co-developers at Feral Interactive will likely set a premium price of around $10 for the privilege to play GRID Autosport — but if you're a racing fan, that's a pittance to pay for the mobile racing game you've been waiting for.
GRID will feature 100 cars to collect and 100 circuits to burn rubber on through the bevy of game modes including a full-fledged career mode along with options for time trails and quick races. There's also an amazing physics engine for realistic damage when you crash into the wall or tire barricades. That attention to detail and realism means a lot, especially when you're just starting out and crashing into a bunch of stuff all the time.
When new cars or tracks are available, you should be able to download them in game for free, as that's how it works with the iOS version. And that's amazing.
GRID Autosport is currently available on Steam, iOS (opens in new tab) and coming soon to the Nintendo Switch if you're interested in checking out the game on another platform, although since it's a paid title it's might add up if you buy it across multiple platforms versus just waiting for it to come to Android.
What sets it apart from other racing titles like Real Racing 3?
When we're talking about games offering realistic racing experiences for mobile, the first game that should pop to your mind is Real Racing 3 (opens in new tab). It's one of the more popular free games for Android and has been the pinnacle of the racing scene on Android for a good number of years now.
Not to slight Real Racing 3, as it's still a great game five years on from its initial release — but GRID Autosport looks primed to absolutely blow it out of the water in terms of realism, physics, and depth of gameplay.
And you'd expect such from a paid title vs. a free game, right? GRID sells for $10 on the iOS App Store, and we'd expect a similar price set for its Google Play release.
When is it coming out for Android?
That really is the million dollar question, isn't it? The game has been plagued by delays which isn't necessarily a bad thing if it means that gamers are left with a more polished product that doesn't require day one patches to fix stability issues.
With the Nintendo Switch release date set for sometime in the Summer of 2019 and the announcement of the private beta for the multiplayer mode — a feature that's not currently available for the iOS version — I think it's safe to say that the game should be arriving in the Google Play Store sometime in the coming months as an even more complete package than what Apple users have already been enjoying.
Also, For what it's worth, the game will use Vulcan graphics API which is to say it's going to look absolutely gorgeous when it finally arrives. Vroom vroom!
Get the Android Central Newsletter
Instant access to breaking news, the hottest reviews, great deals and helpful tips.
Marc Lagace was an Apps and Games Editor at Android Central between 2016 and 2020. You can reach out to him on Twitter [@spacelagace.
I haven't forgiven Codemasters for the original Grid. Coming from Toca it was garbage and never recovered even with the second Grid. But this is Mobile and expectations will be low in comparison. However im confident Codemasters will blow this too.

No thanks. I'll stick with Real Racing 3.

Really...$10?...so I guess it's true that it won't be free, not everyone owns a credit card you know. Try to remember that, so i'm sticking to Real Racing 3.

If your phone carrier has Carrier Billing in the Play Store, you should be able to charge it to your phone bill.