Google's Nexus 6P case is surprisingly good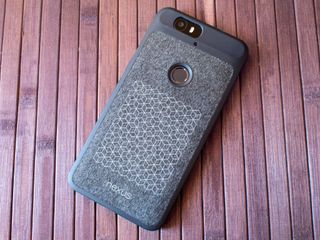 We've been playing with Google's Nexus 6P for a couple of days now, and without a doubt this phone a big. On top of being big, the metal body makes is a little on the slippery side. This isn't the best combination in the world, so there are more than a few people out there who are going to want to put this thing in a case. Picking a case that doesn't ruin the ergonomics of this phone or make the fingerprint sensor on the back difficult to access would normally be a concern, but Google's got your back with a case of their own design.
Lets take a look.
Google's Nexus 6P case is a simple, rubbery shell with a printed fabric section in the back. It's designed to protect from small drops and day to day scratches, and for most folks that's probably all you need. It's lightweight and flexible, with thicker spots around the edges and a lip around the fingerprint sensor. The best part of the design — unless you count the part that covers all the glass that isn't around the camera — is the printed design on the fabric with the word Nexus written across the bottom. It's just enough to look nice, and matches the "Graphite" color of the Nexus 6P well. There's also a light grey "Quartz" case color option that may look better with an Aluminum or Frost Nexus 6P.
Image 1 of 5
This case adds just enough grip to the outside of the Nexus 6P to be comfortable holding with one hand, due largely to the fabric back. It's also thin enough that the phone doesn't feel noticeably bigger with the case on. The rubber front adds a lip so you can set the case down on its face, and the button casing is just enough to make it easy to press buttons without any additional force, but the case wiggles just enough that the power button can occasionally be off center a little.
The most important part of any Nexus 6P case is how well the fingerprint sensor can be accessed. Google's case has a rubber lip that slopes inward, but ends just outside the ring that holds the sensor in place. This makes it easy to locate with your finger, and isn't raised enough to feel awkward when you place your finger on the sensor.
For $35, you're unlikely to get a better soft case for the Nexus 6P. It adds grip, doesn't sacrifice comfort, and actually looks nice in the process. There are still folks out there who prefer a hard case, but if you're looking for a soft case it's probably not worth looking much further than Google's offering here.
Buy: Google Nexus 6P Case{.cta .shop}
Be an expert in 5 minutes
Get the latest news from Android Central, your trusted companion in the world of Android