Google's Clock app updated with handy new alarm settings and more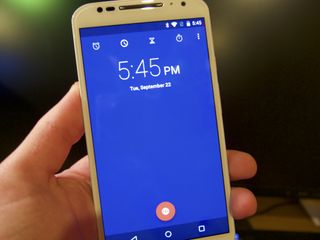 It's certainly not the most exciting app in the world, but Google's stock Clock app is getting an update that brings along some handy new features. Included in the latest update is a setting for gradually increasing volume for alarms and timers, interactive alarm notifications on Android Wear, and more. Here's the skinny on what's new:
Gradually increasing volume for alarms and timers
Choose your favorite timer ringtone
Preemptively dismiss alarms within the Clock app
Control timers from a notification
Easier alarm and timer management on Android Wear
Interactive alarm notifications on Android Wear
Again, it's not the most exciting app in the world, but it's something on which most of us rely to get things done in a timely manner on a daily basis, so these new bits are great additions to the app — especially if you use an Android Wear smartwatch. To grab the latest update, you can head on over to Google Play (opens in new tab) to pull it down now.
I wish they gave me more than 60 seconds for ascending volume and a way to toggle android wear vibration off. Posted via the Android Central App

I seriously can't believe there isn't a way to toggle off the Android Wear vibration. It completely startled me this morning when my alarm went off. I hate it bad enough that I'm actually going to have to stop using the app and start using a different alarm app now.

I have to charge my watch each night so I would never wear it while sleeping. When I have left it on my wrist by accident I'm suddenly awakened by bright flashes of light. Do you wear your watch to bed?

Maybe they mean the watch vibrates on their nightstand on the charger?

@glazedfaith that's exactly what I mean. The watch vibrates on my nightstand while charging. I'm sure some people wouldn't mind that but a loud buzzing noise next to my head is not my ideal wake up situation.

Not the most interesting but arguably one of the most important.

Agreed. The other, and in my opinion most important, on a phone is the keyboard.

Still needs UTC Time Zone. Posted via the Android Central App

Finally a separate timer ringtone! Might not be the most exciting, but it's one of the most useful. Wubba lubba dub dub!

Came here for the Wubba lubba dub dub!
kthanx!

I really REALLY wish they would let you choose a Google Play Music song to use as the alarm... Does anyone know of a third party app for this?

If you download Zedge you can use pre done sounds from it, or you can download Ringdroid and use Amazon music that you've purchased (or some other none Google downloaded music), use Ringdroid to choose a section of the song you want and then save it as an alarm, notification, or whatever sound type, then go to your alarm app and choose that as a sound. https://www.androidcentral.com/e?link=https2F2F... Posted via the GS6 Active, aka GS6 M.E. (Manly Edition)

Yeah I've used Ringdroid in the past and I really like it! But I feel like that's for something more permanent like a specific contact ringtone. I've used it for alarms as well, but I'd rather just pick a new song every night. I tend to stop waking up to the same alarm every morning haha.

Really like Google's alarm clock. It's not over designed and doesn't need to be I don't think. It's extremely simple, and just works. I love the multiple timer as well. That comes in handy more often than I thought. Posted via the GS6 Active, aka GS6 M.E. (Manly Edition)

Did Timely get renamed or something? This looks exactly like it.

You're probably aware that Google bought Timely sometime back, but its odd that you would say it looks like Timely(?) It hasn't been touched and still looks like it was when Google bought it. It still looks like it's from the KitKat design language. Posted via the GS6 Active, aka GS6 M.E. (Manly Edition)

Again another aspect of HTC's innovative usability features is adopted by Google. What I find remarkable is little HTC has been so incredibly innovative. With recent downsizing, I hope they maintain this beneficial prowess.

Something's wrong... When I create a new alarm (repeat Monday, Tuesday, Wednesday), with repeat selected, it only allows Monday, Wednesday, and Friday, to have the alarm. What the hell? Quickly uninstalled.

You obviously just don't know what you're doing. It works just fine. Posted via the Android Central App

yeah, I kinda think I do, since I have the same alarm series setup in the stock clock app that is on my Note 4. but thanks for playing.

Yeah it's probably too complicated and I wouldn't use it IF I were YOU. I'm NOT you though (obviously) so it works perfectly fine for me. Posted via the GS6 Active, aka GS6 M.E. (Manly Edition)

Yes my dear Watson. It IS good for me indeed. 50 million out of 50 million and 1 are the sacred chosen to operate the clock. Posted via the GS6 Active, aka GS6 M.E. (Manly Edition)

Have you tried clearing data and uninstalling/reinstalling? The old solutions usually work best. Wubba lubba dub dub!

lol...that would be too easy. EDIT: I did the uninstall/reinstall earlier and that didn't work, but clearing the cache did. go figure.

You mean, Turn it off and turn it back on? :-)

I've tried to make this happen (where the alarm only allows M-W-F) and nothing I do will cause this error. I've tried this by changing an existing alarm, creating a new one, checking/unchecking repeat, etc. What kind of phone are you using, and what OS version?

Note 4. 5.0.1. I know it sounds strange, but there it is. I even deleted the two "sample" alarms that were set when it was installed, and tried anew. Nevermind...cleared the cache, uninstalled and reinstalled it. Seems to be working.

So my alarms on my phone will sync with my android wear alarms? Posted via Android Central App on 1+1

I just want one that behaves like the old Timepiece app on the Palm Pre. Digital Alarm Clock by Zabamobile mostly does it but I would like have it put the label for the next alarm on the screen and the the date for the next alarm (not just the time). This app allows you to set alarms for a date in the future (significantly further than a week). Posted via the Android Central App

Finally Google. Now just give us gradually increasing ringtones too.

I just wish the icon looked like a clock. When I first saw it on my nexus 5 it looked to me like a blue die (singular of dice) without numbers, and I can't get that out of my head.
Not keen on the setting for increasing volume being a global one. I'd hoped it would be per alarm.

Too bad I can't power off my Moto G (2014) and have Google's Clock app power the phone up in order to play the alarm. That was a capability which my BlackBerry Pearl Flip and its alarm app had half a decade ago.

This should be a standard feature again. Posted via the Android Central App

I think they've also changed/toned down the nasty purple colour; nice update but it won't take me away from Sleep As Android. Posted via Android Central App

Alarm Clock Plus has been doing just fine for me for about 4 years now. Never missed an alarm.

Seems like a pretty decent upgrade. I agree. They should make this standard. It looks and functions a lot better than the stock clock app.

I have the nexus 6 and there is no lock screen dismiss button to turn the alarm off I have to turn on the screen then open the clock app then go to alarms turn it off then I have to turn it back on if I want it to go off the next day

I installed and uninstalled because it does not have the "shake to turn off alarm" feature that Alarm Clock Xtreme & Timer has. I've owned this app for several years. Even though AVG bought this app they did not ruin it.
Android Central Newsletter
Get the best of Android Central in in your inbox, every day!
Thank you for signing up to Android Central. You will receive a verification email shortly.
There was a problem. Please refresh the page and try again.