Google is working to remedy the Google Calendar spam issue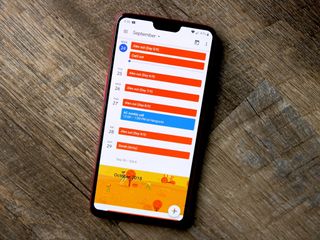 (Image credit: Joe Maring / Android Central)
What you need to know
Google is working on a fix for the recent issue of spammers and scammers adding events to your calendar via Gmail invites.
It works by the spammer sending an event invite via Gmail which automatically creates an event in your Google Calendar.
In the meantime, you can remove the invites by reporting them.
Just when you thought your calendar could be the one place safe from spam, this had to go and happen. Recently, an exploit was discovered by spammers and scammers which allows them to add events to your Google Calendar.
It works by them sending an email with an invite to an event, and by default, Gmail will automatically add the event to your calendar. These events often include the typical enticing messages you've become accustomed to with spam emails over the years along with a link. To make matters worse, these events are added to your calendar despite the email being classified and filtered out as spam in Gmail.
As long as you don't click the link, the event is as harmless and annoying as most other spam emails. However, clicking the link opens you up to the dangers of viruses and malware.
The good news, however, is that a Google employee has posted that the company is aware of the problem and working on a solution.
After personally receiving one of these events over Labor Day weekend, it's nice to know Google is working on the issue. In the meantime, if you receive any events like this, you can follow these instructions to report the spam and remove it.
Samsung Galaxy Note 10 review: Finally, an S Pen in a smaller phone
So it's actually a Gmail issue? I don't use Gmail so does that mean It's not an issue for me?

Good to know. I had this happen a couple of times recently.

This is interesting because this has randomly happened to me and it was quite alarming. Felt a bit violated, especially if you share or otherwise have no reason to "hide" your calender.
Android Central Newsletter
Get the best of Android Central in in your inbox, every day!
Thank you for signing up to Android Central. You will receive a verification email shortly.
There was a problem. Please refresh the page and try again.