Google Wallpapers just got a huge update with lots of new goodies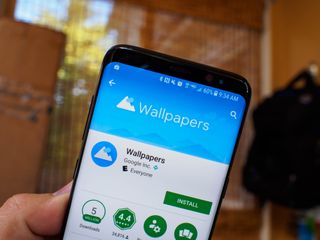 If you haven't thumbed through the Google Wallpapers (opens in new tab) app recently, or you don't have it installed at all, today might be a good day to rethink that. A huge update to Wallpapers has added tons of new incredibly high resolution images in several categories. Like the originals, they're all amazing and there's bound to be something there for everyone.
Take a look in the Cityscapes, Life, Textures, and Landscapes categories for the bulk of the new images, and drop us a comment with the name of your favorite!
Check out Google Wallpapers! (opens in new tab)
Russell is a Contributing Editor at Android Central. He's a former server admin who has been using Android since the HTC G1, and quite literally wrote the book on Android tablets. You can usually find him chasing the next tech trend, much to the pain of his wallet. Find him on Facebook and Twitter
Cool I guess . But what about live wallpapers?

Yeah, static photos as wallpapers are soooooo 2001. It's a shame that such a unique Android feature is hidden from sight all the time.

I like Google Wallpapers, but I like mine a little bit more outside the box. Something like Walli fits my taste more.

I would like to see a category called "Space" or "Stars". Something astronomically themed.

I use the earth one, it changes by the time of the day.

even the weather pattern changes.

I cannot save the wallpapers to my device.. :-(

Try out some of these. Pretty cool http://www.androidcentral.com/wallpapers

I will like to see a category of flat Earth.... I'm tired of seeing fake photographs of a round Earth

Haha! Yeah,I want some of the giant ice wall in Antarctica too!

I luv the app. Have pixel now so its built in. But had it on my previous phone. Just wish they'd get #Muzei support.

I would like to see a live Radar Summary like Weather Bug Elite had.

Anyone know how to make any Google Earth image into an HD wallpaper?

I'd love to try this out, but my Play Store isn't showing the updated version. Still shows a last update of April 14.
Android Central Newsletter
Get the best of Android Central in in your inbox, every day!
Thank you for signing up to Android Central. You will receive a verification email shortly.
There was a problem. Please refresh the page and try again.