Google UK boss offers 'unreserved apology' for delayed Nexus 4 orders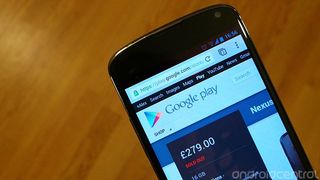 As we've reported in great detail over the past month, customers hoping to pick up the Nexus 4 directly from the Google Play Store haven't had the easiest time ordering the device. Even after dealing with a tumultuous ordering process, some in the UK have found that their orders had missed the shipping window they'd been given by Google Play.
As a result, some disgruntled customers decided to go straight to the top to get answers, reaching out to Google UK & Ireland Managing Director Dan Cobley on his Google+ page. Today Cobley has responded with an update on the situation, an apology to those affected, and a shipping refund for those whose orders had missed the quoted 3-5 day window. The bottom line is that orders with pre-Christmas shipping estimates should be processed in the coming week.
In his Google+ message, Cobley also addresses the subject of stock levels, saying supplies from Nexus 4 manufacturer LG have been "scarce and erratic." The first wave of Nexus 4 stock sold out in under an hour, and the second wave was back-ordered by over one month in under a day.
Check past the break for Cobley's message in full.
So there's good news for anyone with a Nexus 4 order due before Christmas, and customers experiencing delays might be reassured that Dan Cobley is taking charge of the situation personally.
If you placed a Nexus 4 during the second wave of stock, let us know how you're getting on down in the comments.
Alex was with Android Central for over a decade, producing written and video content for the site, and served as global Executive Editor from 2016 to 2022.
Time to axe LG as the Nexus manufacturer for the next round if they can't keep up with demand. It's just that simple. Clearly LG's mobile division can't keep up with demand. It's rather sad to see LG finally stepping up its game in Android phone designs, but not its manufacturing backend. Here's hoping for a Sony or Motorola Nexus next year or the year after.

I don't think it is totally LG's fault. Samsung the largest Android OEM is also having problems keeping the Nexus 10 in stock. So part of the problem is that maybe Google and LG and Samsung all mis-anticipated the demand for Nexus devices. Asus too had a hard time with the launch of the Nexus 7. We see the same thing happen with the iPhone 5 when it launched with weeks of back orders. The real screw up was in how the Google Play Store couldn't handle the traffic and how orders are shipping with no regard to date/time ordered. That has enraged a lot of people.

Not sure LG can be blamed for being unable to keep up with the demand, rather i think Google underestimated the demand (Which is odd considering that outside the US you're basically offering a phone at half the usual price) It's still a hollow apology, still no adequate information about the failed FIFO order processing, still no information why probably the biggest "Internet company" can't make a storefront capable of withstanding the demand, etc. etc. But atleast someone specifically from Google (and not just a random outsourced support rep) is stepping up to the task, hopefully more information will follow soon, even though it's basically irrelevant for a lot of people now.

If you are unsure of the demand for something then surely the best thing to do is put in place a pre-order system? Not just put stock on an overworked webpage a few times a month. It's a terrible way to do business and it creates resentment. Google really need to learn from all this and learn fast as they can't keep making the same mistakes over and over.

Thats right, they still don't know what the demand is :-(

A pre- order system like the one they had with the N7? Where the devices were available in brick & mortar stores before orders were fulfilled, weeks after the original shipping date Google gave? They still managed to mess it up. I love Google but hate having to order devices from the Play Store.

If you really think about it, Samsung would've had the same problem. The only reason they didnt was because the Nexus S/Gnex didnt have a price-to-performance ratio that could even compare to that of the Nexus 4. Its the massive demand, not LG's lack of efficiency or supplies.

Let's not forget there has never been a Nexus phone quite like this one and no Nexus manufacturer has ever had the demand LG is experiencing right now, and probably very few Android manufacturers have

He doesn't really explain the non-LG problems. Scare and erratic stock doesn't explain website crashes, error messages and the inability to get any useful delivery updates.

I think LG is f***ng things up for Google. I think the price point that Google put out irks them, and they would rather put their production lines to use producing the Optimus G which has a higher profit overhead than the Nexus. Or, they get to sell the Nexus at 599 MSRP
Suffice to say, LG will never produce another Nexus.
Go go Motorola Nexus!!!!

Imagine a Droid razr Maxx hd whose front looks like a nexus 4. Kevlar back, 3000mah battery, and stock key lime pie. 16gb for 300 (no 8gb version). Release that in June, and I'll sell the Nexus 4 I don't have yet to buy one. -You can keep all other specs the same; maybe get that new upcoming sony sensor that's supposed to be really nice, but besides that you can keep all other specs the same.

yeah..that 13MP sony sensor....the fap of dreams :). Moto should definitely make the next nexus. LG just proved how two timing they are....they have the production capaity to put a nexus in the hands of everyone who wants one, but they have been holding out.
#motonexus FOREVER!!!!!!

I doubt it, its not like LG is doing this free of charge, I guarantee they're getting paid. And with whatever money they dont get, they'll make up for in a renewed reputation

And LG says Google simply haven't ordered enough handsets to keep up with demand. Who is telling the truth?

I'd believe LG as that makes perfect sense. Google would had to have placed an order and without any pre-order system would not have any idea what the demand was so needed to pull a figure out of the @#se.

Source sir??? I haven't seen LG make any statements.

But what about people like me that ordered a Nexus 4 when it said supplies were available - then to be told it would be 1 to 2 weeks delivery NOW to be told it could be longer? My account/order now just says "Pre-ordered"?????? So much for my sons Christmas present!!!! I do not blame LG - I blame Google - if a company of their size and power cannot get their supplies in order from ANY manufacturer then its about time they admitted defeat and left the hardware selling to other more capable companies.

Sorry bro. I feel your pain.
If I had a nexus in my hands, I would have given it to you for free. Nothing in this world beats that moment, every Christmas when my papa gave me something special.
I hope you get another phone.

But what about people like me that ordered a Nexus 4 when it said supplies were available - then to be told it would be 1 to 2 weeks delivery NOW to be told it could be longer? My account/order now just says "Pre-ordered"??????? So much for my sons Christmas present!!!! I do not blame LG - I blame Google - if a company of their size and power cannot get their supplies in order from ANY manufacturer then its about time they admitted defeat and left the hardware selling to other more capable companies.

Having emailed google for clarification, and received the reply that it would, in fact, ship before the stated date (19th) I went to check the status today, and discovered that my order date has been changed to the 15th - I have saved copies of the email and wallet entries showing that it was ordered on the 4th - this just smacks of desperation!

I just checked the status of my order after reading what you said. I'd ordered mine on the 4th of December and was told 1-2 weeks and after emailing them was assured it would be before the 19th, great! However, I've just gone and looked and my order is now marked as 'pre-ordered' also and the date is set at the 15th. I was quite annoyed but then when I looked at the information the original order date is still intact. Not sure if you dug deeper into the order or just looked on your transaction list. If you didn't then it may be worth taking a peek. Good luck! I feel your pain.

An update:
Have spoken with google support, and apparently the change of order date to the 15th refers to the date on which they re-requested payment. A consignment of phones has been sent to TNT - who have to split the batch, scan and record each one etc. Apparently, once they've worked through the backlog, emails will go out with tracking numbers.

Ordered one in the US on Nov 28, when it said 4-5 weeks to ship. Hopefully, I'll have it by June :P

I actually ordered one on the 28th and was quoted the same 4-5 week window... Amazingly, I received it 2 days ago on Friday! Only took 2 weeks. Hopefully they received some extra inventory and more orders will be shipping soon.

I ordered mine on the 28th too, no word of course...
But as a loyal fan of Google's products, I completely agree with previous posts that I feel Google deserves the bulk of the blame for bungling the delivery of this product. I think they missed a huge opportunity on having a blockbuster product for this holiday season. No matter what excuses they're giving about their sub-contractors, this is a Nexus brand product that they are putting out to the mainstream market -- not just a peripheral, beta-geeks only, experimental market. Google should have done a much better job at predicting demand, planning out the retail/delivery execution, and supporting their customers. This is inexcusable and amateur. I think our shifting blame to LG and others just enables Google to continue their bad practices. I just wish they would own up to it. Sorry for the rant.. just my 2 cents.

I don't care much for LG, either, but everyone blaming them for this mess is missing the point... this is *Google's* product. So what if there are supply chain issues? Google should have been reaching out to the public way before this! I'm also underwhelmed that the guy who finally did say something is way out in the UK. Is there anybody in Mountain View willing to take responsibility for Google's screw-ups? Can you imagine if this was an Apple product, and the only executive to address the issue was some guy working out of Siberia or Timbuktu or something? Sometimes I get the feeling the top guys at Google are totally disconnected from reality, scooting around headquarters on Segways with goofy VR goggles on their heads all the time, oblivious to the phones ringing off the hook as angry customers try to get answers. When are these guys going to start running their company like adults?

Finally, a voice of reason. LG isn't in charge of sales on the Play Store....Google is. And any screw ups are theirs and theirs alone!

Both of them screwed up. Plain and simple. Google failed to operate a sufficient ordering system. LG failed to meet the demand. Mistakes must be learned. Someone must be responsible. Im pointing fingures at the Chief Operation Officers of both companied.

You guys might be interested in this... https://sites.google.com/site/nexus4cr/the-letter

When people say their order status is showing as "pre-ordered" where are you seeing this? I ordered a 16Gb phone on 4th Dec when it was showing 4-5 weeks - when I look in Google Wallet it just says "4th December Google Commerce Ltd received your order." Is there somewhere else to see the status of your order?

Go to the Play Store desktop site, press the gear at the top right. Press "My Orders & Settings." Somewhere in the list should be your Nexus 4, where it will either say Pre-order, or (I'm assuming. I bought mine on the 3rd in the US when it said 5-6 weeks, so it should be a while.) it should say "Shipped".

Just cancelled my order. Placed on 4th, and had no faith it would turn up before xmas as the present it was intended to be. No communication from google other than the automated google wallet mail on the 4th. I was expected to pay 9.99 for 1-2 days delivery, but here I am nearly 2 weeks later without so much as an update. Fortunately this has given me time to realise I'd rather spend my money on other things. Coupled with Google's winter clean vengefully locking out older and new MS hardware from functionality they had relied on for years, I think I've had enough of the company that does no evil. Just told Dan the same, although i'm sure it won't spoil his day too much ;)

Tiger Uppercut! Sent from my Nexus 4!

This is what Google gets for advertising and being successful.

I knew LG was going to find a way to F- it up somehow. Completely useless company, they should have backed out of the mobile market a long time ago.

So if you were in charge of LG and Google gave you an order for 2 million phones, would you make 10 million just in case. Google are at fault for their underestimate, their ridiculous system, their confused emails, their lack of advice. (I got my November email saying they were available after they sold out. I re-registered and have never had a 4th December release email of availability!), their hidden apology (G+, not an email to all those who have an order).

i not the one to take sides here. i do admit that this process is unacceptable for customers and for the continuous business for the play store. this is the second time there was an issue with merchandise inventory stock. i ordered my LG Nexus 4 recently and i have to wait the 6-7 weeks to at least hear something. this is a disaster and someone one on Google side of the playing field need to talk to someone from LG and tell them look yall need to produce more phones fast and right now. customers are angry becuz there is a dam 2 month wait for a product they need in there hands today. not all the way in December. i guess things happen for a reason and i hope Google learns from these mistakes and make sure things like this dont happen again. they see there fan base continuously growing from every device released so next time no excuses.

I've gone and read "the letter" and "the reply" and the Dan cobley Google + page. I cannot see dan's open letter on there, just a note that he'd "look into it". If this were a government issue then as minister in charge he would be resigning without pay-off for a) not knowing about the problem already, b) the original failure and c) the abysmal lack of communication. The xda-developers thread is expanding at the speed of light!

I ordered an 2 16 gig ones which both went on hold due to credit card fraud checking (thanks for that Lloyds Bank!) and have only now been processed. Seconds after ordering I ordered an 8 and that arrived 2 days later, no problem at all. Consistency much? At least I've had the 8 to get familiar with before it goes to the wife. One 16 is mine the other (which got ordered by mistake in the first place) will be sold on. Very mixed service in the end but appreciate that the 2 16s should arrive this week...lets see shall we.

There are many places where it is apparent both Google and LG have each dropped the ball. It is obvious by the lack of the Nexus in T-Mobile stores that LG is to blame for lack of supply. However the lack of communication is all on Google. It stinks to be waiting in the dark for weeks on end. I did buy a high end phone with a quad core processor and 2gb of ram for $350. I can't expect them to bend over backwards for me.

What about all the people who fucking RMA'd their devices for little things, there's a whole thread on XDA where they're complaining about minor flaws.

Talking about the second wave of stocks, Google is unsuccessful again to devices within the estimated shipping time. They have started agreeing to refund the delivery charge now. That mean there will be further delay. Based on communication with various people on Twitter & in the AC forums, it looks like 1-2 weeks. This is horrible!!
Android Central Newsletter
Get the best of Android Central in in your inbox, every day!
Thank you for signing up to Android Central. You will receive a verification email shortly.
There was a problem. Please refresh the page and try again.